Lufthansa expanding Glasgow services to Germany
Lufthansa will now offer flights to Munich four times a week for winter and five times a week next summer and a new daily flight to Frankfurt next summer.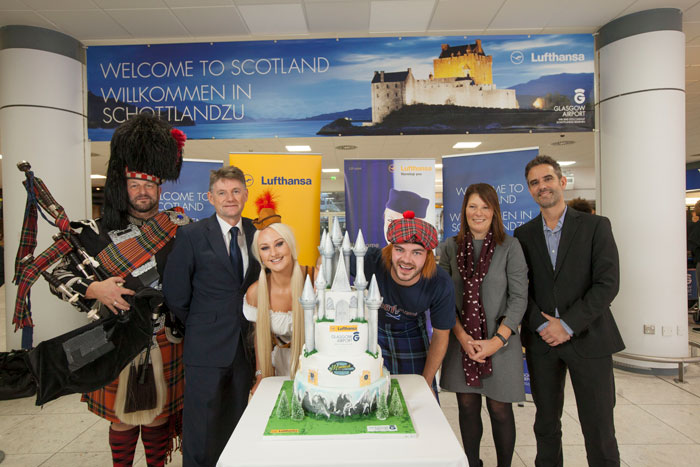 FLOWER OF RHINELAND: Lufthansa are increasing their Scotland to Germany service.
Lufthansa has announced substantial expansion of flights between Glasgow and Germany. A new daily flight to Frankfurt will start in March 2018 along with an increase in the Munich service to five flights a week.
Lufthansa started flying from Glasgow with a weekly, summer only service to Munich in May 2015. This has now increased to four flights a week operating on Monday, Wednesday, Friday and Sunday.
In addition to that now the airline has announced a new daily, year round, service between Glasgow and Frankfurt, starting, on March 26 2018. At the same time a new Saturday flight will be added to the Munich service. All flights will operate next summer with aircraft from the Airbus 320 family.
Announcing the new flights Andreas Koester, Senior Director Sales UK, Ireland & Iceland, Lufthansa Group said: "The introduction of these services will result in a massive increase in Lufthansa's flight offer at Glasgow – a level of growth which is unprecedented in recent years. To go from a single weekly service to 12 flights a week in twelve months is remarkable. It reinforces our commitment to meet the expectations of our Scottish passengers and also confirms the continuing importance of Glasgow Airport within the Lufthansa worldwide network."
In addition to providing Lufthansa's Scottish passengers with year round access to Germany, the additional flights will also enable Glasgow passengers to access onward connections to the airline's worldwide network to 193 destinations in 75 countries countries through its modern Frankfurt and Munich hubs.
The new flights are also available for booking through lufthansa.com . As a full service airline all fares include Lufthansa's high quality product providing all passengers with, in flight food & drink, various mobile services, and in 2018 broadband internet on board. In addition to that travellers in business class can expect lounge access, priority boarding and fast track access for a more comfortable and speedy journey All fares are inclusive taxes and charges and start from £87.