The numbers are in and August was a record breaker for many UK airports
A busy August has come to a hectic close after some UK airports experience one of the busiest ever summer holidays…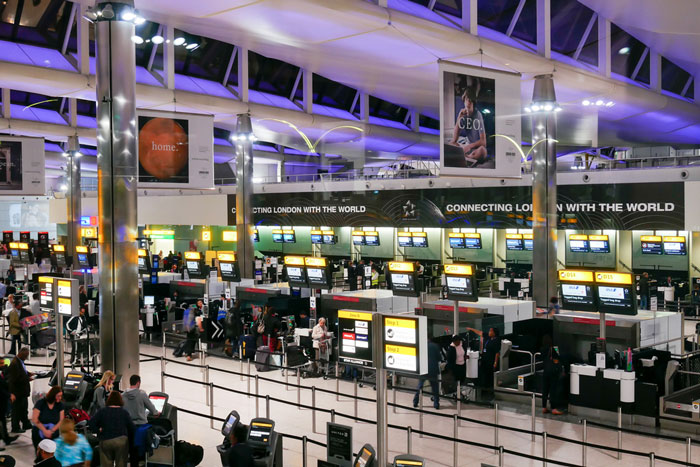 SUMMER BREAK: Heathrow joins several UK airports in breaking records this August.
Heathrow, Gatwick, Edinburgh, Glasgow and Cornwall airports have all announced a huge August.
Britain's busiest, Heathrow, was 'firing on all cylinders' as it welcomed 7.6 million passengers last month. This is a growth of 2 per cent on last year and makes August the second busiest month in the airport's history.
The biggest area of growth was to Middle Eastern destinations with 7 per cent more passengers flying out to the region. The numbers of domestic passengers also swelled by 6 per cent on the back of the recent launch of Flybe flights to Scotland.
Cargo is booming at the airport. August was the 13th consecutive month of grow, climbing 13 per cent with 139,000 tonnes. 
Our country is open for business.
Heathrow's CEO John Holland-Kaye said: "Demand to travel from Heathrow has never been stronger – every day we're welcoming record numbers of passengers to Heathrow with modern British hospitality and our trade with the rest of the world is growing in the double-digits. Heathrow is firing on all cylinders and showing the world our country is open for business."
Smallest grows the most this August…
Cornwall Airport Newquay experienced a huge surge in passenger traffic. It hit a new high last month with 61,000 passengers – 30 per cent up from last year. The growth this summer is more than triple the EU average of 8 per cent and it is firmly on course to reach its 600,000 to 650,000 annual capacity limits.
Last year's all-time high saw the Airport experience a noteworthy 48 per cent year-on-year increase: "I'm extremely optimistic that this strong positive trend in our rapid traffic expansion will continue for the rest of this year, seeing us achieve yet more outstanding results," said Al Titterington, Managing Director, Cornwall Airport Newquay. "Our passenger traffic has also resulted in us posting further record figures in the first five months of the financial year (April to August). We've welcomed 260,279 passengers, a 25 per cent increase in traffic numbers."
The bump in passengers this summer puts the Cornish airport well on track to a fourth year of double-digit growth.
High-profile events help elevate Glasgow 
Glasgow Airport recorded its busiest August on record after more than 1,008,800 passengers travelled through its doors, representing a 7 per cent increase on the same period last year.
This means that Glasgow Airport enjoyed its busiest ever summer as more than three million people came and went via Glasgow during the peak months of June, July and August. The airport also registered one million-plus passenger numbers for three consecutive summer months for the first time in its history.
EU scheduled services increased by 17 per cent on the same period last year thanks to additional capacity and strong demand on a number of routes including Milan, Paris, Berlin, Lisbon and Valencia.
The World Pipe Band Championships and the TOTAL BWF World Championships, attracted thousands of visitor and competitors to the city.
Long-haul routes were up 16 per cent thanks to the continued popularity of Virgin's Orlando route and Emirates' twice-daily Dubai service, which surpassed the four million passenger milestone in August following its introduction in 2004. 
International traffic grew by 12.4 per cent with a number of transatlantic services to New York, Philadelphia, Toronto and Vancouver reporting strong demand.
"The launch of Ryanair's daily Frankfurt service has helped us make a strong start to September, while the introduction of the airline's new Madrid and Krakow routes next month will further strengthen our European connectivity and offer our passengers an even greater destination choice," Amanda McMillan, Managing Director of Glasgow Airport, said.
"Summer is our peak time of year as people head off on their holidays, but our August passenger numbers were also boosted considerably by a series of high-profile events including the World Pipe Band Championships and the TOTAL BWF World Championships, which attracted thousands of visitor and competitors to the city.
"While Celtic's UEFA Champions League group opponents may present an exciting challenge on the pitch, football fans attending home and away games against PSG, Bayern Munich and Anderlecht will also be well served by Glasgow Airport's extensive range of European services."
The airport has also put together a time-lapse video of their biggest day of the year, July 14, which can be seen below.
Gatwick's biggest month ever
London Gatwick has achieved the busiest school summer holidays in its history with 8.1 million passengers travelling through the airport over the seven-week period. This is a 2.1 per cent increase on 2016 and the first time Gatwick has ever reached the eight million passengers mark during the summer break.
This August alone, 4.9 million passengers travelled through Gatwick resulting in the biggest month in the airport's history.
A substantial rise in passengers taking long-haul summer breaks played a part in Gatwick's overall growth, with the airport's long-haul destinations growing by 11.1 per cent compared with last year's summer holiday.
Gatwick's long-haul growth helped to boost the amount of cargo handled by the airport too, with August seeing a 25.6 per cent increase compared with the same month last year.
The biggest growing long-haul destination was to Fort Lauderdale in Florida with 261 per cent more passengers. Closer to home, the biggest growing shot-haul destination was Ljubljana in Slovenia which saw 118 per cent more passengers from Gatwick.
Gatwick's CEO Stewart Wingate said: "Gatwick has just had its biggest-ever month during its busiest-ever summer holiday period -this clearly demonstrates the passenger demand for the growing global connectivity offered by Gatwick. Later this year, we'll be further adding to our more than 60 long-haul connections with routes to Denver, Seattle, Austin, Chicago, Taipei and Singapore starting.
"As well, we continue to focus on delivering the best passenger experience at the airport with Jamie Oliver opening his new Diner in the South Terminal and an expanded World Duty Free store also arriving in the North.
"Service has been at the forefront of our summer. We have worked closely with our airlines and ground handlers to help ensure that more planes depart on time and I am pleased with the improvement we've made during our busiest ever summer.
"As Gatwick continues to grow beyond 45 million annual passengers, we remain ready and willing to build our financeable and deliverable second runway scheme instead of, or in addition to, Heathrow should the Government give us the green light."
Fringe benefits for Edinburgh
More than 1.4 million flyers passed through Edinburgh Airport in August, the second month in a row with such volumes. It was the second busiest month in the airport's history – surpassed only by July which clocked 10,000 more passengers.
Much of the growth last month can be attributed to the Edinburgh Fringe Festival, which ran from August 4 to August 28, and its increasing global popularity. International visitors were up 11.4 per cent on 2016.
Chief Executive Gordon Dewar said: "Edinburgh and Scotland is one of the most scenic and attractive destinations throughout the whole year but the festival season is famous the world over and adds that special extra something.
"The attraction of those festivals was a driver in what is another record month for the airport and it was also the first time we've had two consecutive months of 1.4 million plus passengers, which is incredible.
"That growth is fantastic for the city and the country and is only going to continue, which is why we're extending the terminal building as part of an £80 million investment plan to help the airport handle forecasted record number of passengers. It will include a new baggage hall, new gates, new custom facilities and retail outlets so we provide that first class experience our passengers want and deserve."