Plaza Premium Group and SATS win Singapore Changi Airport lounge contract
Plaza Premium Group has been awarded a contract to provide independent airport lounge services to all travellers in the New Terminal 4 of Changi Airport, Singapore, in partnership with SATS Ltd.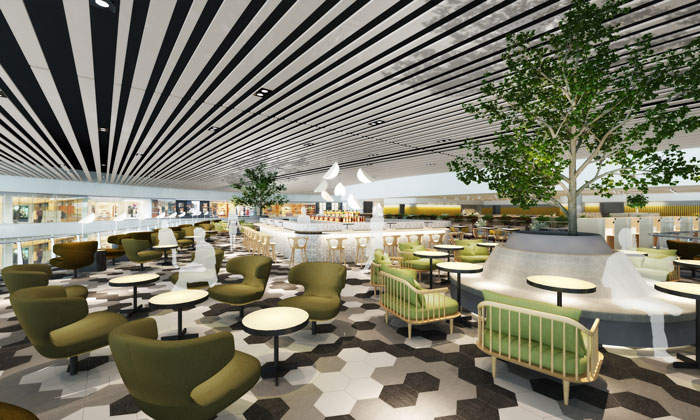 An artists impression of the new Blossom Lounge
Both partners are to jointly design, build, operate and manage the new lounge, which shall be named Blossom – SATS & Plaza Premium Lounge (Blossom Lounge).
It will be the only independent airport lounge in the new Terminal 4 (T4) of Changi Airport in Singapore for the next six years. Located at Level 2M within the transit area, the lounge will encompass a space of approximately 1,100 square metres, and have approximately 280 seats.
Expected to open later this year (2017) alongside the official commencement of T4 operations, the Blossom Lounge will offer hospitality, a bar, catering, shower, massage, manicure and pedicure, front-of-house and housekeeping services etc. to guest travellers with around-the-clock operations.
"We are excited to collaborate with SATS to introduce SKYTRAX world's best airport lounge service to the new T4 through our new lounge, offering exceptional hospitality and a seamless airport experience to Changi travellers," commented Mr. Song Hoi-see, Founder and CEO of Plaza Premium Group.
"In addition to the Plaza Premium Lounge in Changi T1, we look forward to welcoming travellers through another world-class airport lounge facility in association with SATS."
As the first airport lounge network to achieve ISO 9001:2008 certification, Plaza Premium Group operates airport lounges, providing lounge management services for leading airlines, alliances and corporations in more than 150 locations across 36 international airports, serving over 12 million passengers annually. In June 2017 SKYTRAX awarded the Group with an award for the world's best independent airport lounge for the second year running.