UK assessment on disability in air travel reveals interesting results
The UK Civil Aviation Authority (CAA) has today published a report that assesses the top 30 UK airports on the quality of assistance they provide to passengers with a disability, with Liverpool John Lennon Airport (LJLA) receiving a 'good' rating in terms of the support it provides.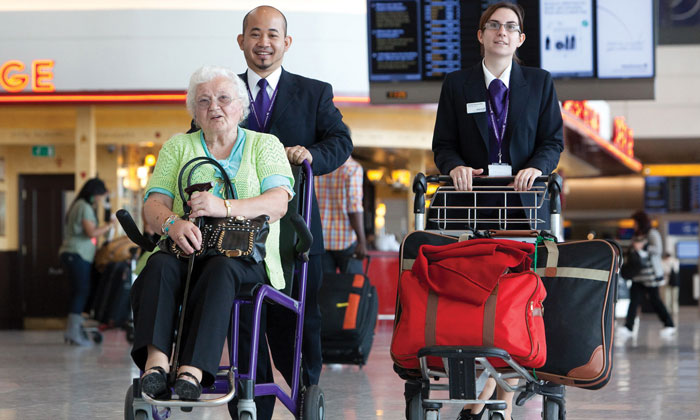 The CAA's framework that assesses the levels of service at UK airports is the first of its kind in Europe and was introduced to ensure there is a consistent and high quality service for disabled passengers across UK airports. The report shows that the number of people with a disability requesting extra help when travelling by air continues to grow significantly at UK airports and has now reached over three million journeys in 2016 – a rise of over 66 per cent since 2010.
Omniserv provide the Special Assistance service on behalf of the Airport at Liverpool and the report shows that they and the Airport company have performed well in areas such as customer satisfaction, waiting times and engagement with disability organisations.
LJLA has particularly focused on the needs of those passengers who are often deterred from travelling by air due to a range of disabilities. Whilst well established procedures are in place at all airports to assist passengers with reduced mobility, the Airport Company believed more could be done to give those passengers with hidden disabilities greater opportunities to travel by air too.
By establishing partnerships with a diverse mix of hidden disability organisations including, Autism Together, Liverpool Dementia Action Alliance, Stomawise and The Brain Charity, new procedures have been put in place along with staff training and familiarisation visits in order to give passengers with hidden disabilities greater confidence to travel through the Airport.
Lisa Crosby, Contracts Co-ordinator for the Airport who oversees the Omniserv contract commented, "We are naturally really pleased that the experience of those passengers who require assistance when passing through the Airport is a good one and that work undertaken with a number of disability groups is paying off and encouraging passengers with a diverse range of disabilities to choose to fly from Liverpool."