Gatwick becomes a carbon neutral airport
Gatwick becomes the first carbon neutral London airport and is now the second busiest carbon neutral airport in Europe.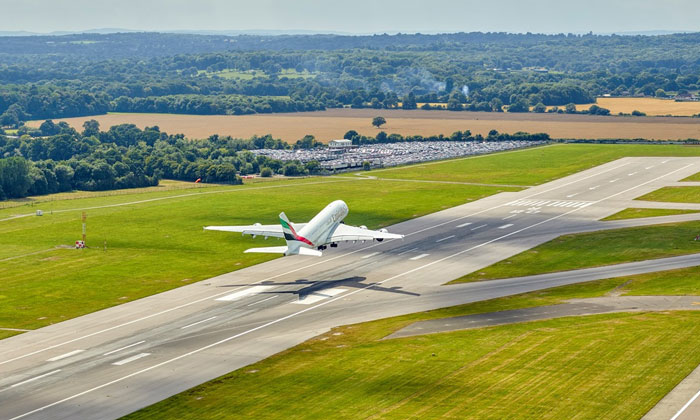 Airport uses 100% renewable electricity and Gold Standard carbon credits
Latest sustainability report also published today – showcasing the airport's world first waste processing plant and Tesla electric taxis
Following a year of record growth, Gatwick has also today been officially recognised as a carbon neutral airport through its use of 100% renewable electricity and Gold Standard carbon credits to offset ground fuel emissions.
The award, from ACI Europe, means that Gatwick Airport Ltd completed Airport Carbon Accreditation at Level 3+ in 2016 for all ground operation emissions that the airport controls – including fuels, electricity and business travel – having achieved Level 3 for the preceding three years.  
The airport also today published its progress against ten ambitious environmental and community-focused targets that it set itself over the ten years from 2010 to 2020.  Results in the airport's Decade of Change report for 2016 include:
5% reduction in annual carbon emissions from fuel and energy
6% drop in annual energy consumption per passenger
Zero untreated operational and commercial waste to landfill
Continued operation well below annual mean air quality limits for both NO2 and PM10
55% of Gatwick employees from local area and £139 million spent with local suppliers
43 community events sponsored and 168 local causes funded
This year's Decade of Change report also highlights a range of innovations that have helped Gatwick to grow more sustainably, including building a new world-leading waste processing plant,  working with our partner Airport Taxis to bring Tesla electric taxis to Gatwick, becoming the UK's first Autism-Friendly Airport and establishing a noise management board to examine ways to alleviate problems communities experience in relations to noise.
Stewart Wingate, CEO, Gatwick Airport, said:
"We consider sustainability as critical to our future as a successful airport and the news that we are now a carbon neutral airport shows just how far we have come since independent ownership in 2009.
"We want to become the most sustainable airport in the UK and I would like to thank all the staff on the airport who have helped to get us this far. 
"Our Decade of Change strategy is really driving our sustainability performance and today's results show that we are successfully balancing growth with a reduced environmental footprint, while also contributing to the community and thriving local and national economies. 
"I'm already looking forward to celebrating more positive news on this front in the near future." 
Olivier Jankovec, Director General, Airports Council International Europe:
"London is Europe's most popular destination by air and it is great to see Gatwick become the very first carbon neutral London airport by reaching Level 3+ of the Airport Carbon Accreditation programme. It is also now the second busiest carbon neutral airport in Europe. I congratulate Stewart Wingate and all the hardworking team at Gatwick on this significant moment in the 'Decade of Change' strategy and the extraordinary range of initiatives and activities they have undertaken to address the CO2 emissions at the airport."
Gatwick achieved carbon neutral certification for 2016 through its use of 100% renewable energy (since 2013) and offsets for the remaining carbon emissions generated by the airport in 2016 (11,425 tonnes Scope 1, residual Scope 2 and Scope 3 business travel emissions) comprising Gold Standard carbon credits for the Kar-demir Bozyaka wind farm project in Izmir province, Turkey (see case study below). 
Niclas Svenningsen, Head of the Climate Neutral Now initiative at the United Nations Framework Convention on Climate Change (UNFCCC) Secretariat in Bonn, said:
"Gatwick is a very recognised brand in air transport serving an iconic city, so we are very encouraged to see them become the first carbon neutral London airport following several years of sustained and diverse efforts to achieve this.
"We congratulate the team there and hope that others will take inspiration from their example."
The Gold Standard credits were purchased through Carbon Clear, a world-leading specialist in low carbon markets and solutions.
Mark Chadwick, CEO Carbon Clear
"We are delighted to be working with Gatwick Airport. We find that companies leading the way in sustainability offset their emissions as part of a well thought through and holistic approach, such as Gatwick's Decade of Change plan. Gatwick's support of a carbon credit project facilitates growth in a fledgling renewable energy market while helping reduce the airport's environmental impacts".