London Luton Airport unveils innovative equipment pooling system
London Luton Airport (LLA), Menzies and Swissport and TCR have today announced an industry-changing initiative which enables the collective pooling of airside equipment.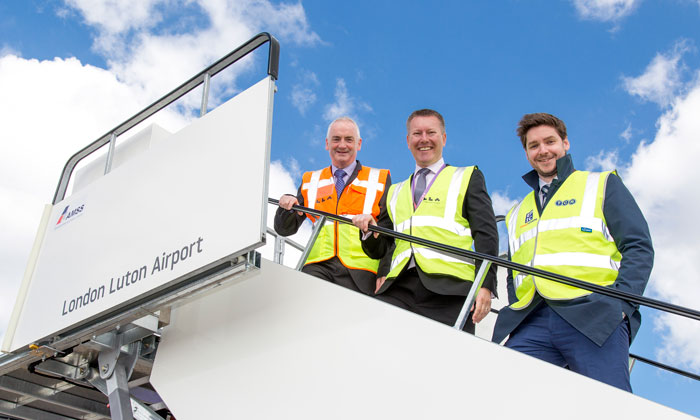 The new system will increase the efficiency of ground handling operations, benefitting airlines, ground handlers and passengers.
The Ground Service Equipment (GSE) pooling programme, launched in collaboration with the two ground handling companies and equipment provider TCR, is thought to be the biggest of its kind globally. It will be instrumental in reducing congestion on stand and will lead to greater efficiency in aircraft turnaround, decreasing the potential for flight delays as equipment will always be available when aircraft arrive on the stand. 
It is anticipated that the rollout programme will be completed across all stands by the end of May, with each stand containing brand new, state-of-the-art GSE equipment. This equipment includes aircraft steps, ground power units and belt loaders along with other ancillaries such as chocks, cones, and passenger guidance.  
Liam Bolger, Head of Airside at LLA, said:
"LLA's work with its ground handlers in this area is a real industry first; no other airport in the world has taken the concept of equipment sharing to this level. As our redevelopment project continues and we welcome more passengers to the airport, efficient airside operations will be of paramount importance. We're excited to see the improvements the new system will bring to handlers, airlines and passengers alike."
Harvey Sawyers, Operations Director at TCR UK, said:
"TCR UK has over 15 years' experience supplying Ground Support Equipment to the aviation industry, and we are extremely proud to have been awarded this ground-breaking contract by London Luton Airport.  This is the first pooled equipment contract of its type in the UK and we're confident that it will bring real benefit to the airport's operations as we roll the project out in the coming months."
LLA is currently undertaking an ambitious transformation project, which will increase annual capacity but 50% to 18 million by 2020. It includes an expansion of the terminal building to provide more stands for aircraft, as well as upgrading existing facilities such as the search and security and retail areas. Plans have also been submitted for a new £200million light rail link between Luton Airport Parkway station and the airport terminal, which has the potential to reduce the journey time between LLA and central London to less than 30 minutes.