Glasgow Airport named Best Airport in Europe with 5-10 million passengers
Glasgow Airport has won the Best Airport in Europe, 5-10 million passengers category at an ACI Europe ceremony in Athens.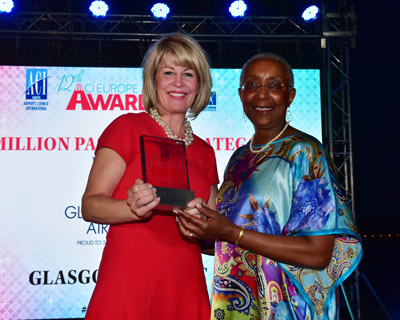 Amanda McMillan (left), chief executive of AGS Airports Ltd and managing director of Glasgow Airport, receiving the award from Angela Gittens, Director General ACI World
Glasgow Airport, which is celebrating its 50th anniversary, was presented with the ACI Europe award for its focus on enhancing its facilities, improving the passenger experience and securing a host of new routes and services. Glasgow is also the current holder of the UK Airport of the Year title as well as the Airport Operators Association (AOA) Airport of the Year.
Glasgow Airport wins award for facilities, passenger experience and new routes and services
The judging panel for the ACI Europe Best Airport Awards was drawn from a well-respected group of independent experts including EUROCONTROL, the European Commission, European Civil Aviation Conference (ECAC), European Travel Commission (ETC) and Air Transport World.
In 2015, Glasgow Airport secured 30 new routes and services including direct flights to Halifax, Nova Scotia; Budapest, Prague and Las Vegas. A further 16 new services have been added this year.
In addition, the airport has announced it will invest £25million in a series of major infrastructure projects designed to cater for the airport's future growth in passenger numbers whilst enhancing the customer experience.
"I am immensely proud to receive this award"
Amanda McMillan, chief executive of AGS Airports Ltd and managing director of Glasgow Airport, said: "We were highly commended at last year's ACI Europe awards, so to have gone one step further and secured the title of Best Airport in what is our 50th anniversary is a huge honour. We have worked extremely hard to provide our customers with an ever increasing choice of destinations and have committed significant investment to enhancing our facilities.
"I am immensely proud to receive this award on behalf of the 5,000 people who have achieved so much over the course of the past year and ensured that Glasgow Airport continues to deliver for the city and for Scotland."