easyJet completes multi-million-pound tech installation that will save 88,600 tonnes of CO2 annually*
easyJet has announced the completion of its fleetwide retrofit, which has seen Airbus' Descent Profile Optimisation (DPO) state-of-the-art technology now fitted on all of its aircraft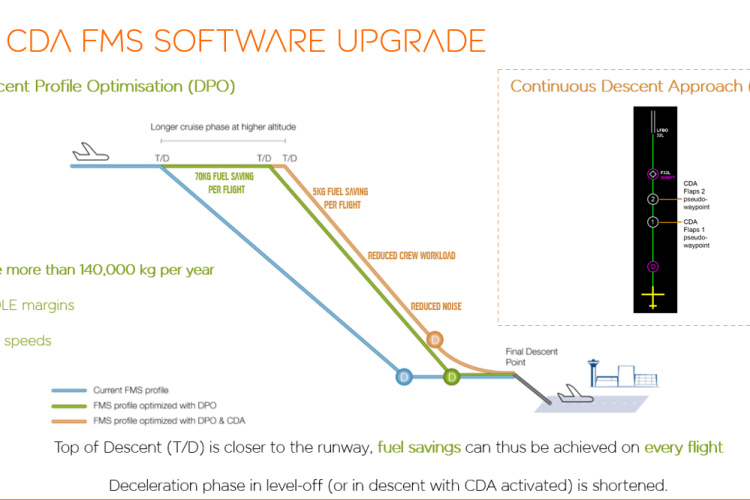 CREDIT: easyJet
easyJet has announced the completion of its fleetwide retrofit, which has seen Airbus' Descent Profile Optimisation (DPO) state-of-the-art technology now fitted on all of its aircraft, alongside Continuous Descent Approach (CDA) for compatible, newer aircraft in the easyJet fleet.
Descent Profile Optimisation (DPO) is a fuel-saving initiative which updates the Flight Management System (FMS) to enable consistently more efficient descents by allowing the aircraft to remain in the cruise phase longer and removing the 'level-off' stage at the bottom of the descent, which reduces carbon emissions. While Continuous Descent Approach (CDA) works in tandem with DPO to reduce noise. 
The multi-million-pound retrofit programme, announced last year, is an integral part of the airline's roadmap to reach net-zero by 2050. It will help easyJet achieve considerable and permanent carbon emission reductions in the short-term by enabling more optimised descent trajectories.
As well as saving on fuel burn and ultimately enabling carbon reductions – Descent Profile Optimisation (DPO) which is complementary to Continuous Descent Approach (CDA)* will also help in minimising noise which not only benefits the airline and its customers but also the airports and surrounding communities as a result of tighter noise regulations that are starting to be enforced.
Commenting on the completion of the DPO and CDA retrofit programme, Captain David Morgan, Chief Operating Officer at easyJet said: "While this is one initiative of many outlined in our roadmap to net-zero, it provides a permanent CO2 saving and forms another step on the way to us realising our net-zero target.
"While technologies like DPO and CDA are the best solution for more optimised descent trajectories in the here and now – more needs to be done by governments and policymakers to ensure that our airspace is modernised, including implementing Single European Sky, so that this state-of-the-art technology can be used to its full potential."
Nicholas Chretien, Senior Vice President of Sustainability & Environment at Airbus added: "Airbus is happy to accompany easyjet in its decarbonisation journey. Thanks to Airbus technologies, easyjet seamlessly upgraded their fleet with Descent Profile Optimisation; illustrating our ambition to work with our airline partners. These innovative solutions developed at Airbus enable airlines to increase fuel savings and reduce emissions during operations."
easyJet continues to work with stakeholders and public authorities across Europe to advocate for the modernisation of airspace, including projects such as the Single European Sky and the UK's airspace modernisation programme. For example, the Single European Sky has stated an ambition to deliver 10% carbon emissions savings from European aviation. 
easyJet is also one of the founding members of the Single European Sky ATM Research (SESAR) 3 Joint Undertaking, an institutionalised European public-private partnership, to accelerate the delivery of the Digital European Sky.
easyJet was also the first airline evaluation partner for IRIS, a ground-breaking air traffic management programme, led by global satellite communications leader Inmarsat, together with the European Space Agency and Airbus, that is set to pave the way for more efficient air traffic management by enabling systems that minimise flight delays, save fuel and help reduce the environmental impact of air travel.
* Figures based on easyJet's FY24 forecast