Schiphol Airport investing €3 billion in maintenance
Between 2024 and 2027, Schiphol Airport is investing three billion euros into catching up on maintenance and upgrades.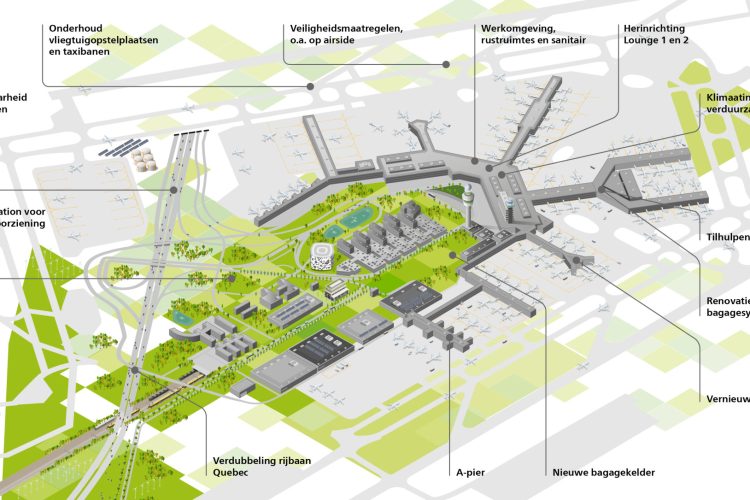 CREDIT: SCHIPHOL AIRPORT
Schiphol Airport is prioritising quality at the airport in its investments over the coming years. Between 2024 and 2027, the airport is investing three billion euros into catching up on maintenance and upgrades. Important parts of the airport infrastructure – including Pier C, the baggage basement, climate-control systems, walkways, aircraft stands and taxiways – are due to undergo major maintenance or need renewing. This is necessary to ensure the quality that Schiphol wants to offer employees, travellers and airlines.
From quantity to quality
Ruud Sondag, CEO, stated that, "after too much of a focus on costs and growth for many years, we must now play catch-up in order to offer employees, travellers and airlines the necessary quality. Quantity took precedence over quality and that didn't do the assets at our airport any good. Things need to be done differently and investments need to be made in our location and facilities to align everything with our quality and sustainability ambitions."
"We are going to catch up on maintenance to improve, upgrade and make the airport more sustainable. This is necessary and in everybody's interest at the airport. Good working conditions, reliability, sustainability and safety are our starting points. It's a big task, with works at the heart of the airport and a continuous operation. Of course, we'll do everything we can to limit the risk of consequences for travellers and airlines, but some inconvenience cannot be ruled out."
Quality of service
Assets that are in good condition and that deliver good results are key to the quality Schiphol wants to offer travellers and airlines. That's why, day and night, a lot of maintenance is carried out to ensure that the airport facilities continue to deliver high operational performance. Because of the backlog in the replacement and renewal of our assets, investments need to be made. Here are some examples of major projects: 
Lounge 1 and 2: the airport has already started Renovating Lounge 1. They are solving bottlenecks by expanding parts of the lounge, adjusting walkways and expanding the range of services. They have also started the partial development of Lounge 2. 
Walkways, lifts and passenger bridges: more than 200 walkways and lifts are being renewed over the coming years. Schiphol Airport is also replacing 18 passenger bridges. 
Pier A: at the moment, BAM, the contractor completing the construction of Pier A, is still doing preparatory works. This includes finalising the detailed constructions plans. That is a complex process and one that the airport is carrying out carefully. Schiphol Airport expect to be able to give an update on the planning for the definitive completion phase in Q2 2024. In the meanwhile, other contractors (including Heijmans and VolkerWessels) have helped to make the pier wind- and waterproof, and half of the aircraft stands are ready. The remaining aircraft stands will be ready for the operation in January 2024. 
Pier C: Schiphol Airport is preparing for the renovation of Pier C, which dates back to 1967. This includes improvements in technology, systems, sustainability, spatial layout and seating. Soon, Schiphol will start the tender for the design of the pier. 
Baggage system and new baggage basement: large sections of the current baggage system are due to be replaced. Once the new baggage basement has been built, they will have enough capacity to replace the existing baggage system. Schiphol is carrying out the necessary works in the meantime. Tendering for construction will begin in early October and building is expected to commence in 2026. Various scenarios for a potential new terminal on top of the new baggage basement are currently being devised. A decision will be made on that at a later date.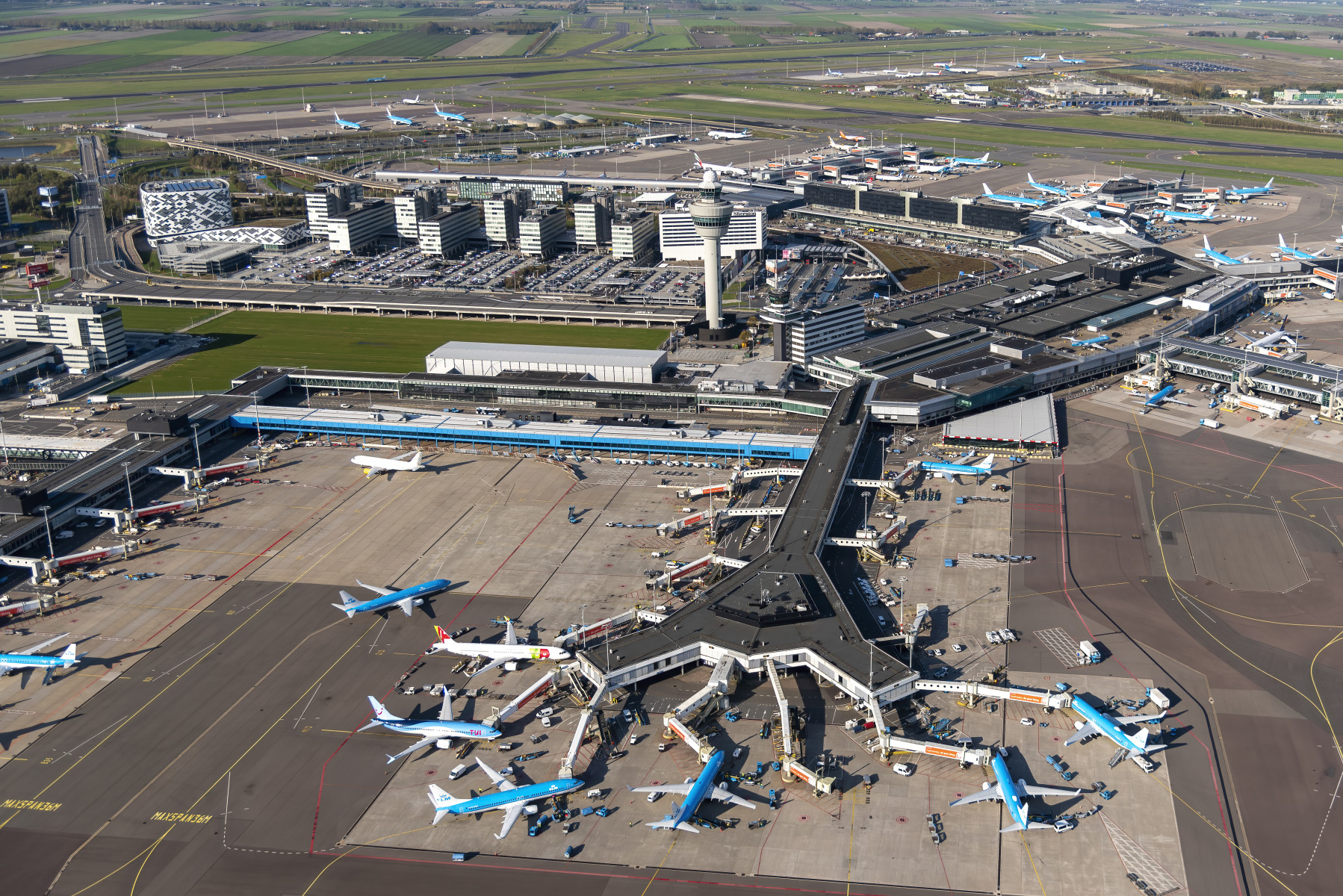 CREDIT: SCHIPHOL AIRPORT
Quality of work
Schiphol Airport considers it very important that everyone at Schiphol has a healthy and safe working environment. One of our top priorities is the improvement of working conditions, and that's something the airport is working hard on. Initiatives include: 
Lifting aids: together with the handling companies, Schiphol Airport is executing an action plan to reduce the physical workload of employees as much and as quickly as possible. There is now a lifting aid at half of the 385 work locations in the baggage halls. This number will be increased and every work location is set to have a lifting aid by April 2024. 
Work environment, rest areas and toilets: over the coming years, 136 rest areas and 224 toilet blocks for employees are going to be renovated.  
Reducing emissions: Schiphol is taking measures to reduce the emissions of diesel and jet engines and to limit the exposure of employees to these emissions. For example, there is new electric equipment for aircraft at the gate. 
Sustainability
Schiphol is making the airport more sustainable. Efforts to accelerate this process include: 
Electrification of ground equipment: fossil fuel-powered vehicles are being phased out in the coming years. From baggage tractors to hotel shuttles, more and more vehicles are electric.  
Power supply: the airport is preparing the airport for a large demand for electricity. For example, they are constructing a new high-voltage substation.  
Climate control: heating and cooling systems in certain parts of the terminal, as well as thermal storage. Schiphol are choosing sustainable solutions and getting off the gas grid. 
Safety
We are investing in safety to ensure the safest possible airport processes. For example: 
Dual taxiway Quebec: to improve airside safety, the project to make Quebec a dual taxiway will be completed within the coming years. 
Aircraft stands and taxiways: over the next few years, necessary maintenance of asphalt and concrete on the airport grounds will increase, including renovation of aircraft stands and taxiways. 
Accessibility: Schiphol will remain accessible and safe and are therefore making adjustments to roads and viaducts.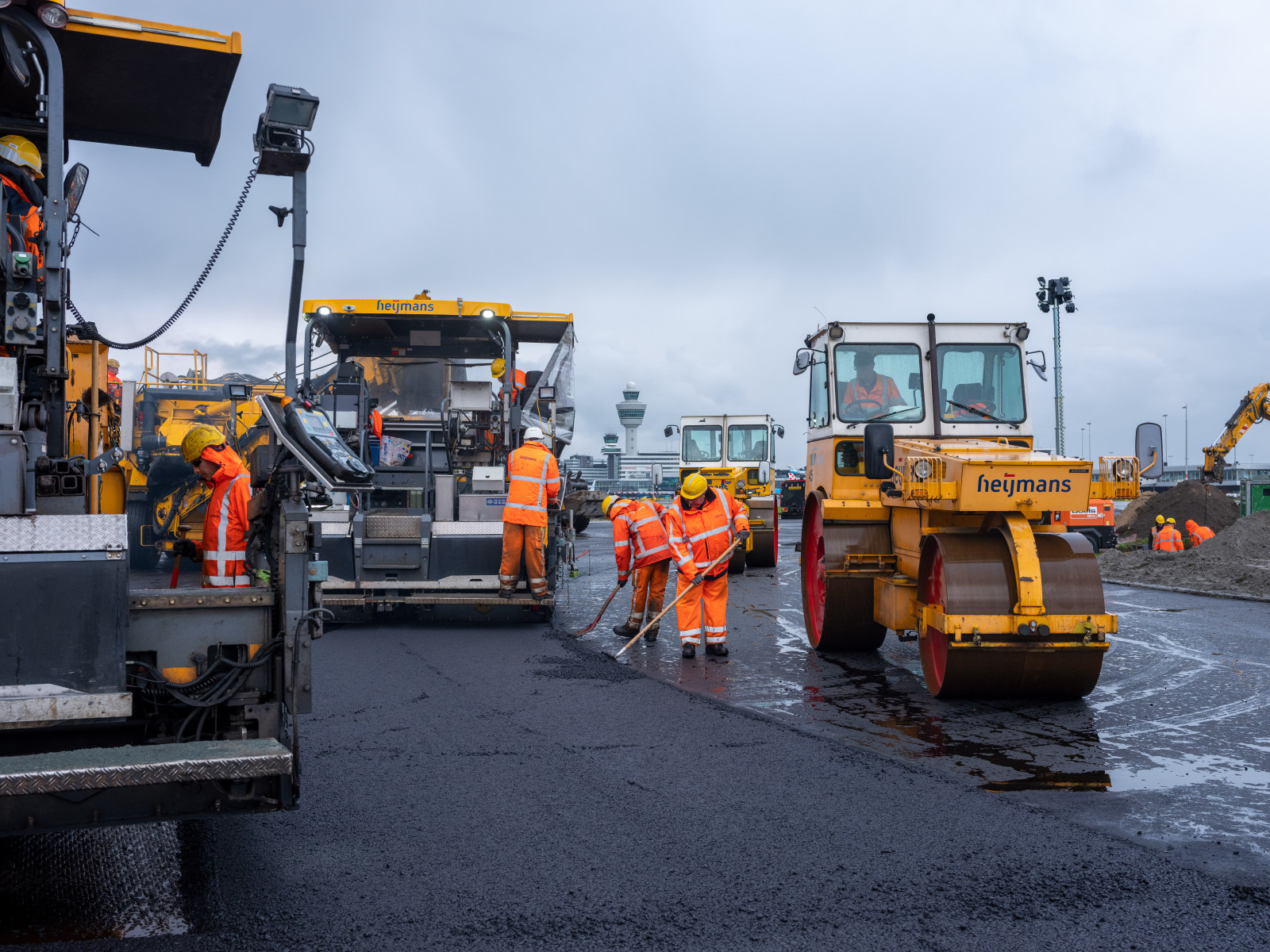 CREDIT: SCHIPHOL AIRPORT