Airport Honour Awards 2023 shortlist is revealed!
Read all about who the shortlisted airports are!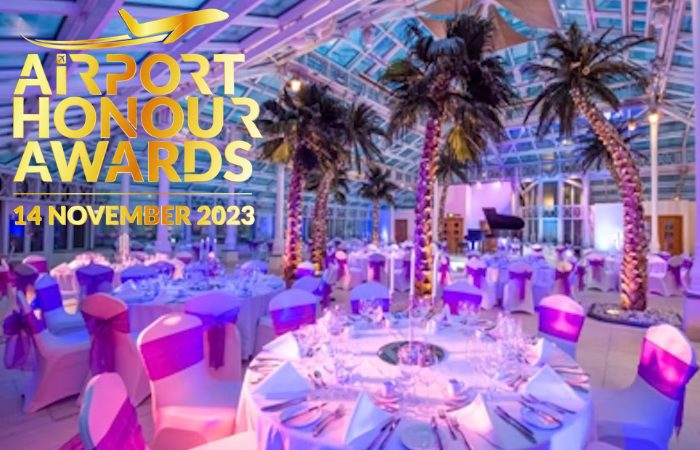 The much-anticipated shortlist for the Airport Honour Awards at International Airport Summit 2023 is finally here! This exclusive event promises to be an extraordinary evening, bringing together industry leaders,  innovators, and decision-makers to recognise airports that go above and beyond for a night of celebration, recognition, and networking.
The Airport Experience Award
sponsored by SECTRO – powered by Hörmann Klatt Conveyors
These airports have been nominated  for their spectacular experiences that they offer to travellers. These airports in particular have been creative in how they use technology, campaigns and food and retail services to ensure people have a seamless experience.
The shortlisted airports are…
İGA Istanbul Airport
Aeroporti di Roma
Ezeiza International Airport – Aeropuertos Argentina 2000
Delhi International Airport
Manohar International Airport
LaGuardia Gateway Partners for LaGuardia Airport Terminal B
Quiport – Quito International Airport
Teesside International Airport  
The Sustainable Airport Award: Energy Efficiency, Circular Economy & Waste Management 
sponsored by Thales
These airports are promoting sustainable energy sources, multi-modal transportation hubs and working with stakeholders to reduce waste and promote circular economy.
Bangalore International Airport
Indianapolis Airport Authority
Quito Airport
Vienna International Airport
Salvador Bahia Airport
The Sustainable Airport Award: Strategy, Culture & Ethos
sponsored by Thales
These airports have shown that they take their role in society very seriously and seek to give back to their surrounding communities through outreach and charitable projects and seeking to improve air quality, they have also set ambitious net zero targets and have created innovative incentives to drive sustainability with their business partners and employees.
Athens International Airport
Bristol Airport
Manohar International Airport, Goa
Hyderabad International Airport
London Luton Airport
Phoenix Sky Harbor International Airport
San Francisco International Airport
The Airport Equity, Diversity and Inclusion (EDI) Award
sponsored by Operational Solutions (OSL)
These airports have been nominated for their inclusive recruitment practices supporting women and minorities, business diversity programmes and DE&I policies and roadmaps.
The shortlisted nominees are…
Aeroporti di Roma
Avports
Denver International Airport
Dallas Fort Worth International Airport
JFKIAT
Taoyuan International Airport
The Accessible Airport Award
sponsored by Copenhagen Optimization
These airports have been nominated for their commitment to creating spaces for passengers who prefer seclusion, innovation into new accessibility technology, staff training and collaborating with external organisations to obtain feedback to improve the journey.
The nominees are…
Albany International Airport
Bahrain Airport Company
George Best Belfast City Airport
İGA Istanbul Airport
East Midlands Airport
Phoenix Sky Harbor International
Zurich Airport Brasil
Greater Toronto Airport Authority
The Airport Innovation Award
sponsored by Honeywell
These airports have been shortlisted for introduction of innovative projects in order to promote seamless travel, improve security, forecast operational needs and make data-driven decisions.
The nominees are…
Delhi Airport
Berlin Brandenburg Airport
Vienna Airport
Fraport AG
Hamad International Airport
Phoenix Sky Harbor
Prague Airport
Royal Schiphol Group