Royal Schiphol Group to buy 40% stake in Maastricht Aachen Airport
Royal Schiphol Group's stake will make them the second shareholder, alongside alongside the province of Limburg.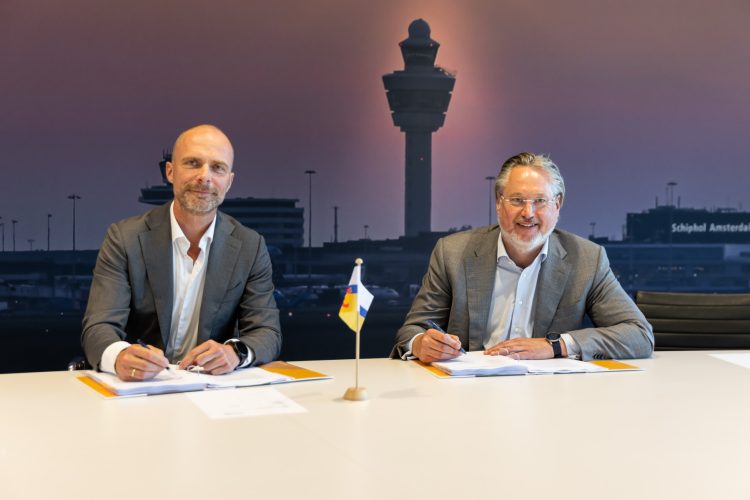 (Left to right) Robert Carsouw, CFO, Royal Schiphol Group; Stephan Satijn, Economy delegate province of Limburg CREDIT: ROYAL SCHIPHOL GROUP
Royal Schiphol Group has finalised a landmark deal to purchase a 40% stake in Maastricht Aachen Airport (MST), which will make them the second shareholder in the airport alongside the province of Limburg.
Officially signed on 08 June, the EUR 4.2 million investment will see Maastricht Aachen Airport join Royal Schiphol Group, securing its future in a strategic partnership committed to the sustainable development of the hub.
"Maastricht Aachen Airport is the second largest cargo airport in the Netherlands and makes a significant economic contribution to the country," said Joost van Doesburg, Head of Cargo with Schiphol Airport (Schiphol).
"Both Schiphol and MST recognise the importance of cargo, valuable freighter slots and good connectivity with the rest of the world. This collaboration will add value for our cargo partners at both airports, as we strive towards innovation, efficiency and sustainability."
The joining of forces will see both hubs share market intelligence and freight data as the teams develop innovations in cargo transport and handling, with Maastricht offering an ideal testing ground for key priorities such as sustainable aviation.
"Partnering with Schiphol will boost market confidence, and the benefits will be passed on to our cargo customers through our improved speed, and capacity," said Jos Roeven, CEO of MST.
"Freight is vital to our national economy, so this is a key moment not only for the Dutch cargo community, but also the Netherlands at large."
In addition to collaborating on product development, the Dutch airports will also share resources in the areas of strategy, real-estate, commerce, and maintenance.
The signing of the deal comes as Maastricht Aachen Airport recently announced its plan to grow its freighter capacity by extending the operational length of its upgraded runway to 2,750 meters by 2025.