Aeroporti di Roma promote integrated train-air intermodality
The group have formed partnerships with ITA Airways and Trenitalia to promote their 'train + aeroplane' project. Doing so will further environmental travel and strengthen passenger experience.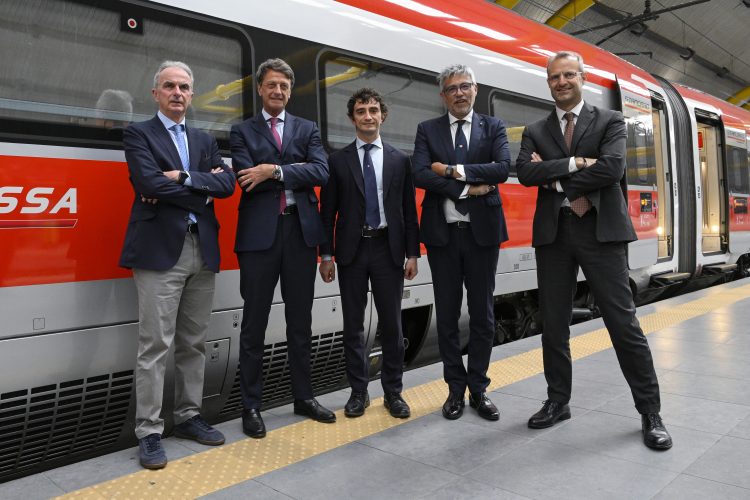 Da sinistra Pierluigi Di Palma, Luigi Corradi, il vice ministro infrastrutture e trasporti Galeazzo Bignami, Fabio Lazzerini, Marco Troncone CREDIT: AEROPORTI DI ROMA
Aeroporti di Roma have promoted an intramodality 'train + aeroplane' project in partnership with ITA Airways and Trenitalia. The aim is to integrate sustainable mobility, focus on customer experience, innovation and environmental awareness. The product allows passengers to simplify their travel experience by combining rail and air travel with a combined ticket and check – in already at the station and at dedicated counters of Leonardo da Vinci Airport.
The new product proposed by the three partners, through technology provided by AccesRail, allows passengers to purchase a combined train + aeroplane ticket on all ITA Airways digital channels, through authorised ITA Airways agencies, ITA Airways ticket offices, and the ITA Airways Contact Centre. Passengers choosing this intermodal option can also check in for their flight at the dedicated counter at the railway station at Fiumicino's Leonardo da Vinci International Airport.
Passengers arriving at Fiumicino Airport by Frecciarossa or Leonardo Express in connection with the high-speed train to Roma Termini and continuing their journey on international and intercontinental flights operated by ITA Airways (except for the USA and Israel) can check in and leave their baggage directly at Fiumicino station and then collect it at the final destination operated by the company.
"The path to decarbonisation of the air transport sector must include strong service innovation as well as technological innovation, and can bring great benefits to passengers in our country and to the Italian transport system as a whole," said Marco Troncone, CEO of Aeroporti di Roma. "This is precisely why Aeroporti di Roma, thanks to ENAC and together with ITA Airways and Trenitalia, wanted to give top priority to this new intermodal product, which is essential for multiplying the connections for domestic passengers and making integrated rail/air travel a viable alternative. In the near future, therefore, it will be essential to ensure the availability of adequate routes to make this product simple and competitive, to guarantee a fast connection, short waiting times and dedicated assistance, check-in services ever closer to the first station of departure, and infrastructure works to ensure that Leonardo da Vinci is also connected to the south of the country".
The intermodal travel experience is part of the agreements already signed between Aeroporti di Roma and the Ferrovie dello Stato Group to develop integrated "train + plane" products and facilitate connections between the country's main stations, airports and ports, while also focusing on the development of new forms of urban air mobility. ITA Airways has also recently signed a memorandum of understanding with FS to create multimodal air-rail services, the basis for commercial and operational partnerships aimed at developing a multimodal mobility offer that can effectively meet the needs of tourism and business demand, creating an agile and convenient end-to-end travel experience and implementing common digital platforms.
'Intermodality is a focal point for ITA Airways, combining the Company's values and ambitions: sustainability, innovation and the centrality of the Customer, with a view to concrete participation in the development of the Country System,' said Fabio Lazzerini, CEO and General Manager of ITA Airways. The perspective in which the company is working with the main players in the national transport sector and with institutions is aimed at achieving multimodal connectivity, thanks to integration with land vehicles, creating an overall more sustainable offer," added the CEO. 'Integrated rail-air mobility, through our airport hub, will enable more efficient connectivity to and from Italian cities with international destinations. The product we are unveiling today demonstrates ITA Airways' ability to work with the major players in the passenger transport industry to meet the diverse needs of the community and the individual customer, providing an integrated and efficient travel experience.
The intermodal product further enriches the offer in connection with Fiumicino airport, adding rail connections to major Italian cities. Direct Frecciarossa connections with high-speed trains from Italian cities such as Naples, Florence, Bologna, Padua and Venice will be direct. Moreover, thanks to the high-speed connections from/to Roma Termini, the Leonardo Express offers convenient connections to the airport hub, which quickly connects Fiumicino with Roma Termini.
'Today, we show that working as a system is decisive for the development of intermodality, a key theme in Trenitalia's strategy and the FS Group Passenger Hub. We put ourselves in the passenger's shoes. We thought about how we could improve the service and make it easier to buy tickets, not just when you are on the train. Intermodality is increasingly playing a leading role in our travels and allows us to accompany people on a door-to-door journey, which puts the customer at the centre of a rail offer enriched by other means of transport. Working together has allowed us to develop new understandings to be implemented in a broader strategic and sustainable project, from an environmental, social and economic point of view, for the benefit of travellers and territories,' said Luigi Corradi, CEO and General Manager of Trenitalia.
Also present at the presentation press conference was the President of ENAC, Pierluigi Di Palma, and the Deputy Minister for Infrastructure and Transport, Galeazzo Bignami, who concluded the round table, and underlined the Government's appreciation of the initiative.
"For me it is a dream come true, a dream that demonstrates the ability of our country to work as a system, an ability that we are demonstrating with concrete actions. Today, we are moving from the story we have told in the proposed National Airport Plan, which the government has welcomed, and which contains proposals and ideas for intermodal integration, to concrete facts: we are touching the future and the integral development of mobility," said Pierluigi Di Palma, President of ENAC.
The check-in service at the railway station at Fiumicino Airport will be active, on an experimental basis, for the duration of the summer aviation season.
Further information on the intermodal product is available on the websites of Aeroporti di Roma, ITA Airways and Trenitalia in the dedicated sections.