Airlines present united front in dispute over flight reduction at Schiphol Airport
The global airline community has responded to the Dutch government's sudden decision to reduce Schiphol Airport's capacity.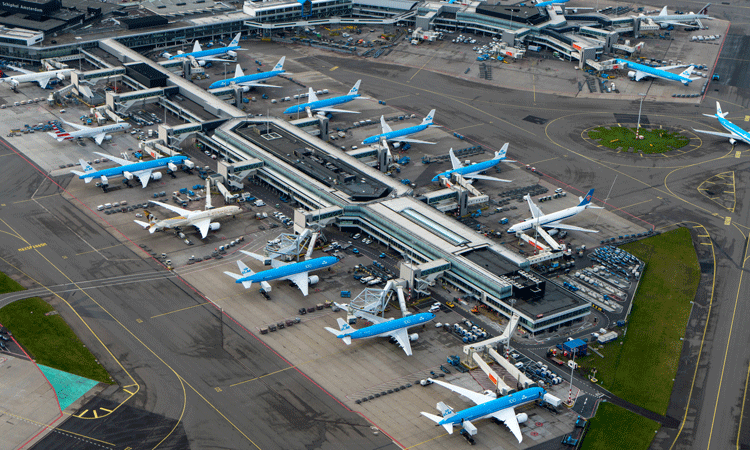 Schiphol Airport is the grounds for heated discussion about emissions between airlines and the Dutch government
The KLM Group, Delta Air Lines, Corendon, easyJet and TUI are joining forces to take summary proceedings against the Dutch government in a bid to preserve the country's global connectivity via Schiphol Airport. To help reduce noise levels and CO2 emissions, the government has announced significant cutbacks to flight activity, while confident they can still maintain the extensive passenger and cargo network of Schiphol Airport.
Schiphol Airport is imperative to the Dutch economy, contributing more than 100,000 jobs, both directly and indirectly. Millions of people across the Netherlands use the airport every year for business trips, vacations, family visits or studies. This use spans borders as well, with the airport's international network appealing foreign companies looking to establish themselves in the Netherlands.
Airlines maintain that the Dutch government's unilateral and sudden decision to reduce Schiphol's capacity from 500,000 to 460,000 flight annual movements (with movement set to be capped at 440,000 by 2024) is incomprehensible. Should the decision come to fruition, it would diminish the value of multi-billion-euro investments airlines have already made to meet decarbonisation trajectories. Airlines are further frustrated with the lack of consideration government officials have given in sourcing alternative, workable solutions to tackle noise reduction.
The International Air Transport Association (IATA) and the global airline community believe that this decree violates EU Regulation 598/2014 and the Chicago Convention – both binding agreements to which Netherlands is signatory. Annex 16 of the Convention contains provisions for The Balanced Approach to Aircraft Noise Management which states are obligated to follow when taking measures to manage noise impact. 
Key requirements of EU Regulation 598/2014 and the Balanced Approach are: 
Consultation with affected parties
The use of flight reductions only as a last resort
Balancing the needs and concerns of residents, the environment and the local economy for aviation's economic and social benefits
The decision to limit Schiphol's airline activity fails to meet these requirements because:
No meaningful consultation was undertaken with the industry
Flight reductions are being imposed as a first resort, rather than as a last resort
The need to restore the economic damage caused by the pandemic is not being addressed (aviation supported some 330,000 jobs and $30 billion of economic activity in the Netherlands).
Asked about what he thought of the ruling of Schiphol Airport, Willie Walsh, IATA's Director General commented that:
"The Netherlands is handicapping its economy by destroying connectivity. And it is doing it in contravention of EU law and its international obligations…(it) is a disproportionate response to managing noise. The government has refused to engage in meaningful consultations and made flight reductions the goal, rather than working with industry to meet noise and emissions reduction goals while restoring employment and revitalizing the post-pandemic economy."
In addition to weakening relationships between government and airport officials, the capacity reduction is also seen as unnecessary given the great strides aviation has already made in lowering CO2 emissions and noise levels. CEO of Transavia, Marcel de Nooijer, said the following:
"Transavia…have made an important decision to invest billions in a cleaner, more fuel-efficient and quieter fleet, so that we can continue to offer our passengers a pleasant trip to beautiful destinations. Reducing the number of flights does not provide a solution and will not have the desired effect for local residents and the environment."
This is supported with comments made by easyjet's Country Manager William Vet, who remarked that:
"By choosing to pursue an arbitrary flight cap, the Dutch government totally disregards both the efforts made by the industry to decarbonise as well as the socio-economic benefits of aviation, significantly reducing connectivity. easyJet is taking important steps towards the decarbonisation of our operations, having recently published our roadmap to net zero carbon emissions by 2050, which includes a combination of operational efficiencies, fleet renewal, and other elements like airspace modernisation."
For these reasons, KLM, KLM Cityhopper, Martinair, Transavia, alongside Corendon, Delta Air Lines, easyJet and TUI are urging the courts to safeguard the future capacity of Schiphol Airport. They have garnered support from Airlines 4 Europe (A4E), the ERA and the IATA. Proceedings will continue later this year.