Bristol Airport announces partners for start of carbon transition funding
Bristol Airport has released new partnerships with five organisations for funding from the Airport Carbon Transition, which will support initiatives and projects to reduce airport emissions.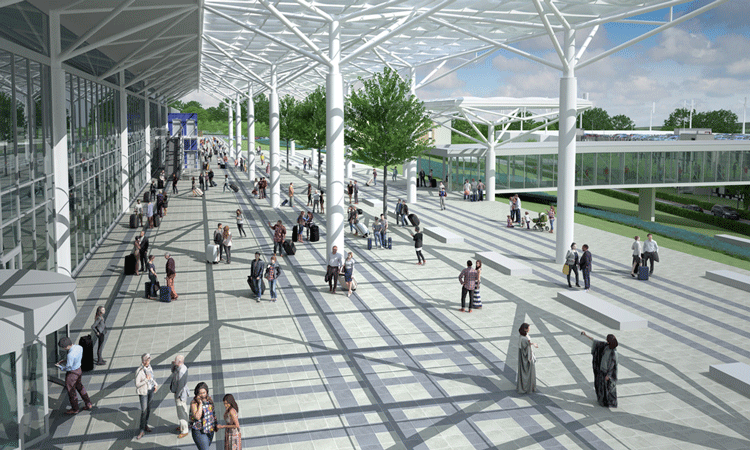 Credit: Bristol Airport (BRS). Artist impression of airport forecourt and footbridge.
Bristol Airport (BRS) has announced new partnerships with five organisations in the first round of funding from the Airport Carbon Transition (ACT) programme.
The ACT programme is a fund launched by Bristol Airport in July 2021 to kick start and fast track decarbonisation initiatives in the Southwest. The programme supports initiatives and projects reducing direct and indirect emissions from Airport infrastructure with Bristol Airport being a test bed location.
A starting fund of £250,000 was open to businesses and organisations to bid and apply for funding with the projects being considered through an application and interview process.
Since the ACT programme was set up last summer, through the selection process Bristol Airport will collaborate with five organisations supporting innovation projects from the first round of funding. These organisations include Buckinghamshire New University, easyJet, Jet2, The National Wildflower Centre, and Johns Associates Limited:
Buckinghamshire New University
The University will aim to tackle surface access and commuting emissions by conducting research to estimate the potential carbon and cost savings for Bristol Airport from the implementation of a number of feasible and controllable employee transport to work schemes and incentives.
easyJet and Jet2
Both airlines will use funding to develop the infrastructure to accelerate the electrification of airside vehicles and equipment at Bristol Airport.
The National Wildflower Centre
Part of The Eden Project, the National Wildflower Centre will aim to transform spaces across the Airport site through creative ecology, feeding into the Airport's wider biodiversity ambitions and supporting the enhancement of habitats that delivers the co-benefits of climate change adaptation and mitigation.
Johns Associates Limited
The environmental consultancy firm will investigate maximising opportunities for airfield grassland carbon sequestration through innovative biochar absorption.
Simon Earles, Sustainability and Corporate Affairs Director, Bristol Airport commented: "We were thrilled by the range, scope and innovation of the applications to the ACT programme. The breadth of projects was staggering, including new to market technologies, university research programmes, carbon sequestration, and energy or propulsion generation."  
Professor Warnock-Smith, Buckinghamshire New University added: "We are very much looking forward to working closely with Bristol Airport on its ambitious Airport Carbon Transition agenda, in the important area of employee ground access.
"This scheme builds on previous research carried out at both Buckinghamshire New University and Bristol Airport, which explores employee travel habits and preferences across a range of sustainable access alternatives."