Gold Coast Airport installs four aerobridges as part of terminal expansion
As part of its terminal expansion, Gold Coast Airport has installed four aerobridges that will connect passengers to their next journey.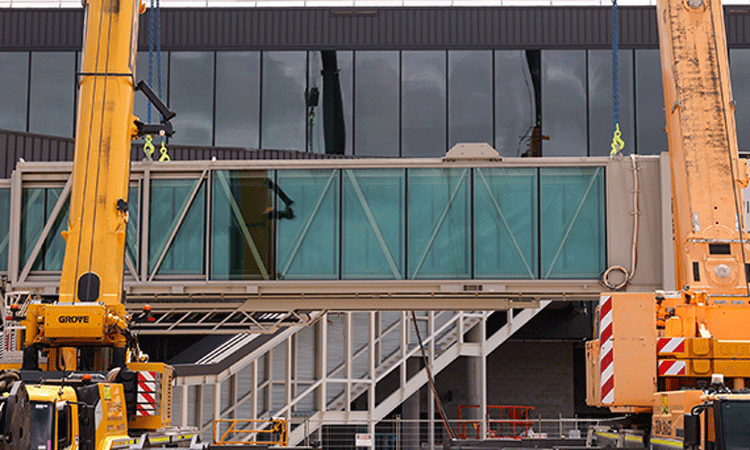 The aerobridges have a green glass tint, which makes them aesthetically unique in Australia. Credit: Gold Coast Airport (GCA)
The four aerobridges that will connect Gold Coast Airport (GCA) passengers to their next journey are being installed this week (22 to 28 November 2021), as the terminal expansion takes shape, ready for borders to open fully in 2022.
The aerobridges are being installed by a dual 150 tonne crane lift one at a time from the northern to southern end of the terminal expansion. Each one takes several hours to install and requires a team of about 10 people.  
The aerobridges each weigh 31 tonnes and measure 22m when they arrive, extending to 40m when in place. As part of the installation process, the aerobridges are connected to large hold down bolts, standing more than two metres tall and 1.4m wide.
The aerobridges arrived last week (15 to 21 November 2021) after travelling about 13,500km across land and sea, visiting seven cities in two countries along the way.  
Queensland Airports Limited CEO Chris Mills said passengers would get a better understanding of the future look and feel, and operation of the terminal when the aerobridges were in place.  
"The aerobridges are a central part of the development and when people see them, they will get a good idea of how the passenger experience is going to change from next year with the terminal expansion," commented Mills.
Mills further said frequent visitors to the Gold Coast had been unaware of the 30,000m2 terminal expansion throughout construction because of extremely low passenger numbers at the airport – but that was about to change.
"As we welcome back a significant number of passengers from NSW, Victoria, and the ACT in December 2021, they will be able to see all the work that has been going on at GCA since they were gone," he added.
The glass aerobridges, which will be used for both international and domestic flights, will deliver views of the spectacular Gold Coast and northern NSW region for arriving and departing passengers. Each aerobridge has a green glass tint, which makes them aesthetically unique in Australia.
The terminal expansion will deliver a significant change in space and experience for passengers when it opens in 2022. The three-level expansion will double the terminal footprint and includes additional retail space, and new boarding facilities, a large departure lounge, baggage handling, and border control facilities.