Ferrovial announces plans to deploy a network of vertiports in the UK
In Ferrovial's bid to lead a zero-carbon mobility future, the AGS Airports shareholder has announced plans to launch a network of more than 25 vertiports across the UK.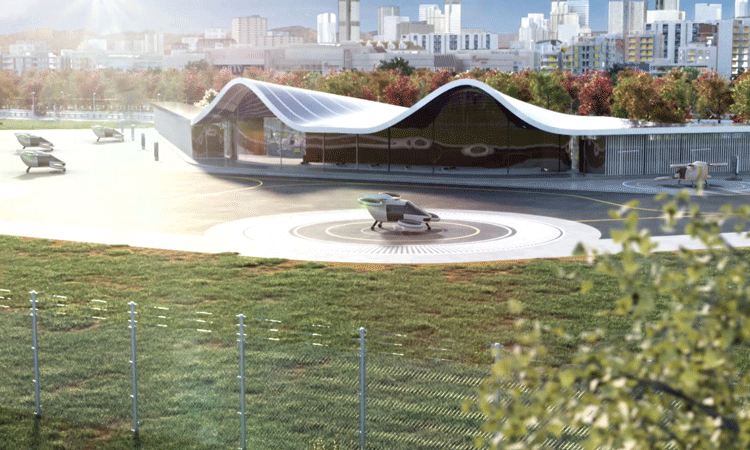 Credit: Ferrovial
AGS Airports shareholder Ferrovial has announced plans to deploy a network of more than 25 vertiports in the UK. This initiative is another step in Ferrovial's bid to lead the mobility of the future through the development of infrastructure for safe, high-speed, zero carbon aviation. It follows the recently announced agreement to develop a network of more than ten vertiports in Florida, U.S.
Vertiports are essential to provide infrastructure for landing, recharging, and taking off passengers of all-electric, vertical take-off and landing (eVTOL) jet aircrafts, such as those being developed by Lilium and Vertical Aerospace. They are integrated into communities and adapted to the surrounding environment, reducing noise impact and improving energy efficiency through innovative design.
To develop the design and engineering components of the vertiport infrastructure, Ferrovial has partnered with international architecture practice Grimshaw and global engineering, management, and development consultancy Mott MacDonald.
"The partnership between vertiports and eVTOLs will provide high speed, affordable, emissions-free travel to millions of people. This network will boost local economies with a new model of regional connectivity", said Kevin Cox, CEO of Ferrovial Vertiports.
Ferrovial has over 20 years' experience of investing, developing, and operating 33 airports around the world, including the U.S., Australia, and Chile. It currently has four airports in the UK. With the largest shareholder stake in London Heathrow Airport (LHR), it is the airport's core shareholder and industrial partner, and it partly owns Glasgow, Aberdeen, and Southampton Airports.