Istanbul Airport commits to 'Net-Zero CO2 Emissions by 2050' initiative
Istanbul Airport has announced that it will join 238 other airports who are committed to achieve 'Net-Zero CO2 Emissions by 2050' initiated by the Airports Council International (ACI).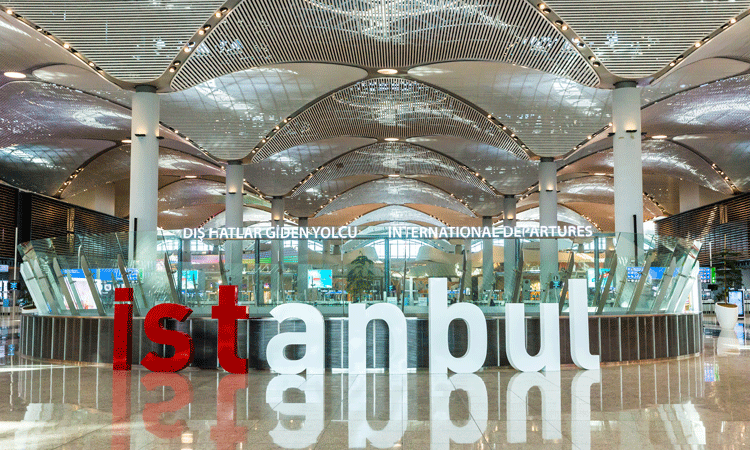 Acting in advance to leave a cleaner world to the next generations, Istanbul Airport (IST) continues to work in line with the principles of sustainable development. Istanbul Airport has announced that it has committed to achieving net-zero emissions by 2050 at the very latest. Launched by the ACI World in June 2019, 'ACI Net-Zero 2050' was created in line with the goal of decarbonising airports against the climate problem.
As a result of its efforts to manage and reduce its carbon footprints within the scope of the environment and sustainability programme, Istanbul Airport has joined 238 airports that have committed to achieving 'Net-Zero CO2 emission'.
Istanbul Airport has carried out significant efforts to reduce carbon emissions including ISO 50001 energy management system installation, energy efficiency activities, system improvements with energy audits, ISO 14064 greenhouse gas management system installation, as well as greenhouse gas calculations, afforestation studies, the use of electric vehicles, and vehicle charging station installations.
Furthermore, Istanbul Airport will continue to work towards achieving net-zero emissions by 2050 using hydrogen fuel for heating and transportation purposes, as well as carbon capture technologies from flue gas. This is in line with the technological developments and efforts for solar power plant installations, purchase of renewable energy from the electricity network, electric vehicle conversions, vehicle charging station installations, use of biodiesel in heavy vehicles, energy efficiency activities, and afforestation projects.
"At İGA, we are aware that we have an important responsibility towards future generations. Acting with this sense of responsibility for a cleaner world," said Kadri Samsunlu, İGA Airport Operations and Chief Executive Officer. "At Istanbul Airport, Turkey's gateway to the world, we have prepared our roadmap for 'Net-Zero CO2 Emission' by 2050 and created our carbon emission reduction strategy by making quite aggressive planning towards this direction. Thus, we have been involved in a process where both technological and operational requirements are constantly monitored and evaluated.
"By implementing many of our projects in advance, we will have achieved our zero-emission targets even before the year 2050. In the short-term, we have realised energy efficiency activities, energy audits, and system improvements, the use of electric vehicle and vehicle charging station installations and we will continue to do so in the next two to three years. In the long-run, we will supply most of our electrical energy needs from renewable sources through the installation of solar power plants and purchases of green energy. We believe that our afforestation activities will also become a sink of significant amounts of carbon emissions. We will also evaluate emission reduction opportunities by following the developing technologies such as use of biodiesel in heavy vehicles, use of hydrogen fuel for heating and transportation, and carbon capture technologies from flue gas. At İGA, our greatest goal is to set the bar even higher in accordance with our objectives."
Olivier Jankovec, Director General of ACI EUROPE, added: "I sincerely congratulate Istanbul Airport for its participation in the collective agreement we have formed with airports across the EU and the world to achieve the 'Net-Zero CO2' emission value by 2050. Despite the serious challenges our industry has been facing due to COVID-19, airports continue to prioritise climate action, and this statement is proof of that. Bringing the climate agenda forward by aligning decarbonisation efforts with global targets will not be easy for any industry, as well as the industries that have significantly suffered from this crisis, whose recovery may take years. We still have significant works waiting ahead to be completed. Besides that, I would like to thank the Istanbul Airport team, who are always willing to do their best by focusing on the ambitious net-zero target."