Brussels Airport opens new building in its logistics hub, Brucargo
The new building provides large refrigerated storage spaces and offers direct airside access for three logistics companies located at Brussels Airport.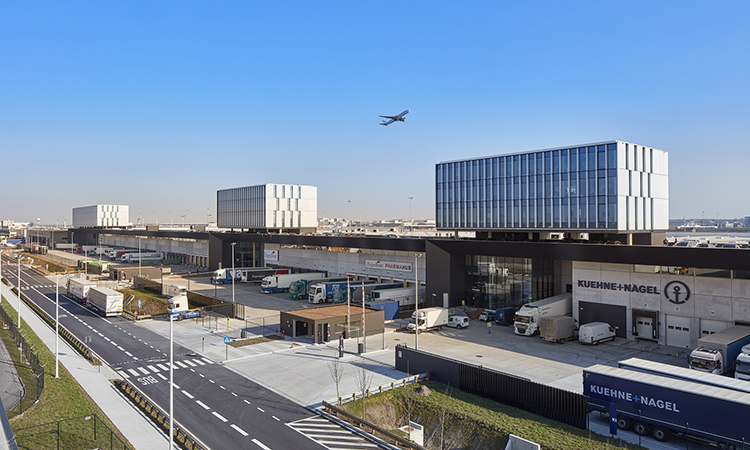 Credit: Brussels Airport
After two years of construction work, a new logistics building for the handling of goods was officially opened in the logistics area at Brussels Airport (BRU). The building, which provides large refrigerated storage spaces and offers direct airside access, accommodates three first-class logistics companies. 
Brussels Airport boasts an essential logistics platform for the import and export to and from Belgium. Over 100 logistics companies have set up office at the airport, making it the second most important logistics hub in the country, after the Port of Antwerp, for international trade and air transport in Europe.
Thanks to its particularly central location amid all of the major industrial centres, the logistics area of Brussels Airport is a crucial powerhouse for the economic growth of the country and its regions, with almost 650,000 tonnes transported in 2020. Brucargo has specialised in the shipment of perishables, pharmaceuticals and e-commerce; markets that have recorded strong growth in recent years, especially during the COVID-19 crisis. 
For several years now, Brussels Airport has been making considerable investments to further strengthen the position of its logistics hub, Brucargo. The airport has invested a total of €100 million in the construction of ultra-modern logistics buildings – including the Brinks building for the storage of valuable goods and the Animal Care & Inspection Centre for the temporary accommodation and transport of various animal species – as well as in the renovation of several existing buildings – such as the Swissport Cargo building – and, of course, in the construction of a brand new building at Brucargo West. 
At the west side of Brucargo, Brussels Airport has, under its own management, invested in a building that provides 50,000m² of warehousing space to meet the needs of three new companies which are active in the transportation, packaging and warehousing of freight.
Brucargo West not only provides additional first-line facilities for handling activities, increasing maximum capacity, but also anchors the air freight activities of two global logistics service providers who, once again, confirm their confidence in the future development of Brucargo.
"Thanks to Brucargo West, we now have additional logistics facilities for the transport in optimal conditions of pharmaceuticals in general and COVID-19 vaccines in particular," explains Arnaud Feist, CEO of Brussels Airport. "We are thus expanding our first-line logistics infrastructure and temperature-controlled storage facilities, now having the largest refrigerated storage capacity of any airport in Europe. Brussels Airport is a proactive investor who aims to make the logistics chain even more efficient and get it ready to accommodate future growth, making the airport an essential economic hub in Belgium, in terms of employment and added value for our country's economy."
Sustainability was a key concern throughout the construction of the logistics project, which started in May 2019. Part of the roof surface is laid out as a green roof, while the entire surface is designed to be fitted out with solar panels in the future. Rain gardens were built to improve rainwater infiltration and rainwater pits were constructed for the reuse of rainwater, driving down the buildings' use of mains water. The buildings were also equipped with LED lighting and heat pumps. In addition, to improve mobility within the airport grounds and facilitate more sustainable modes of transport for staff, charging stations for electric vehicles were installed in the area. Two additional bus stops and a new bicycle path complete the mobility offer.