Modernisation of central area of boarding level at Belgrade Airport completed
The modernisation works involved the development of new retail and food and beverage options, as well as new entertainment offerings.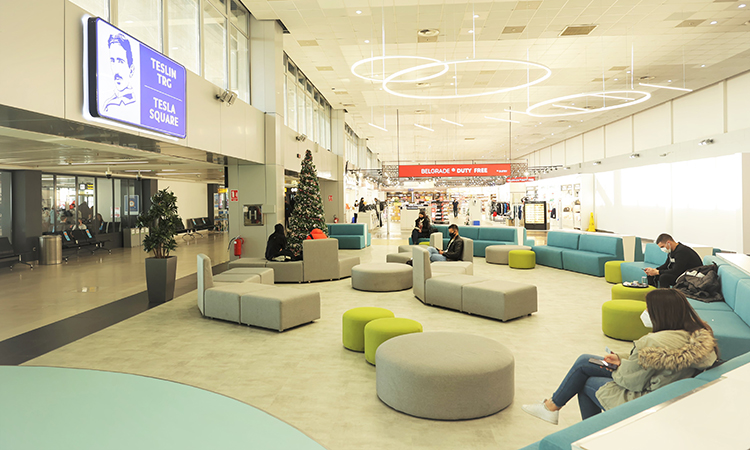 Credit: Belgrade Nikola Tesla Airport
Belgrade Nikola Tesla Airport (BEG) has announced that it has completed works on the enhancement and modernisation of the entire central area on the boarding level, representing an investment of over €2 million.
The new area is entered immediately after passport control and includes an expanded and modernised Duty-Free shop, immediately followed by the 'Tesla Square', where passengers are offered a relax zone, a new restaurant and coffee shop and a gaming zone. Furthermore, there is a new area for parents and children next to gates A5 and A6.
Throughout the whole area, passengers can access free and unlimited Wi-Fi for their personal and business purposes, which is a standard for all airports in the VINCI Airports group.
The replenished and refreshed interior of the new central area is equipped with modern lighting and comfortable furniture, including new floor coverings. Passengers are presented with a larger and centralised Duty-Free shop of 876m2, created in accordance with a 'walk through' concept, which now offers a broader selection of exclusive domestic and foreign brands.
A new bar-restaurant and coffee shop are also included in the central area, providing a more varied offering. While waiting to board a flight, passengers also have the option to spend some time in the new gaming zone, with the latest free video games available, or in the gadget shop.
The reconstruction works of the whole area lasted a total of five months as part of the transformation plan for Belgrade Nikola Tesla Airport, led by VINCI Airports. They were carried out simultaneously with the ongoing major works on the modernisation and expansion of the airport's capacity, which represent an essential part of the concession project, while taking strict precautionary measures in order to avoid disruptions to passenger flows.
The entire concept was conceived and implemented to provide passengers with greater comfort and quality offers and services, in line with the best practices of the airport's parent company, VINCI Airports, which operates 45 airports around the world.