New connection launched between Ras Al Khaimah and Delhi Airport
The new route will connect passengers in the UAE with 28 destinations in India via Delhi, with more cities due to be added in the coming weeks and months.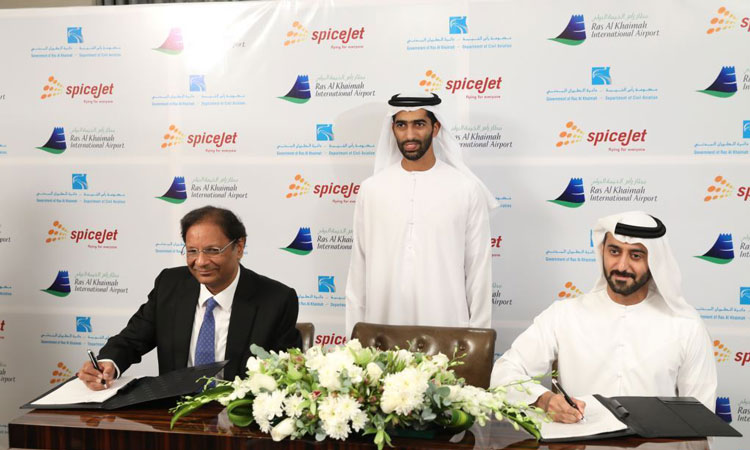 Credit: SpiceJet
On 27 November 2020, Ras Al Khaimah International Airport (RAK) welcomed the first scheduled passenger flight of a new commercial service route from Indira Gandhi International Airport (DEL), Delhi, operated by SpiceJet. The aircraft's arrival heralded the commencement of both a new phase of operations for the United Arab Emirates (UAE) transport hub and a new era of connectivity between India and Ras Al Khaimah. 
Touching down just before 01:00 on 27 November 2020, the flight from Indira Gandhi Airport was given a 'Water Salute' – the traditional greeting for new flights that sees two airport fire tenders positioned either side of the aircraft spraying a plume of water into an arc over as it taxis to its stand.
After landing and deplaning, the passengers on the inaugural flight into Ras Al Khaimah Airport were treated to a red carpet walkway as they made their way into the airport terminal. There, they were each given a gift from Ras Al Khaimah Airport Duty-Free to commemorate the occasion and were invited to participate in a cake-cutting ceremony.
Among the officials and dignitaries greeting the first set of passengers in SpiceJet's first flight were Shri Uttam Chand, Community Affairs Consul at the Consulate General of India in Dubai, and Sanjay Khanna, Chief Executive Officer of Ras Al Khaimah Airport. Also attending the event were representatives from RAK Tourism Development Authority, SpiceJet and key members from the Indian trade industry and business houses in the UAE.
Khanna said: "RAK Airport is progressively ramping up its scope of operations in a new phase of expansion, and SpiceJet is an important partner in our strategy. As an increasingly influential passenger and logistics hub, we are embedded in the fabric of the community in Ras Al Khaimah and play an important role in the Emirate's socio-economic development, as well as the wider growth and development of the UAE. I want to thank all those who have made today possible, especially everyone at the airport who has worked so tirelessly to ensure a smooth welcoming event. I want to extend special gratitude to RAK Airport Duty-Free for the wonderful gifts they have given to the passengers to celebrate SpiceJet's inaugural commercial flight into the airport."
SpiceJet's first tranche of new services is set to connect passengers in the UAE to 28 destinations in India via Delhi, with more destinations across the Indian sub-continent to be added in the coming weeks and months. This new service – which will operate two return flights per week – will bring a host of benefits, including economic enhancement and connectivity for business communities in both India and Ras Al Khaimah.