TSA moves its security checkpoint to the new terminal at The New SLC
TSA employees took part in two simulations in August 2020 to preview and prepare for operations in The New SLC Airport.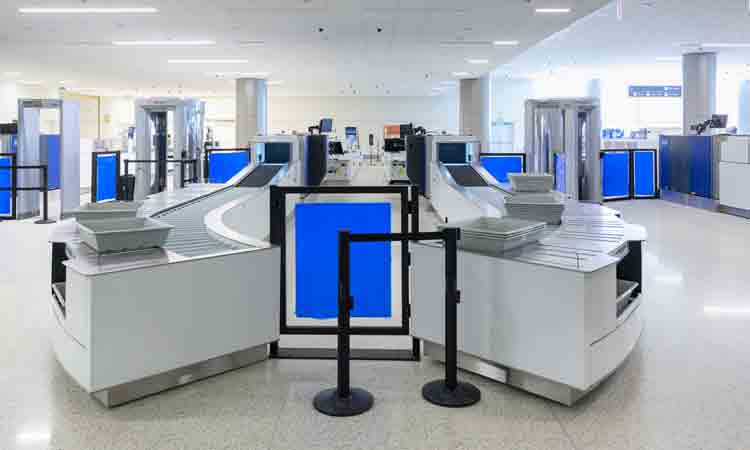 TSA checkpoint at The New SLC Airport. Credit: Salt Lake City International Airport
With the first phase of The New SLC Airport open to travellers, the Transportation Security Administration (TSA) has transitioned its security operations to the new and spacious terminal.
Travellers departing from The New SLC will be greeted by a single, centralised security checkpoint outfitted with Automated Screening Lanes (ASLs).
With ASLs, multiple travellers are able to simultaneously place their items in bins for screening; conveyor belts move bins into the X-ray machine tunnel and automatically return the bins to the front of the security checkpoint. Any bag that requires a bag search with be electronically diverted while other luggage continues uninterrupted through the screening process.
ASL bins are 25 per cent larger than a typical bin and are able to hold a roll-aboard suitcase. Each bin contains a unique Radio Frequency Identification tag that allows for additional accountability of a traveller's carry-on property as it moves through the security screening process. Cameras integrated into the ASLs capture images of the contents of each bin and are linked side-by-side to the X-ray image of the contents of the carry-on bag's contents.
In addition to the ASLs, the security checkpoint features eight Advanced Imaging Technology body scanners, nine walk-through metal detectors and explosive detection equipment.
"TSA has worked closely with the Salt Lake City Department of Airports for the past several years to design TSA work areas within The New SLC to ensure optimal space for our employees to carry out the security checks. As a result, TSA will see improved efficiency in all our operations," said TSA Federal Security Director for Utah, Mark Lewis.
TSA was also responsible for searching and inspecting more than two million square feet of the new terminal sterile area to ensure all prohibited items were removed so that The New SLC could open to travellers on 15 September 2020.