Denver Airport achieves major milestones in gate expansion project
Denver Airport has successfully completed the steel structure of the exterior buildings on both Concourse C-East and Concourse B-East.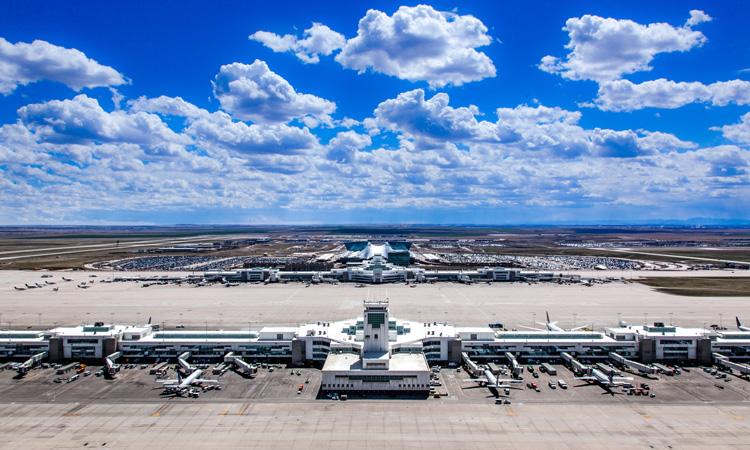 Credit: Denver International Airport
Denver International Airport (DEN) has announced that it has marked two important milestones in its Gate Expansion Program during July 2020, as the final beam of the exterior structure was put into place on both Concourse C-East and Concourse B-East, signifying the completion of the steel structure of the exterior buildings on both concourses.
CEO of Denver Airport, Kim Day, said: "This is an exciting milestone as DEN continues to expand and improve our ageing facilities and infrastructure. This is our largest capital improvement programme and I'm proud to say we are on schedule and within budget. The programme we are undertaking is advancing the state's most important economic asset while also providing valuable construction jobs during this uncertain economic time. I'm grateful to the team and all the essential employees working every day on this programme and at the airport."
As part of the Gate Expansion Program, 16 new gates are being constructed on Concourse C-East and 10 new gates are being built on Concourse B-East. Earlier in 2020, United Airlines signed a use and lease agreement for the new B gates, including those on B-East. In February 2020, Southwest Airlines signed a use and lease agreement for all 16 gates being built on Concourse C.
In all, Denver Airport is building 39 new gates, increasing overall gate capacity at the airport by 30 per cent. The new gates will be added on all three concourses to allow DEN's airlines an opportunity to grow and for the airport to accommodate new airlines, including international carriers. Work on the new gates began in the summer of 2018, with construction set to be complete in 2021 and the gates operational in 2022.
When the new gates are complete, all three concourses will feature improved amenities, including an opportunity for passengers to step outside for a breath of fresh air at one of Denver Airport's new post-security outdoor decks. The new outdoor spaces will provide views of the mountains or prairies and will feature a pet relief area, outdoor seating and fire pits for ambiance.
Other amenities coming to the new gate areas include a variety of more comfortable seating options, all with power outlets for charging, upgraded restrooms, nursing rooms and more shopping and dining options.
In addition to the 39 new gates, the airport will update ageing facilities across the concourses for an enhanced passenger experience including: Hold rooms, commuter facilities, restrooms, carpeting, furniture, ceilings, updated wayfinding and replacing walkways and escalators. The concourse renewal work is part of Phase II of the programme, which will make much-needed renovations to improve the passenger experience.
Phase II of the project added $560 million to the existing Gate Expansion Program contracts and was approved by Denver City Council in May 2020. By utilising construction teams who are already mobilised at DEN, the airport can efficiently make improvements to enhance the passenger experience while also providing jobs and construction opportunities in Denver. The concourse renewal work will be complete by in 2024, dependent upon traffic levels and airline operations.