Manchester Airport's new landmark bridge links site with Wythenshawe
A new bridge at Manchester Airport will provide jobs for the local area, as well as a sustainable way to travel to the airport site.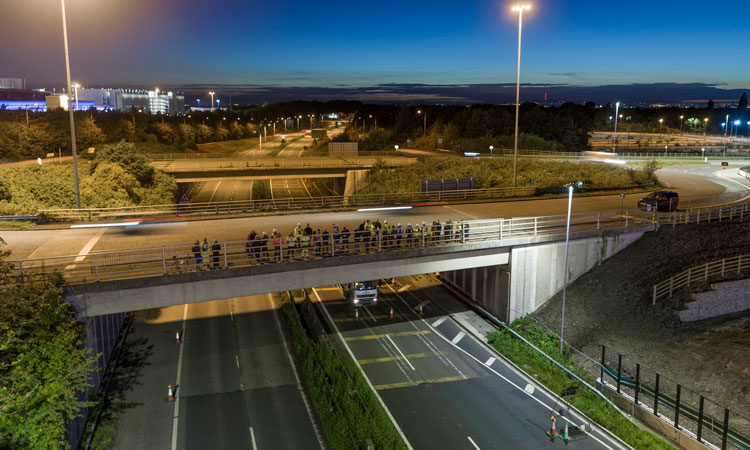 A large foot and cycle bridge linking Wythenshawe to Manchester Airport has been installed.
The 380-tonne structure spans the M56 spur airport approach road and, costing £6 million, was rolled into position by a specialist team using two 800-tonne, 20-axle, self-propelled modular transporters.
The bridge – partly funded by Manchester City Council – will serve as a pedestrian and cycle link between the Woodhouse Park area of Wythenshawe and the airport site. It will also provide direct access to the employment opportunities being created by Airport City Manchester, as well as enabling people to walk or cycle to the airport's train, tram and bus station.
Brad Miller, Chief Operating Officer at Manchester Airport, said: "This new bridge will give those living in surrounding neighbourhoods a safe and sustainable way to travel to the airport campus, whether they work here, are using our Ground Transport Interchange or are accessing other facilities like our new AeroZone education centre or Airport Academy training hub."
Airport City Manchester has the capacity to deliver more than 15,000 jobs across a number of sectors. The wider site also has the capacity to accommodate further development, including two 92,000ft2 Grade A office buildings and a multi-story staff car park, planning consent for which has been granted.
The brand new bridge at Airport City Manchester is set to open to the public in November 2020 and when fully complete will blend into the neighbouring buildings, as well as providing feature ramps and passenger lifts to ensure it is accessible to all.