Build phase of Manchester's Terminal Two extension complete
The handover sees phase one of the terminal two extension complete on time, and now ready for tests and trials ahead of opening to passengers in July 2020.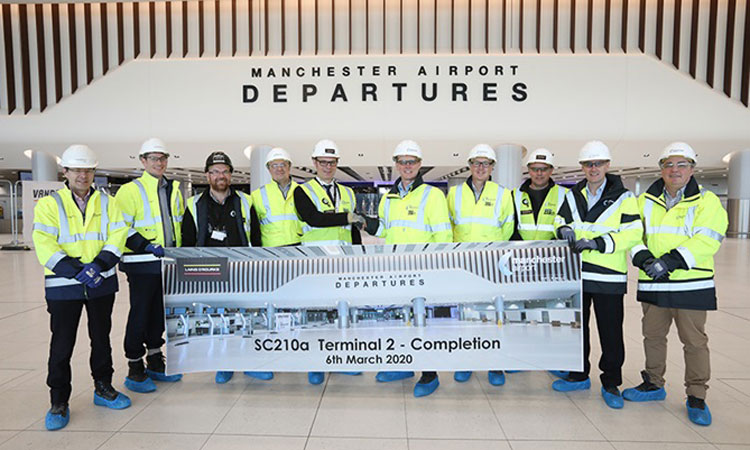 Manchester Airport's transformation programme is on track, following the completion of the main build phase of its Terminal Two Extension.
The extension, known as sectional completion 210a, has been handed over to the airport from contractor Laing O'Rourke.
The milestone comes a little over two and a half years since Manchester Airport Group (MAG) signed the contract for the extension, as part of the £1 billion investment into its 'super terminal'.
The terminal extension remains on course to open in July 2020, and will now go through a range of trials and fit outs before being opened to passengers.
Passengers will see a brand-new security hall, departure lounge, immigration hall, arrivals hall and the new bus gate lounge within the terminal extension. Further facilities will then start operating during the rest of 2020, the airport has said, including the first of the new 'island' check-in desk banks and the new baggage reclaim facilities. As the various elements of the new extension open, the airport will start to close parts of the existing Terminal Two to allow for that area to be reconfigured to align with the new facilities. The fully reconfigured Terminal Two will open in 2022.  
"One year on from the completion of Pier One and the West Multi Storey Car Park, the on-time milestone achievement represents the culmination of a huge collaborative effort by MAG and our team of experienced delivery partners," commented MAG Programme Delivery Director, Rob Stewart. "Everyone involved should feel extremely proud and the wider community excited about this fabulous facility coming online in July."  
Paul McNerney, Director of UK Building at Laing O'Rourke, stated: "The handover is the result of a tremendous effort by our local team and all those involved. It shows what can be achieved when a broad project team work in close collaboration from the outset. By engaging with us early, the client made it possible for us to fully utilise our knowledge of modern methods of construction to deliver on time and to a high standard."