Memmingen Airport introduces zero-emission aircraft tow tractor
The all-electric F110e tow tractor will be used on the apron at Memmingen Airport, providing a fast, quiet and emission-free aircraft movement solution.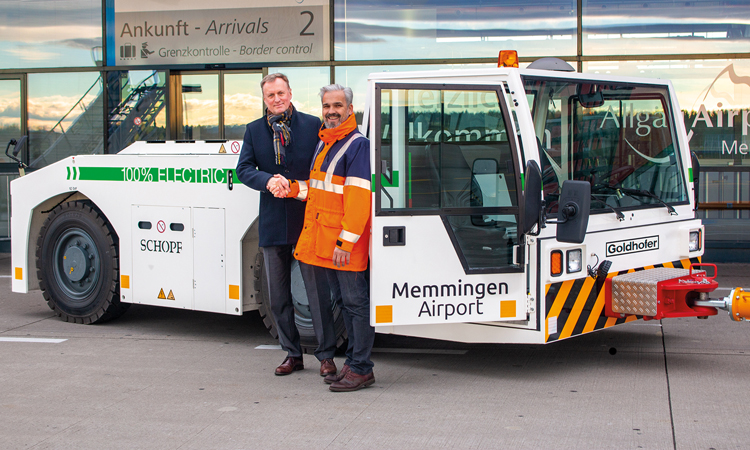 Credit: Goldhofer - Lothar Holder (CEO at Goldhofer AG ) and Ralf Schmid (Managing Director of Flughafen Memmingen GmbH) at the official handover.
Allgäu Airport Memmingen (FMM) has begun the operation of an all-electric F110e tow tractor in a bid to provide an efficient and emission-free solution for moving aircraft to their starting and parking positions on its apron. The tow tractor, which has been provided by Goldhofer, works just as efficiently as its diesel-powered counterparts, but with less of an environmental impact. 
Just as powerful as a diesel-powered tow tractor, the zero-emission model is more economical and can manoeuvre aircraft with up to 120 tonnes of take-off weight. The vehicles allows Memmingen Airport to undertake any ground handling with significantly less noise pollution and carbon emissions being emitted.
Ralf Schmid, Managing Director of Flughafen Memmingen GmbH, said: "If we are to achieve our climate neutrality target, we have to commit to a number of investments. In addition to a combined heat and power plant and a natural gas filling station, this also includes electromobility. With the introduction of an electric aircraft tow tractor, we have now taken a further step in this direction." 
The F110e tow tractor, the electrical equivalent of the standard F110 diesel-powered vehicle, provides a multitude of ecological advantages to Memmingen Airport. The vehicle will also necessitate the minimum maintenance requirements from the airport, as the battery only requires being topped up with water. Therefore, the expensive maintenance items relating to diesel engines and transmissions do not apply.
CEO at Goldhofer AG and Head of Airport Technology, Lothar Holder, said: "We are delighted that Memmingen Airport has chosen to work with us in order to continue to move forward with its sustainability programme. We are convinced that the use of electric vehicles at Memmingen Airport will not only reduce emissions and energy requirements enormously, but will also be significantly more economical than with conventional systems."