Installation of solar power plant underway at Salvador Bahia Airport
The implementation of the plant makes Salvador Airport the first in the country to have a solar plant supplying energy to the terminal.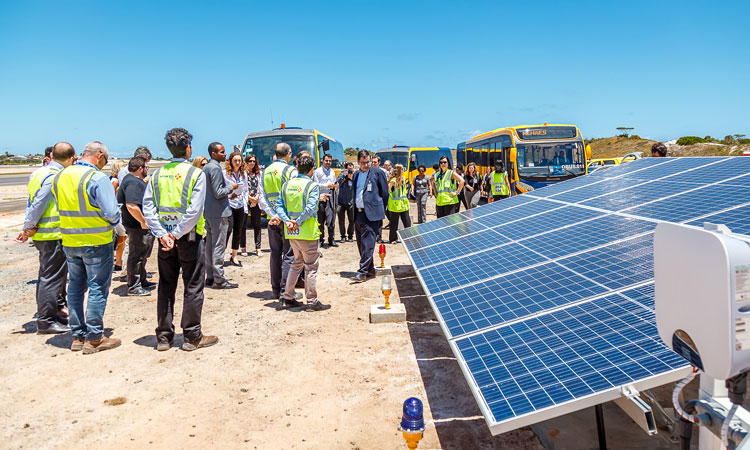 Copyright: Salvador Airport
As a result of an approximately R$16 million investment, Salvador Bahia Airport has begun the installation of a new solar power plant at the threshold of the airport runway.
The installation brings the airport in line with VINCI Airports' environmental commitments and will result in significant savings in electricity consumption. 
When fully operational, the solar plant will be responsible for supplying over 30 per cent of the terminal's current consumption – the equivalent of supplying 3,800 households – and will reduce the airport's carbon footprint by 30 per cent; approximately 690 tonnes of carbon per year.
Rodrigo Tavares, Salvador Bahia Airport's Environment Manager, said: "We have a solid commitment to sustainable development that guides all our actions. Investing in new technologies, improving our processes and engaging our employees towards sustainability are pillars that are part of VINCI Airports' commitment."
The use of solar energy at Salvador Bahia Airport is a pioneering initiative, making it the first airport in the country to have a solar power plant supplying its terminal. The development is part of the airport's commitment to sustainability in line with Air Pact, VINCI's global environment strategy, and represents its efforts to improve the terminal's energy consumption. 
The initiative also meets one of the Millennium Sustainable Development Goals, the United Nations global agenda for a better world of 2030, which aims to expand access to clean and sustainable energy. VINCI Airports' sustainability efforts made in Bahia have gained significant national and international attention. During the most recent meeting of the International Council of Airports, Salvador Bahia Airport was recognised as a 'green airport' by the institution, in addition to receiving the carbon accreditation certificate.
Salvador Bahia Airport follows other airports in the VINCI Airports group, such as Santiago International Airport in Chile, in implementing and utilising solar energy. Construction of the solar plant is currently underway and operation is expected to begin in the second half of February 2020.