New hybrid aerial vehicle tested at Frankfurt Airport
The hybrid aeroplane has been designed to float through the check-in halls in airport terminals, surveying the airport and performing status checks.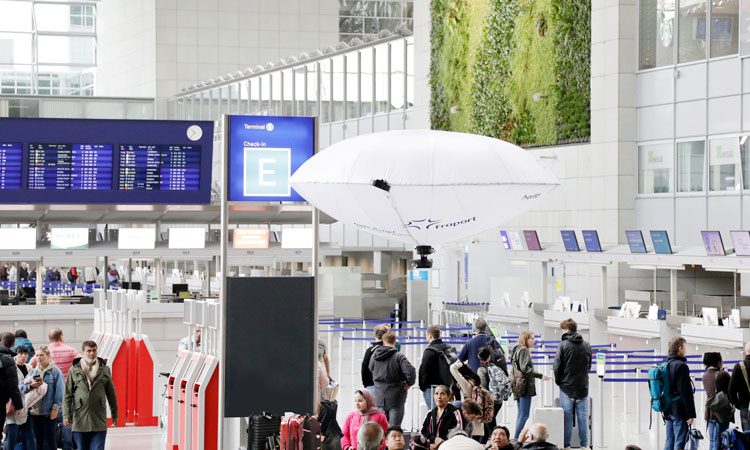 Copyright: Fraport AG
Fraport AG and Hybrid-Airplane Technologies GmbH have worked cooperatively in order to begin tests of a new hybrid aerial vehicle at Frankfurt Airport.
Trialled for a limited time at the end of October 2019, test flights were carried out to assess if the aerial vehicle could be used to perform status checks at the terminals. Passengers were able to see it floating above them throughout Halls D and E in Terminal 2 of the airport.
Head of Airside and Terminal Management, Corporate Safety and Security at Fraport AG, Alexander Laukenmann, said: "The use of innovative technology plays a pivotal role in all areas of airport operations – including ensuring traffic safety in our check-in halls. At Frankfurt Airport, we are already experimenting with technologies that many still consider to be in the realms of science-fiction. The H-Aero innovative flight concept is a good example. We believe it has various potential applications that we will continue to investigate in the next stages."
The H-Aero is a small, helium-filled hybrid aerial vehicle – combining the advantages of a balloon, aeroplane and helicopter in a single system – with wings that can rotate in 270o to steer in all directions. 
The aim of the field test was to see if utilising the H-Aero for performing status checks in the terminals made life easier for employees – instead of having to inspect the terminals on foot, employees could check the sites remotely through camera images. Subsequently, the easier identification of incidents, such as any necessary clean-ups or repairs, would contribute to the overall traffic safety of the airport. In the future, and with the help of developments in artificial intelligence, the H-Aero will be able to make its rounds and report any issues autonomously.
Csaba Singer, CEO of Hybrid-Airplane Technologies GmbH, said: "We are very grateful for Fraport AG's openness to new technologies. Innovation has a real chance of success only if it is used to simplify processes and only if passengers and employees see it as socially acceptable. We have successfully demonstrated that both are possible over the past four days in Terminal 2 of Frankfurt Airport in what was a genuine world first."