Amsterdam Schiphol upgrades fire training aircraft, the FireFly
Looking to the future, Schiphol has upgraded the FireFly, encorporating elements based on the Airbus A380 to enable more intensive fire fighting training exercises.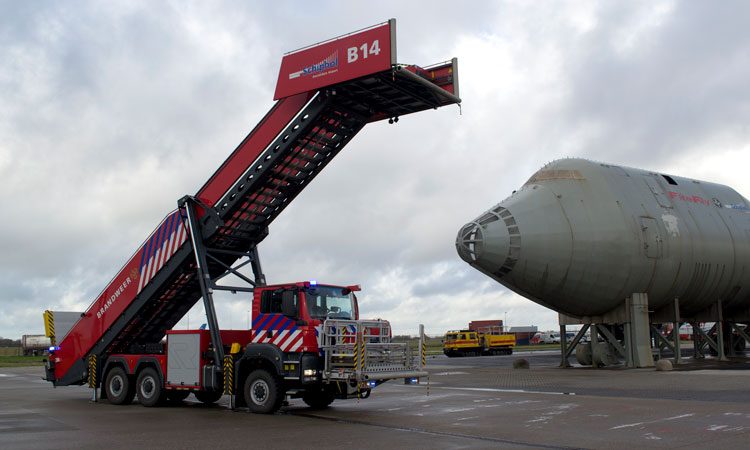 Amsterdam Airport Schiphol has updated its aircraft fire trainer, the FireFly.
The modifications made in recent weeks include the replacement of the aircraft's right wing with one from the largest passenger aircraft in the world, the Airbus A380. The original wing was based on that of a Boeing 747.
The motor and landing gear have also been upgraded, and are now also based on the Airbus A380. The aircraft motor can now rotate in order for trainees to practice spraying it with water, and it is now possible to direct more smoke to the motor and landing gear to simulate those conditions, too.
"Amsterdam Airport Schiphol prioritises the safety of passengers and staff," commented Alex Hagenbeek, Officier Opleiding en Training Brandweer Bij at Amsterdam Airport Schiphol. "This is why, each and every day, the Schiphol fire service carries out intensive training exercises involving a wide range of potential airport fire scenarios. We strive to always arrive at the scene within three minutes: 24 hours a day, seven days a week. We are extremely pleased with these modifications to the FireFly and that the lifespan of the training aircraft has been extended."
The FireFly has been at Schiphol since 2002. The exterior can be set on fire with three engine and landing gear fires, a broken wing fire or a large-scale surface fire measuring almost 860m². Twelve separate fires can be lit inside the FireFly, making it possible to simulate various scenarios.