RJ Steenstra
President & CEO of PortsToronto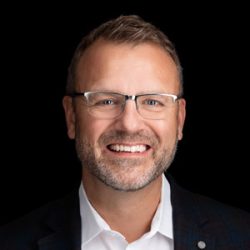 Roelof-Jan (RJ) Steenstra joined PortsToronto in September 2022. Previously President and CEO of the Fort McMurray Airport Authority in Alberta, Mr. Steenstra is an accomplished executive leader who is recognized for driving businesses forward in challenging economic conditions by making smart and dynamic decisions and leveraging revenue diversification and lean principles to propel organizational refocus and change. His passion for airports is evident and he is recognized for developing innovative and fiscally-grounded solutions – without losing sight of the passenger and employee experience. This passion and approach will be applied to all of PortsToronto's businesses including Billy Bishop Toronto City Airport, the marine Port of Toronto, Outer Harbour Marina, and other properties and holdings within the organization's portfolio.
Mr. Steenstra is past Co-Chair of the 2023 Arctic Winter Games Bid Committee, Director for the International Civil Aviation Organization (ICAO)/ Airports Council International World (ACI) Community of Practice and the American Association of Airport Executive's (AAAE) Northwest Chapter. He currently serves as Chair of the Policy Board for the Canadian Airports Council and Director on the Airports Council International – NA (ACI-NA) Executive Committee. He also serves as a director for the global board for Airports Council International – ACI World which represents the collective interests of airports around the world to promote excellence in the aviation industry.
Mr. Steenstra holds a Bsc. in Anthropology and a BA in Communications from the University of Calgary, as well as an MBA from Royal Roads University. He has earned several industry designations including an Accredited Airport Executive (AAE) designation, an International Airport Professional (IAP) designation from the ICAO/ACI and an Institute of Corporate Directors (ICD.D) designation from the University of Calgary's Schulich School of Management. Canada.
Related organisations
Related people