Next-generation data networks can help solve today's airport operation challenges
In an exclusive from David Gammie, CIO at Edinburgh Airport, we hear how smart networks help to meet increasing passenger demands for connectivity while delivering 24/7 business critical operations.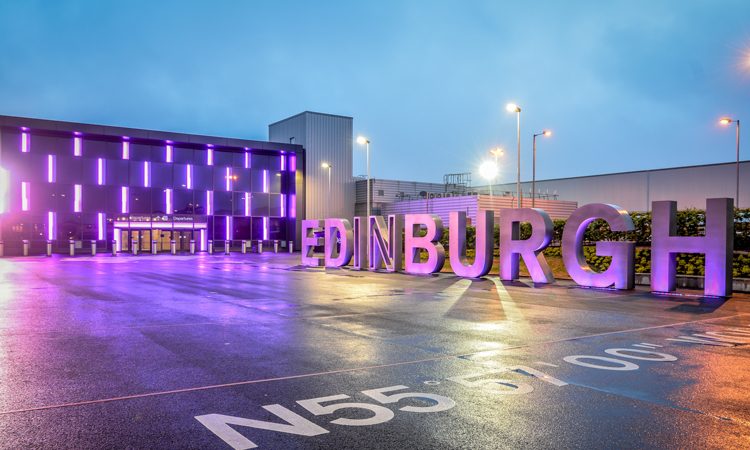 Airports are a key part of our national infrastructure, keeping vast numbers of people moving every day. They have always depended on solid IT infrastructure and IT teams to manage the ever-increasing volume of updates and integrations required to maintain performance.
However, the massive growth in mobile devices in recent years has had a huge impact on airport operations. Not only do passengers and staff typically carry multiple mobile devices – and expect constant connectivity – there is a growing adoption of the Internet of Things (IoT) within airport operations. These trends are now demanding robust, smart IT networks, crucial for today's airports as they now need to manage a significant increase in connected devices within their environment.
Edinburgh Airport (EDI) is no different, and with international capacity increasing by 121 per cent between 2008 and 2018, more than any other UK airport, it is important for us to have elastic, reliable and intelligent network connectivity.
Data networks: An essential part of modern airport infrastructure
The data network is undoubtedly a key asset in any airport. It underpins everything from crucial day-to-day operations such as managing bag drops and security queues, to improving passenger experience, with optimised traffic flows and proactive management. It is used by multiple groups within the airport – passengers, third-party businesses and staff. Passengers, for example, increasingly carry multiple mobile devices, which they expect to connect not only to the Wi-Fi but to location-specific applications. They also expect live updates on their flights and the airport environment.
The data network is a critical airport asset
Edinburgh Airport is Scotland's busiest airport and it is crucial that we have a robust IT network. We use three key pillars to benchmark and continuously strengthen our network performance:
Resilience
Airport networks are subject to strict security and regulatory compliance frameworks and are highly visible. This places additional demands for high resilience on the airport network environment. At Edinburgh Airport we run more than 170 applications on our airport network, all managing different core aspects of the airport's operations. A third of applications are required to be highly available, meaning that the underlying network that supports them needs to be highly resilient.
Operational efficiency
Any forward-thinking airport can now leverage technology as an enabler for optimising and automating processes. We have invested in multiple applications to help us achieve this and are highly regarded as an innovative airport that embraces technology that improves operational performance and passenger experience. In the UK we were the first airport in Europe to implement large-scale, shared-airline self-service bag drops, as well as new screening technology for passenger hand luggage.
Our aim is to get people through security quickly and safely with 95 per cent fast-track passengers moving through security in under five minutes, and 90 per cent of regular passengers moving through security in under 10 minutes. We publish current real-time security times on our website to help passengers plan accordingly. All this demands information in real time through a reliable network.
Innovation
To ensure we deliver the best possible passenger experience from start to finish we need to understand the passenger journey throughout the airport, identifying and planning for potential bottlenecks before they happen. This is tracked in real time to ensure we optimise and stay one step ahead of our passengers. We have invested in everything from online chatbots to trolley-tracking applications to manage our assets and sensors to enable proactive bin emptying. These innovations are all running on our network and their use contributed towards Edinburgh being named UK Airport of the Year and Scottish Airport of the Year in 2018
Investing in smarter networks to adapt to increasing connectivity demands
Given that data networks already play such a crucial role in the modern-day airport environment, it is vital that next generation networks are designed to adapt to future challenges.
The growing number of connected devices is placing unprecedented demands on current airport networks. IoT sensors and ecosystems have multiple applications in airport operations, from tracking the location of key assets, to tracking environmental factors like temperature or air quality. However, IoT technology also increases the volume of connected devices on an airport's network, the volume of data the network needs to handle, and the dynamism with which devices are added, amended and removed. IoT requires airport networks to be more agile than ever before, rapidly configured and managed, while retaining watertight security.
Airport networks are now challenged with an unpredictable demand, and solutions need to offer greater flexibility and automation within the network, especially when it comes to managing traffic flows, prioritising traffic and adding new devices, quickly and securely.
Software defined networks (SDN) can resolve the issues of cost and network scalability without sacrificing the quality of service. At Edinburgh Airport we are investing in our network to ensure we can:
Handle the increased variety of data connections through IoT and provide granular security
Provide operations with real-time information to make improved decision support
Manage our growth through deploying change more rapidly
Improve management and resilience of the network infrastructure.
However, transitioning to SDN technology in a complex IT environment such as an airport is challenging. At Edinburgh Airport we've partnered with independent IT advisers FarrPoint for example, to ensure we have the technical assurance needed to invest in the right solution to satisfy our business needs.
Investing in new network technology is not only an enabler for increased customer satisfaction and airport growth, it helps to manage the challenges of the future.
Biography
David Gammie has a combination of 12 years' experience as a CIO preceded by 12 years' consulting experience for a range of global management consultancy firms. Gammie joined the executive team at Edinburgh Airport as IT Director in 2014 and oversees how technology provides resilience, enables efficiency and enhances the passenger journey at the airport.