Creating an experience at Orlando International Airport
Posted: 1 June 2012 | Phil Brown, Executive Director of the Greater Orlando Aviation Authority | No comments yet
When 50 million visitors are attracted to your city in a single year, you had better be prepared to exceed expecta – tions. As the number one family-friendly destination in the United States, Orlando's first impression and last impression are often made by the one place that connects travellers to some of the world's most iconic attractions; Orlando International Airport.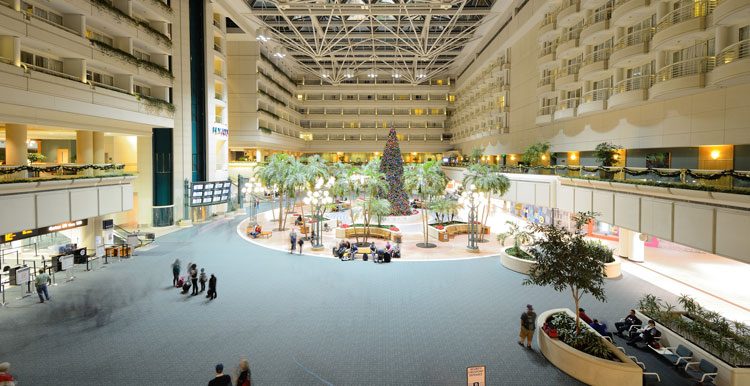 When 50 million visitors are attracted to your city in a single year, you had better be prepared to exceed expectations. As the number one family-friendly destination in the United States, Orlando's first impression and last impression are often made by the one place that connects travellers to some of the world's most iconic attractions; Orlando International Airport.
Room to grow
At 21 square miles, MCO has the third largest airport landmass in the United States. The expansive footprint provides enough room for four runways, a 1,400 acre integrated cargo center, aviation support facilities, 96 gates, natural conservation areas and room to grow.
Depending on future capacity needs, Orlando International Airport is already prepared to add new infrastructure as passenger demand dictates. We are currently reviewing MCO's master plan for the next five, 10 and 20 years. Those short and long-range projections will help determine what facilities are needed and in what time-frame. In addition, we are also working to update our strategic plan. The goals will guide us in achieving our vision to advance Orlando and the region as the premier intermodal transpor – tation gateway for global commerce and meeting our mission goals to provide safe, secure, customer-friendly and affordable transportation services that promote 'The Orlando Experience'.
The Orlando Experience
However our expansion manifests itself, the new projects will be guided by the same design concept that has already made Orlando International Airport a travellers' favourite. The airport was developed as a totally environ – mentally responsive complex with a premium placed on high passenger convenience features, low maintenance and operational costs, accommodating a high growth rate and reflecting the unique character of the Central Florida environment. 'The Orlando Experience' is a design theme conveyed throughout the airport. When you arrive at MCO, you know you're in Florida. That feeling is reinforced through the use of unique architecture, aesthetics and convenience amenities. Those features include:
Natural lighting, foliage and water throughout the terminal
70 retail outlets and 57 restaurants
Dual-sided terminals on three levels dedicated to specific functions
Automated people mover system
Family-friendly waiting areas
Two-thirds of the airport is carpeted.
Although the design concept plays an essential role in conveying the 'Experience', the foundation is a focus on exceeding our passengers' expectations. To achieve that goal, we have initiated organisation-wide customer service training and expanded our airport ambassador programme to ensure that passengers will have a favourable experience arriving, transiting, and departing Orlando International Airport.
The future of airports is now
Construction projects currently underway include extending and rehabilitating several runway taxiways that will enable the airfield to accommodate bigger aircraft; improvements to our remote baggage screening facility and upgrades to our baggage handling system that will enhance our ability to deliver a smooth travel experience; construction of new and modified infrastructure to support an upgraded Closed Circuit Television system; and increasing the capacity of our Cell Phone Lot to accommodate greater demand by drivers waiting to pick up arriving passengers.
Orlando International Airport is also proud of additional projects designed to improve service and elevate customer convenience. We recently completed construction on a new facility that provides easier terminal access for arriving international passengers and eases the double baggage handling process. To further enhance the arrival experience, artwork entitled 'Orlando Springs', created by Central Florida artist Margaret Tolbert, was included in the new addition. The 460-piece mosaic presents visitors with images representing the different springs that teem beneath the bustling activity of Central Florida. The project gives visitors their first opportunity to experience the beautiful and unique natural places that are within Central Florida. Ensuring visitor satisfaction was also the impetus behind the initiation of our new Ambassador Programme. Begun in early March, the programme places uniformed, trained ambassadors throughout the Main Terminal to assist passengers with service convenience and way-finding information. Ambassadors are also fluent in several different languages.
Ease of passenger movement
At Orlando International, minimising the challenges of getting from point A to point B has always been a priority. Passenger flow was part of the original design concept and continues to be a focus. From the outside in, easing airport navigation involves a fleet of new buses to shuttle travellers to and from our remote parking areas and separate levels for departures, arrivals and ground transportation, where the distance from kerb to counter is less than 200 feet. Within the main terminal complex, passengers encounter wide corridors with long line-of-sight vantage points on every level, vertical and horizontal transportation systems within a maximum of 750 feet and an opportunity to participate in expedited security screening programs like CLEAR and TSA Pre-check.
Embracing airport technology
In a world of dazzling technological achievement, MCO takes great pride in being a platform for accepting new technology. By embracing and utilising advanced tools on our airfield and in our terminals, MCO strives to improve safety, security, speed and accessibility for an increasingly techsavvy travelling public.
MCO offers travellers an expanded network of Common Use Self Service (CUSS) kiosks to expedite the check-in process and is involved in converting its check-in and boarding gate counters to the IATA-recommended Common Use Passenger Processing System (CUPPS) to standardise computer operations among all airlines. CUPPS enables airlines to increase or decrease the number of counters in use to meet their exact need at that time. The end results are reduced expenses to the airport and airlines that can contribute to lower air fares for passengers and reduce the time passengers must stand in queues.
Our Runway Status Lights (RWSL) system and Airport Surface Detection Equipment (ASDE-X), along with six precision instrument approaches (ILS), enable our four parallel runways to conduct three simultaneous flight operations. Before boarding their flights, passengers at Orlando International Airport enjoy a number of travelfriendly conveniences like free Wi-Fi throughout all facilities, a mobile website for smartphones and an abbreviated version of MCO's website translated into six languages.
Fiscal stewardship
Delivering a customer-friendly experience is a major part of MCO's responsibility, but the airport's covenant with the public runs even deeper. MCO is an integral part of the economic well-being of the community and all of Central Florida. The airport is a significant transportation significant transportation resource and catalyst for the region's industries of tourism, simulation and burgeoning medical research and facilities development. MCO's importance as an economic driver is evidenced by the following numbers:
$26.4 billion annual economic impact
150 businesses and government agencies on airport site
18,000 employees.
Sound fiscal stewardship has long been a hallmark of Orlando International's operating philosophy. The airport's financial success can be attributed to its diversity of revenue sources. Unlike most of the world's airports, 70 per cent of MCO's $385 million in revenue comes from non-airline sources like parking, car rental, concessions and other commercial enterprises. The other 30 per cent is paid by the airlines. Orlando International Airport has also maintained its position as the highest-rated airport in Florida with ratings of Aa3, AA- and A+ from Moody's, Fitch and Standard & Poor's respectively.
Three decades of service
In 1981, Orlando International Airport opened its brand new, state-of-the-art, $300 million main terminal complex. More than 30 years later, the airport continues to evolve and hone its edge as a well-respected and world-class facility. Celebrating the 30th anniversary was a high point of 2011, but MCO has many other notable achievements and accolades throughout its history to be proud of, including:
Record-setting international passenger growth
100 per cent employee screening for sterile area access
Number one rental car market in the world
Number three origin and destination airport in the U.S.
One of the largest public art collections in Florida.
With pride in our past accomplishments and an eye on the present, as well as on the future, Orlando International Airport is preparing to update its master plan to deal with promising growth projections. We will continually look for ways to handle capacity issues, while meeting our obligation to provide the highest level of customer service.
About the author
Phil Brown is the Executive Director of the Greater Orlando Aviation Authority and is responsible for the operation and management of both Orlando International Airport and Orlando Executive Air – port, with an annual budget of over $300 million.
In his previous role as Deputy Executive Director, Administration, Mr. Brown had oversight management responsibility for the Authority's administration/risk management, commercial properties, concessions at Orlando International Airport and Orlando Executive Airport, Governmental affairs, human resources, marketing, purchasing and small business development.
During the past 30 years as a business professional, Mr. Brown served in a variety of public and private sector positions including a previous role as Deputy Executive Director, Administration for the Authority in the early 1990s as well as County Administrator for Orange County Florida. For 14 years, prior to his return to the Aviation Authority, Mr. Brown was employed as a public finance professional.
Mr. Brown is a certified public accountant licensed in Florida, holds a Master's Degree in Business Administration from the University of Tennessee, and is an Accredited Airport Executive by the American Airport Association of Airport Executives.