A new era for Aberdeen: Its revolutionary £20 million terminal upgrade
Aberdeen International Airport is working through a revolutionary £20 million upgrade to its terminal; a project which is the largest in the airport's 85-year history. Managing Director, Steve Szalay, reveals how the development will transform the way 3.1 million annual passengers pass through the airport.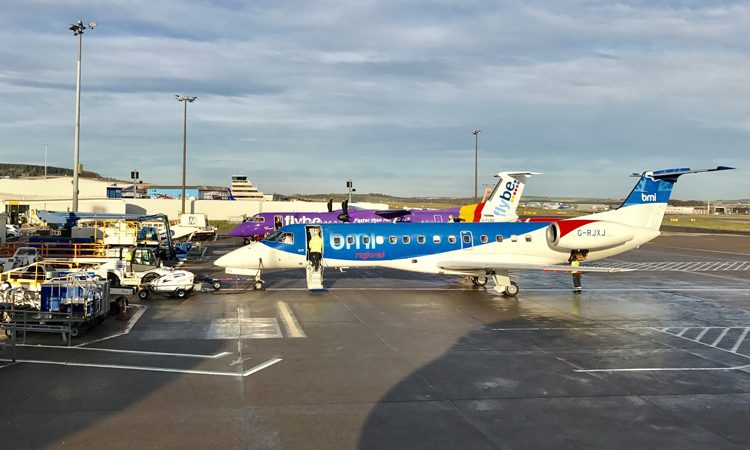 It's an exciting time for me to join the team at Aberdeen International Airport, as we emerge from a troublesome period that saw the energy sector suffer its biggest crash in decades, but the airport and the region are turning a corner and there is a renewed optimism in the air.
New opportunities
I joined the airport in November 2018 and in that short time I've come to realise that there is a tremendous opportunity for growth. Our passenger numbers have plateaued during the last two years, but as our terminal upgrade nears completion and the local economy shows green shoots of recovery, we'll be well placed and ready when the uplift hits.
We're still recovering from lost routes in 2017 and early 2018, and the sector isn't without its challenges. We are not immune from these. For us, market distortion remains impactful. Air Passenger Duty is still a real barrier for growth and we are feeling the effects of this. We hope that this issue comes to a positive resolution.
These issues aside, I'm here to lead our airport into a new period of growth, with a focus on increasing our leisure offering whilst maintaining our important business routes.
Terminal transformation
In difficult economic conditions, it would have been easy to postpone or even cancel our Terminal Transformation project. Instead, we made the decision to invest.
In the last two years, we have delivered new domestic and international baggage reclaim areas, a hugely improved security search area and a much-improved retail offering for our passengers. Feedback has been overwhelmingly positive, with further developments to come later this year.
More retailers will be opening their doors in April 2019 within the revitalised departures lounge and some existing catering units will be refurbished in the summer months. We'll be ready to showcase our final terminal by October 2019.
Oil and gas resurgence
The city of Aberdeen sits within its own economic microclimate. The city is heavily influenced by what happens in the oil fields offshore. The simple fact remains, if oil and gas production slow down, people travel less.
In 2014, the oil price-crash heavily impacted upon Aberdeen International Airport's passenger numbers. By early 2016, the price of oil had fallen to just $29 a barrel.
Here at Aberdeen Airport, we work closely with four major helicopter operators, as we house four heliport terminals on site. We're the busiest commercial heliport in the world, and during the last year, we've seen an uplift in helicopter traffic month on month. This bodes well for the energy sector as confidence grows and production ramps up again once more.
At the time of writing, the discovery of the biggest UK gas field in a decade more than raises the industry's hopes.
The equivalent of 250 million barrels of oil could be recovered from the Glengorm reservoir in the Central North Sea, which equates to around five per cent of the UK's yearly gas demand. Significant discoveries like this shoot new life into the sector and increase demand for our airport.
A friendly, kind and inclusive airport
During this period of change, one thing remains constant – our commitment to providing a great customer experience. Customer service surveys reveal that the upgraded terminal is further improving our passengers' journey, as a massive 99.9 per cent of our passengers are passing though security in less than 10 minutes.
Our service for passengers with reduced mobility is one of the best in the UK, with the CAA's most recent Accessibility Survey placing our service in the highest category, 'Very Good'.
We're working closely with local charities and community groups to ensure that our airport is an inclusive environment for all. We're helping to facilitate the creation of a Virtual Reality app called iSenseVR, designed to help passengers with hidden disabilities familiarise themselves with the airport's building. We believe we were first to welcome the UK's first airport therapy dog. Harley, an Alaskan Malamute, has been something of an internet sensation and has even made his way on to BBC primetime TV.
One thing that has struck me on arrival in the region is how friendly and kind the local people are, and that is reflected in the attitude of our staff at the airport. When you combine this natural charm with the new facilities at the airport it's going to be a fabulous mix.
Part of the bigger regional picture
The region is currently undergoing a significant regeneration. Large-scale infrastructure projects like the Aberdeen Harbour expansion, the new exhibition and conference centre, and the opening of the Aberdeen Western Peripheral Route (AWPR – a city bypass that leads direct to the airport) are tangible examples that the region is open for business.
To put this into context, more than £8 billion of public and private infrastructure investment is due to be delivered before 2030, marking an exciting time to be part of a region with a reputation as a genuine world-class business location.
Now, we're reaching more passengers than ever. The AWPR brings us closer to 400,000 potential passengers in Dundee and the Tayside area. Previously, they may have travelled to the central belt of Scotland, but now Aberdeen can be reached much faster than before. We are confident that these new passengers will like what they see, and the service provided.
Looking ahead
The economic revival of the Aberdeen area will be reflected in growing passenger numbers. The new terminal facilities will impress both new and old passengers alike. Our friendly staff will ensure the warmest of welcomes and a more positive security experience. The wider catchment area facilitated by the new bypass, will help attract more leisure routes and bolster the existing load factors. Removal of Air Passenger Duty would be a great help, but as with Brexit, we look to our politicians to deliver a positive outcome.
I'm excited about the prospects for 2019. New terminal, new routes, new catchment area. The outlook is hugely positive, with a prosperous region awash with exciting investment projects.
We warmly welcome our colleagues from across the sector to sample what Aberdeen International Airport has to offer.
Biography
Steve Szalay joined Aberdeen International Airport in November 2018. After a degree in Mathematics and Computing, Steve joined the Army as an officer and graduated from the Royal Military Academy Sandhurst. During a 21-year career with tours across the world, Steve was Commanding Officer of 6 CS Bn REME. In aviation, Steve has taken up senior executive roles in ground handling, with dnata as Vice President at London Heathrow and Gatwick Airports, and with Jet 2 as Director of Ground Operations.