Information is the driving force of the airport and makes it go round
Information in the aviation industry is the richest tool, but when mishandled it can become the greatest weapon. Christian Poulsen, Vice President of Assets and Technology at Copenhagen Airports, reveals how the airport operator has invested in System Wide Information Management to streamline the use of data within its organisations.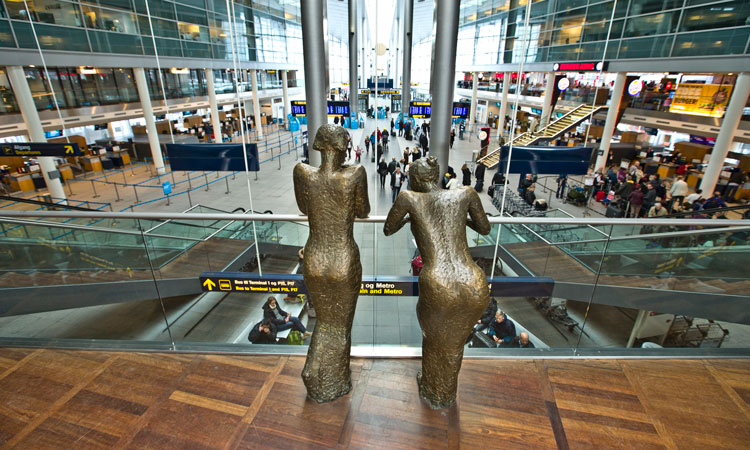 At Copenhagen Airports (CPH), the exchange of information has always been paramount to efficiency. That's why we've been investing in exchanging information with all significant entities in the airport ecosystem; internally within the aerodrome as well as externally, including handling agents, airlines, air traffic control, and most recently, the Network Manager.
It was therefore a natural progression for CPH to pioneer the first operational System Wide Information Management (SWIM) service in Europe, working in close cooperation with the Network Manager as well as CPH's IT supplier, Amadeus.
SWIM creates value for airports
Information sharing between stakeholders in the European air traffic management network is crucial to delivering the most effective airspace management, handling bad weather and increasing common situational awareness. SWIM makes it possible for different sectors and IT systems to share information in a manner not previously possible. At CPH, we believe SWIM will lead to an improved and more transparent execution of commercial air traffic and to the creation of an airport never seen before.
SWIM streamlines the information sharing by offering a shared and reusable framework. In this manner SWIM will also contribute to reducing the cost of IT by reducing the number of different interfaces required for exchanging information between stakeholders and their IT systems, leading to lower costs for operation and maintenance. As and when SWIM design patterns are built into new systems, old data sources will become redundant and associated systems and gateways can be decommissioned.
Due to the use of internationally-recognised standards, solutions developed for example at CPH can be reused in other airports. Reusing standard components results in lower costs since no one is forced to develop what is essentially the same components several times. By focusing heavily on standardised interfaces, the risk of vendor lock-in is reduced or hopefully even removed, as components can be swapped out with minimal cost. This will lead to lower investments in the longer run, ultimately benefiting the customer.
Today's air traffic management systems often consist of aging IT systems with data exchange technologies that may be safe, but often unable to scale in performance or unable to expand to include new groups of stakeholders. SWIM is built on commonly available, mature and well-understood technologies that originate from other industries such as the financial sector, where they were developed to address the very same challenges facing the aviation industry.
Going beyond the technical components, reusing and sharing information at the business level we can achieve a common situational awareness across all stakeholders. As an example, SWIM allows us to easily share airport-collaborative decision making (A-CDM) timestamps and milestones with, for example, the fuelling companies. By knowing the exact status of turnarounds in real-time, fuelling trucks know when they need to be at a stand to fuel an aircraft and no time is wasted waiting for an aircraft that is delayed. In this manner, SWIM will ultimately benefit all participants in the travel value chain by lowering operational costs and creating transparency in daily operations.
In addition to allowing us to easily move data from system A to system B, SWIM also brings a standardised information model and an associated vocabulary. By making use of a shared reference model for aeronautical information we get a common language shared with our partners making cooperation easier, both at a tactical as well as strategical level.
A better passenger experience
It's well known within the commercial air travel industry, that the key to optimisation and better customer experiences is the timely access to correct information. This is one of the main insights that led to the development of the SWIM standards.
Passengers will perhaps not personally experience SWIM during their journeys, rather, because of the various SWIM implementations, passengers will experience airports and their partners providing much more precise – with much easier access to – information. With airports receiving information earlier it will be possible to pass the information on to passengers earlier. Even if your part of a journey merely involves picking up a loved one from the airport, you will be able to be informed of any changes to the relevant flight earlier than today, possibly saving you several hours of otherwise wasted waiting time. 
The beginning of a journey
At CPH we see SWIM as a process rather than a project. From our perspective, SWIM is a method of exchanging information in the aeronautical world. SWIM forms a so-called design pattern and should not be confused with a 'boxed up' product such as an instrument landing system or an airport operational database.
At CPH we have been fortunate in that we have a long-standing tradition of trust between the different stakeholders and actors within the aerodrome. We took full advantage of this during our implementation of A-CDM. Having A-CDM in place and working well even under adverse weather conditions during the winter season made it possible for us to limit our SWIM implementation to a technical exercise of exchanging data. Although we envisaged the project as a technical one, we did discover some deficiencies in the existing business logic that needed to be rectified. This in turn led to an even higher level of data quality within our systems.
We implemented our connection to the Network Manager knowing that standards and technologies will change in the future. Through SWIM we now have a set of standards removing IT as the limiting factor. By using SWIM, we are able to let business process owners work with their close partners, such as air traffic control and ground handling agents, both locally and across Europe. Using SWIM, new services can be developed and trialled in relatively large scale. The focus of SWIM is on interfaces, we can avoid the past paradigm of specifying an entire technology stack that was often outdated even before it made its way through the time-consuming laborious trials and validation prior to being released for implementation. SWIM brings a new paradigm and a new way of thinking. In fact, this has presented us with the biggest challenges during our projects related to SWIM. With SWIM we see smaller and quicker changes rather than the multi-year projects we have grown accustomed to. The underlying philosophy is inherently more agile and much better aligned with modern principles of software and systems development and this will require getting used to.
With the introduction of SWIM-like technologies in other business areas, we've seen a rapid growth of new services simply based on the easy of accessibility to information. SWIM will enable new businesses to develop new passenger services no one would have envisioned.
Security remains important
Information security is important and will only become more so. Airports continue to build business services based on information, making airports not only more dependent on the continued flow of information but also much more vulnerable to evil minded attackers looking for obvious targets. Applying the security controls built into the SWIM standard allows airports to ensure that data exchange is done with trusted partners rather than other parties looking to cause damage to high profile targets such as airports and airlines.
As SWIM standards apply well-known IT security technologies it will be relatively easy to implement secure systems reusing standard components, thus ensuring a more secure European air traffic management network, that will lead to a better passenger experience.
Biography 
Christian Poulsen has been Vice President of Assets and Technology at Copenhagen Airports A/S since 2011. In this role he is responsible for the operation, construction and business development of Copenhagen Airports' airport portfolio. Before taking up his position at the airport operator, he held senior positions at Hewlett- Packard and HandStep A/S. Christian has an MBa from the Copenhagen Business School and previously studied at the Technical University of Denmark.