A smarter way to cut the queues experienced in airports
Cutting queues for passengers, before and during their airport experience has become paramount to the reputation of an airport in our social age. Eman Al‑Hillawi and Matthew Garrett from consultancy Entec Si, explain how examining short-, medium- and long-term passenger projections can help to create that seamless travel experience.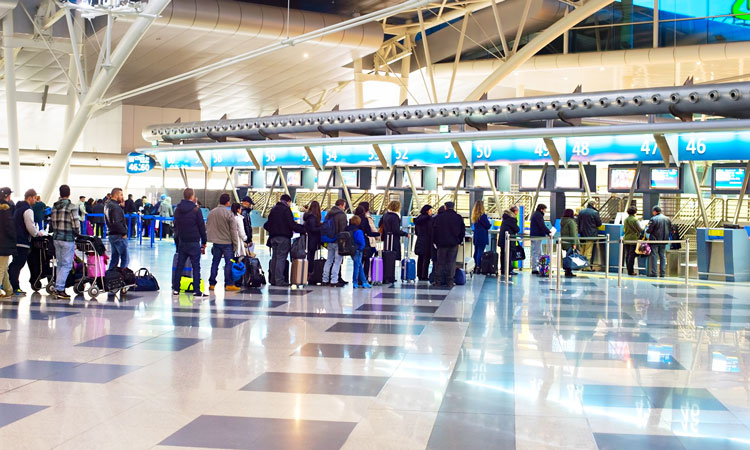 Over recent months, UK airports have hit the headlines due to the long queues passengers often face. According to recent research report by Which?1, around 1.3 million passengers flying in and out of UK airports suffered delays of at least three hours in the 12 months to June 2018, the equivalent of nearly 3,500 passengers a day. This figure highlights the risk of reputational and commercial damage that faces those airports which fail to take an analytical approach to capacity planning or which fail to implement robust project management protocols.
The increase in availability of low-cost flights has led to greater volumes of passengers at airport terminals. As a result, airports are facing more scrutiny than ever before, particularly around capacity and their capability to efficiently cope with this larger footfall. With passenger numbers forecasted to continue to rise, operational and systematic changes must be implemented before this increase in demand causes more long-term problems. 
Furthermore, with social media making it easier for passengers to publicly air, and share, their grievances over long queues and delays, airports must work harder to maintain their favour with travellers.
The commercial benefits of getting passengers through security quickly, but in a controlled manner, cannot be ignored. Managing capacity constraints through the remaining customer journey is critical. Concessions are becoming increasingly important for airports, accounting for just under 30 per cent of the non-aeronautical revenues made by airports worldwide. As consumer expectations rise, the balancing act of compliance and service has become crucial to success. Harassed passengers are unlikely to spend the little time they have in shops and restaurants, resulting in lower revenue for both the airport and its concessions.
With all this in mind, capacity planning should be a priority for all airports. Its significance and impact justify the creation of a capacity planning team which acts as an operational hub within the airport's business structure, drawing upon operational expertise to monitor performance and drive change. By looking at the long-, medium- and short-term capacity forecasts, it becomes easier to determine which changes should be at the top of an airport's agenda. For example, this could involve reconfiguring and improving check-in to ease problems caused by a surge in passenger numbers or increasing the number of visible staff members during times of increased demand, such as school holidays.
At all times it is important for capacity planning to look ahead and consider the impact of change on other related services to avoid pushing queues from one service to another. This form of data modelling gives airports the opportunity to efficiently control projects, whilst avoiding unnecessary disruption to passengers.
Forecasts can range from the long-term, looking over the next 10 to 15 years, to extremely detailed minute-by-minute projections. This meticulous approach to analysing the customer journey can highlight operational risks and where necessary changes to passenger flow can be made. This could be triggered by a short-term planned project around the terminal or an unanticipated crisis, such as Gatwick and Heathrow Airports' flight information display system failures earlier in the year.
Using forecast data also allows judgments to be made as to whether planned investments will still make commercial sense, enabling the airport operators to focus on projects that will improve capacity without posing a significant financial risk. For instance, in the unlikely scenario that passenger numbers were projected to drop, delaying larger, more capital-intensive work in favour of smaller, less risky projects, may be a shrewd move.
This is where establishing a dedicated project management office (PMO) can add real value, providing overarching visibility over the project pipeline and guaranteeing not only that work is being undertaken in the right order, but also that everyone is aware of progress and the interrelationships of different workstreams. After all, there is little point in planning for a new row of check-in desks if the same area is soon to be reconfigured.
Similarly, by helping to foster effective communication between different areas of the airport, PMOs can help to ensure that individuals have a clear understanding of any changes taking place, informing the sequence in which they should occur. Having a dedicated project management hub offers the advantage of providing board members and decision makers with increased visibility over the airport's many developments, informing budgets and ongoing strategic decisions.
Capacity planning should not be based solely on projections or data modelling. Determining the true operational implications of passenger numbers often involves getting the perspectives of those involved in the day-to-day running of the airport. Whilst modelling can give airports visibility over many issues, it is necessary to input a certain amount of experience in order to understand the realities and operational implications that sit beyond the data. Instead of 'filing and forgetting', project teams should harness these insights and use them to generate even more useful forecasts.
These results can then be used to inform where the passenger journey can be improved. For instance, in recent years there has been a shift towards self-service. This approach not only shortens queues but also decreases the number of employees needed in the area. Likewise, a better understanding of the process at security allows an airport to determine how many employees are needed to provide the quickest service, keeping passengers and concessions happy.
When focusing on the passenger journey, it goes without saying that a key area of focus will be the physical journey through the airport, however, it is important to recognise that this journey actually begins at the connecting transport interchanges, for example, road, rail, taxi or bus.
Being aware of the knock-on impacts of wider transport issues and local infrastructure works, as well as seasonal changes and effects of national holidays, can help to ensure that the airport operation itself is geared-up for delayed passengers. By having a thorough knowledge of the local area and an awareness of potential disruptions within the wider transport network, airports can communicate expected issues to travellers ahead of time. This allows expectations to be managed for both arriving and departing passengers and the impact of delays out of an airport's direct control, to be mitigated.
Whilst it might not be possible to eliminate airport delays altogether, it is important to take steps, where possible, to manage them. For instance, pushing queues from one place to another should be avoided wherever possible. Depending on the airport's existing capacities a 10-minute queue at check-in and another 10-minute queue at security may be preferable to one 20-minute wait at security; therefore, airport managers should aim to ensure that, where possible, wait times are balanced. Furthermore, by sharing available information with passengers, airports can help to reduce frustrations whilst they wait. This gives travellers a level of control over the situation, enabling them to plan their next steps, whether that be heading straight to their gate or sitting down for a well-earned coffee before their flight.
There is no denying that all airport employees contribute to the customer experience, yet a lack of internal communication is the main gripe of most airport staff. Passengers, who inevitably have more time and a phone to hand, often know far more about delays than those assisting them. With this in mind, airports around the UK have recently begun to trial a system which communicates airport news to all staff and contractors, as it happens. This allows airport representatives to keep passengers informed with timely and in-depth information.
Moreover, with the airlines themselves responsible for one of the largest revenue streams at airports, it is vital that delays due to passengers who are running late are kept to a minimum. Employing efficient processes to get passengers airside as quickly as possible not only improves the airport's reputation but also increases the likelihood of airlines committing their long-term support.
With passenger numbers expected to continue on an upward trajectory for the foreseeable future, it is becoming increasingly important for airports to embrace analytics and control the projects that directly impact airport delays. With a commercial benefit of getting passengers through security swiftly, airports will not only improve passenger experience but also their bottom lines.
References
https://www.which.co.uk/ news/2018/09/flight-plight-1-3-million-passenger-journeys-at-least- 3-hours-late/
http://aci-economics.com/ conference-report/
Biography 

Eman Al-Hillawi is Joint Founder and Director at Entec Si. Eman's move to the world of business change followed a successful, decade-long career in research. With a wealth of experience in delivering successful projects and programmes, she is now dedicated to developing and growing Entec Si's team of experts whilst continuing to deliver exceptional outcomes for clients.

Matthew Garrett is Programme Manager at Entec Si. After beginning his career in consultancy, Matthew progressed into project management, where he quickly gained a track record for successful delivery and implementation. His solid technical and analytical background enables him to effectively understand and manage a wide variety of projects through their life cycle and he thrives on providing innovative solutions to people and businesses.