Poised to make Hyderabad a regional air hub
Posted: 30 September 2008 | Mr. P.S. Nair, CEO of GHIAL, Rajiv Gandhi International Airport, Shamshabad | No comments yet
Rajiv Gandhi International Airport (RGIA) is poised to make Hyderabad a truly global air travel hub in India. The new airport which commenced operations on 23 March 2008 has stabilised its operations and passengers are enjoying the new experience.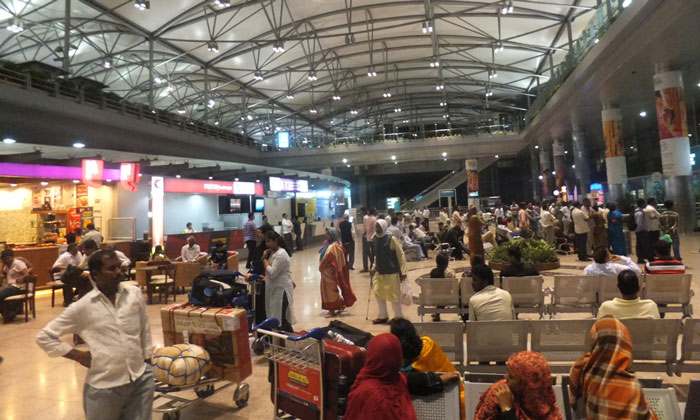 In terms of safety, security and passenger services, RGIA has been able to stabilise itself faster than similar Greenfield international airports across the globe. During the first 150 days of its hassle-free commercial operations, RGIA handled over 250 ATM per day, 2.5 million passengers and 22,500 metric tonnes of cargo.
Airlines
RGIA is also attracting the attention of global airline companies and many of them are keen to place this airport on their operations map. The first amongst them is the Middle-Eastern airliner Gulf Air, which launched its operations to Hyderabad from Bahrain with an A320 aircraft. Air India Express also launched a daily flight to Dubai. Jet Airways too introduced two new destinations to cater to the growing demand of passengers from Tirupati and Rajahmundry. Air Arabia plans to launch their flight to Sharjah from October, while British Airways is starting a direct flight to London from December.
Currently, there are 15 international and 11 domestic airlines operating from RGIA, flying to over 35 destinations. Despite the recent ATF price hike, rationalisation of routes and frequencies by airlines, the passenger traffic did not witness any major turbulence. Instead, there was a seven per cent hike in numbers for the first quarter in April to June 2008.
Salient features
The airport has the country's first integrated passenger terminal that offers an international experience with a local flavour, which consists of:
Airport village with shopping arcade
Domestic and international flights in the same terminal for easy transit
Upcoming hotel facilities at the airport
Conference facility for business travellers
Integrated modern IT systems
Retail and shopping
At RGIA, the retail shopping has something for everyone. The product lineup includes liquor, tobacco, cosmetics, perfumes, confectionary, souvenirs, fashion accessories, books, music, electronics, destination products and jewellery. Wide arrays of all major reputed brands are also available at the airport for passengers to choose from.
Duty-Free
Spread over 2,500 square metres, this is a unique and first of its kind model featuring a walk-through concept developed by the Nuance-Shoppers Stop. Some of the finest brands from all over the world are available here and these include a range covering everything from perfumes, cosmetics and fashion accessories to garments, liquor, tobacco, books, music, electronics and confectionary.
Food and beverage
The food and beverage options available at the RGIA are of a broad selection, giving the passenger a variety of choices at affordable rates. Pizza Hut and KFC have opened their outlets, in addition to those already present. McDonalds is planning to open its outlet very soon.
Lounges
Plaza Premium provides the lounge facility at the RGIA, which will enhance the elegant environment of the airport and provide a comfortable place for passengers to relax before or after a flight. These are paid CIP lounges for all passengers, available for both domestic and international. It is also the first airline independent lounge available for all passengers and the first airport lounge to offer services like:
Business centre
Baggage hold with pick up and delivery
Limousine service
Gymnasium
Shower facilities
Napping areas
Massage service
As well as these lounges, airlines have exclusive business class lounges in the domestic and international security hold area. There are three VIP lounges located at Departure, Arrival and Remote gates on the ground level.
Medical centre
Medical services at the airport have been provided by Apollo Hospitals Enterprise Limited. This facility has a 24-hour pharmacy and well-trained doctors. Paramedics are also available round-the-clock at the airport. They serve as an emergency treatment centre, for both passengers and visitors who may develop medical complications while travelling or in the airport premises. In addition, the centre is equipped with 17 beds and all emergency equipment and facilities are available for passengers.
Nap and shower
The Plaza Premium Lounge also provides facilities for a shower and a nap to enable transit passengers to unwind and get comfortable for their connecting flight. Located at Level C, this facility will start operations.
Transportation / Parking
Tenaga Parking provides Automated Parking Management system at RGIA, along with the unique 'Touch and Go' concept introduced for the first time in India. There is also a provision to park over 3,000 cars in front of the Passenger Terminal Building.
The passengers have the option to choose between the 35 air-conditioned dedicated airport shuttle coaches, from five designated locations within the city, every thirty minutes at very economical rates. There are over 700 dedicated GPS-enabled radio taxis operated by two companies, as well as 100 luxury car services by three companies. In addition to this, the airport has a Public Transportation Centre that has the regular State-run buses, auto-rickshaw and pre-paid cabs, operated by the traffic department of the State government and other taxi operators as well.
Airport hotel – Novotel Hyderabad Airport
For the first time in Hyderabad, here is luxury at your doorstep within a few minutes drive from the airport. Spanning five acres across beautiful landscaped areas, the Novotel Hyderabad Airport has 305 rooms that include 11 suites, 53 premier rooms and 241 superior rooms.
Fuel farm
RGIA has built and commissioned an aviation fuel farm and hydrant fuelling system with the most modern facilities and modern automated systems.
The fuel farm operations are SCADA, controlled with variable frequency drive pump motors for energy conservation and RADAR gauging for real time stock control. Into-Plane services are provided with modern refuelling equipment operated by an experienced Into-Plane agent.
The Hydrant pipeline comprises of an internally lined 10 kilometres hydrant loop with laterals, servicing 12 contact and 30 remote bays available to aircrafts of all types, from small regional types to the largest in category B-747 and A-380 Aircraft.
Airside facilities
Air Traffic Control Services
The Air Traffic Control Systems are housed in the most modern facilities. The ATC Tower encompassed with a metallic cover with a flaring at the top, is an imposing structure rising with a height of 75 metres. It houses the modern Air Traffic Control systems on the 22nd floor. The design of the control tower facilitates a 360 degree view for the controllers, like a captain overlooking the airport.
Navigational and Meteorological services
The Communication, Navigational and Meteorological services are provided by the Airports Authority of India with the latest equipment. A unique feature is the Advanced Surface Movement Guidance and Control System which enables the aircraft and other vehicles to move around with complete control and assistance from the control tower, even during conditions of poor visibility.
Airport Operations Control centre (AOCC)
The AOCC concept is unique and first of its kind in India. The nerve centre virtually controls all the operations inside the airport, except the Air Traffic Control facility. The representatives of every department present in the centre integrate all operations into this single system, offering Resource Allocation Services.
Airside operations
The activities on the air side are managed and controlled by professionals from the Airside Operations department. Highly trained and experienced personnel handle some of the key functions such as documentation, survey, calibrations and licensing of Greenfield airports, with the ability to measure runway friction characteristics precisely and quickly with the help of Douglas Friction Tester (Mu metre), which has been imported from UK. Capable of removing runway surface contaminants like rubber and oil with track-jet super specialty equipment brought in from Germany.
Avifauna is a comprehensive programme designed to control the bird activities with the help of the best equipment and training. Some of the equipment in use is 'Ultima' computerised equipment, which not only scares the birds but also can be used to track and maintain a record of its movement and pattern. Additionally, speed guns, alcohol breath analysers and various safety equipments have been commissioned to ensure safe operations.
Runway / taxiways/ parking/ aprons
The airport has the longest runway in India, with Code F category measuring 4,260 metres in length and 60 metres in width, with shoulders of 7.5 metres on either side of the runway. It is fully compliant for A-380, the world's biggest passenger aircraft currently in service. The runway is of Instrument Category-I supported by advanced Aeronautical Ground Lighting system and Instrument Landing System. It also boasts of India's longest taxiway at 4,395 metres and it has been designed to act as an emergency runway. There are 10 exit taxiways out of which four are Rapid Exit Taxiways (RET) designed to enable the aircraft to vacate runway at speeds 90 kilo metre per hour, there by reducing the runway occupancy time. There are also 42 aircraft parking stands out of which 12 stands are supported by aero bridges.
A well planned and clearly marked Ground Support Equipment/Vehicle parking area has been provided close to the aircraft stands for a seamless ground handling services.
Visual Docking Guidance System (VDGS)
The Visual Docking Guidance System guides the aircraft automatically into the stands with precision and helps the pilot to position the aircraft accurately on designated places. This VDGS can also recognise all variants of the currently available commercial aircraft.
Maintenance, Repair and Overhaul (MRO)
MRO apron has been designed to cater for Code-C aircraft servicing and other major maintenance.
In-flight catering
RGIA had awarded the in-flight catering concessions to LSG Sky Chefs (India) Pvt. Ltd and Sky Gourmet Catering Pvt. Ltd to construct, operate, maintain, manage and develop the in-flight catering facilities. The in-flight catering concessionaires have been allocated an area ad-measuring 2.5 acres each to operate and maintain the necessary facilities at the airport.
Together, the two operators can supply 36,000 meals per day operating 24 hours a day, seven days a week. Both the catering facilities meet the stringent HACCP requirements with automated equipments to provide quality services to the airlines.
Why Hyderabad?
Located strategically at the geographical centre of India within a two-hour flying time to all the major cities in India, RGIA, Hyderabad, is also well-positioned within a four-hour radius from all the major cities in the Middle East and South East Asia. RGIA has the potential to become not only one of the main aviation hubs in India but also a destination-cum-transit location for travel between the East and West.
The proliferation of IT companies has earned Hyderabad the reputation as India's second Silicon Valley. The city is also a major centre for biotechnology and pharmaceutical companies. The MNCs which have a presence in Hyderabad include Microsoft, Oracle, GE, IBM, Deloitte, HSBC and Baan, apart from Indian corporate majors such as Satyam, TCS, Infosys and Wipro.
Hyderabad boasts world class academic institutes and universities. The city and the State of Andhra Pradesh have a total of over 20 engineering and medical colleges. The city boasts of Indian Institute of Information Technology (IIIT), Indian Institute of Chemical Technology (IICT), Indian School of Business (ISB) and the eighth centre for Indian Institute of Technology (IIT) which is 35 kilometres from the city. These will support the major demand of the booming IT and Bio-tech industry, coupled with the fact that English is a widely spoken language.
Hyderabad has a population of over seven million inhabitants and a catchment (feeder) area extending to 72 million people living within a couple of hours of the city. Booming services, manufacturing and export industries means that more Indians are travelling than ever before, with passenger numbers rising by double digits year-on-year.
Meeting global norms
RGIA provides world-class facilities and infrastructure in accordance with ICAO standards and practices to handle large aircraft and international traffic. Its integrated domestic and international terminals are equipped with contact boarding bridges, remote stands, Common User Terminal Equipment (CUTE), check-in desks, self check-in kiosks (Common User Self Service-CUSS) and immigration counters.
The designs of the runway, taxiways, aprons, visual aids and lighting systems are in accordance with ICAO standards and recommended practices. These facilities also accommodate Code F aircrafts, including the A380.
RGIA also features modern IT systems including FIDS, Baggage Handling System (BHS), and Airport Operational Database (AODB) technology for the first time in India. The Passenger Terminal Building is spread over 100,000 square metres. The terminal building has 12 contact and 30 remote stands for aircraft parking. With one of India's longest runways (4,260 metres), RGIA is designed to handle 12 million passengers, 100,000 metric tonnes of cargo and 90,000 air traffic movements (ATM (flights) per annum in the initial phase.
Other buildings, including the ATC Tower (Air Traffic Control Tower), Technical Building, Cargo, MRO (Maintenance, Repair & Overhaul), CFR Stations (Crash, Fire and Rescue & Stations) and Utilities have a combined area of approximately 35,000 square metres.
Eco-friendly
RGIA, which has been designed to be environment friendly, has already achieved savings in energy consumption (20 %) and water consumption (25 %). RGIA will be the second airport in the world to be LEED (Leadership in Energy and Environment Design) certified once the official certificate is received. Some of the features to make the airport eco-friendly include building fabric using glazing façades with a good thermal performance to ensure that the heat gains and energy consumption for air conditioning systems is minimised. Lighting controls are also designed to suit occupancy use for various areas. Photo sensors switch off lights when natural lighting is available through glazing and roof lighting.
Access to airport
The major access points to the airport are from National Highway NH-7 (West side) and Srisailam State Highway (East side), as well as the proposed Outer Ring Road (ORR). Also a first of its kind, an11.6 kilometres long Elevated Expressway is being built to help passengers reach from the city centre to the expanded six-lane National Highway -7 road, arriving at airport within 30 minutes. Multi-Modal Transportation System (MMTS), Metro Rail Transport System (MRTS) and other alternative modes of transport are being explored in collaboration with the State government.
Master plan and investment
The total project cost for the first phase of RGIA is estimated at Rs. 2,478 crore (USD 600 million approximately) and expected to touch USD 3 billion in the final stage.
RGIA will reach its full maturity in the final phase with the capacity to cater to over 40 million passengers and one million tonnes of cargo per annum. An additional floor area of 430,000 square metres will be constructed, bringing the total built up area to 900,000 square meters.
To achieve the ultimate capacity of 40 million passengers per annum, the present master plan allows freedom of expansion to both airside and landside facilities within the Airport site. Further acquisition of land to the north and south will allow expansion of a third and fourth runway system.
Mr. Viswanath Attaluri, Chief Commercial Officer, RGIA, says "We are very happy with the important milestones achieved so far. Our continuous focus on Safety, Security and Passenger Experience is showing results. The operation stabilisation both in terms of aircraft turn-around-time and baggage handling system has also significantly improved. We would like to thank all our stakeholders, government (both State and Central), regulatory agencies (Customs, Immigration, CISF, Meteorological Department and Plant Quarantine and Health), airlines and our valued passengers."
About GHIAL
RGIA is operated by GMR Hyderabad International Airport Limited (GHIAL), which was formed to design, finance, build, operate and maintain a Greenfield International Airport in approximately 5,495 acres in Shamshabad, located 25 kilometres from the city centre of Hyderabad.
RGIA is the first Public Private Partnership in the Indian airport infrastructure sector, between GMR Infrastructure (63 per cent), Malaysia Airports Holding Berhad (11 per cent), Airports Authority of India (13 per cent) and Government of Andhra Pradesh (13 per cent).
About GMR
GMR Group is one of the leading and fastest growing private sector organisations in India, with interests in infrastructure and agri-business. Founded in 1978, GMR Group is well diversified and professionally managed.
The core businesses of the Group are in the infrastructure sector, consisting of airports, energy, highways and urban infrastructure, in addition to the manufacturing sector spanning agri-business and Ferro-alloys.
With its recent foray into the airport sector, GMR Group has established itself as a front runner and pioneer in the core infrastructure areas of the country, comparable to some of the best infrastructure majors in the world such as Macquarie Group, Australia, Ferrovial, Spain, Conglomerates, Vinci and China Merchant Holding International, Hong Kong.
GMR Infrastructure Limited, headquartered at Bangalore, is the flagship company of GMR Group with interests in airports, energy, highways and urban infrastructure. The company has successfully employed the public private partnership model, to build a portfolio of high quality assets, including the modernisation and restructuring of Delhi International Airport and development and operations of the Greenfield International Airport at Hyderabad. Recently, the company has taken over the operations of the Sabiha Gokcen International Airport at Istanbul, Turkey.