Singapore Changi Airport: More than just an airport
Changi Airport is on a mission to redefine the travel experience. Fong Kok Wai, Executive Vice President – Engineering and Development, Changi Airport Group, provides an overview of the innovative T4 and Project Jewel developments.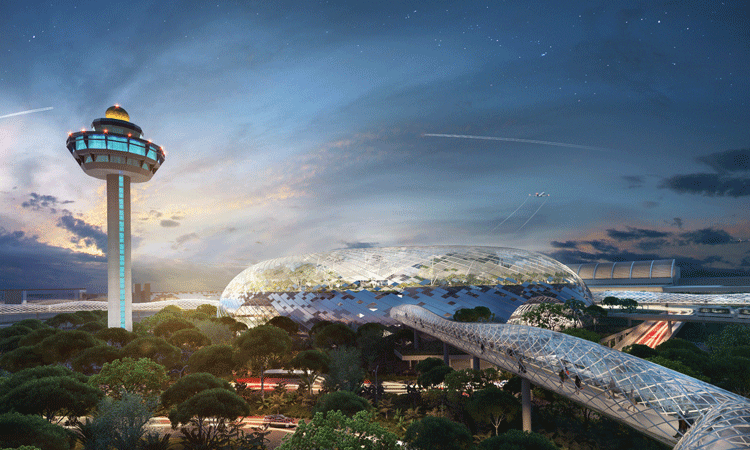 Singapore Changi Airport registered a strong performance in 2013 to set new benchmarks for passenger traffic and aircraft movements, handling a record 53.7 million passengers and 343,800 landings and take-offs in 2013. As demand for air travel rises, especially in the Asia Pacific region, Changi Airport Group (CAG) must ensure that Changi Airport continues to be well-placed to cater to more passenger and aircraft movements in the decades ahead. We are guided by our philosophy of maintaining capacity ahead of demand, which has underpinned the continued success of Changi Airport as a leading global air hub.
Today, we are actively working on a number of major infrastructure projects – a brand new Terminal 4 (T4) and the development of an iconic lifestyle destination (Project Jewel) at the Terminal 1 car park – two enhancements that will propel Changi's growth in the years ahead.
Looking beyond this decade, a multi-agency C2036 steering committee led by Singapore's Ministry of Transport is working closely with CAG and other government agencies to chart the development of the future airport site located east of Changi Airport. This area, known as Changi East, will house Changi's fifth terminal and third runway.
Terminal 4
In June 2012, we set up a dedicated Terminal 4 Project Management Office to oversee the planning and development of the terminal. Following a design competition from five consortia – comprising a good mix of local and international firms – submitting proposals, the award went to a consortium which included SAA Architects Pte Ltd, Benoy Ltd, AECOM Singapore Pte Ltd and Beca Carter Hollings & Ferner (SEA) Pte Ltd, which will pilot the overall design, architecture and construction of T4.
On 5 November 2013, Changi Airport laid the ground to mark another important milestone in Singapore's aviation history – the groundbreaking of T4. T4 is a timely addition to Changi Airport's family of three terminals with the burgeoning demand for air travel in the Asian region. It will boost Changi Airport's current capacity of 66 million passenger movements per annum by another 16 million.
Come 2017, self-service and automated options from check-in, bag drop, immigration clearance and departure gate boarding will become a reality when T4 opens its doors. Passengers can expect to whizz through the various touch points in a simple, fast and stress-free manner.
Changi T4 terminal design
To be developed at the site of the former Budget Terminal, T4 will be a two-storey, 25m-high building with a gross floor area of around 195,000m2, equivalent to the size of 27 football pitches. The design, inspired from an orchid petal, will have a fun, vibrant and positively surprising theme. It will be a compact terminal that incorporates thoughtful, passenger-friendly facilities with a tasteful interior décor. To add some touches of Singapore's heritage, some shops within the transit area will feature façades of old Peranakan shop houses.
We are paying a lot of attention to the details in ensuring that the ambience created in T4 provides passengers with a relaxed, comfortable and cosy environment that will relieve them of the stress of air-travel.
Changi T4 to break new ground
T4 will see many 'firsts' in its terminal design and operational concepts at Changi Airport. It will serve as a test-bed and will present opportunities for CAG and the airport community to challenge new boundaries so as to continue to deliver the premium 'Changi Experience' to passengers and raise operational efficiency and manpower productivity.
T4's showpiece is a 300m-long Central Galleria which separates the public zone from the restricted zone. A first for Changi Airport, T4's visual-transparent concept will provide clear visibility of the attractive offerings in the Transit Lounge all the way from the check-in hall.
The paradigm shift to the passengers' travel experience will be the extensive roll-out of self-service options by introducing fast and seamless travel (FAST) initiatives. With self-service trends gaining traction in airports worldwide, T4's new concept of operations, leveraging on self-service technology and security authentication via biometric means, will significantly reduce waiting times in queues. As passengers become more travel-savvy, CAG expects 30 to 50 per cent of them to use FAST in the first year.
For the first time at Changi, T4 will adopt centralised departure and arrival immigration as well as pre-board security screening. This will allow for a more optimised deployment of manpower and equipment. And unlike Changi's three other terminals, the aerobridges at T4 will be directly integrated into the core terminal building, hence increasing the efficiency of passenger flow from check-in through to boarding.
T4 will also boast a new walk-through retail concept. Immediately after immigration clearance, passengers will be guided on a spacious walkway towards tax-free purchases on popular items such as perfumes and cosmetics, liquor and tobacco, and chocolates. In all, T4 will feature more than 15,000m2 of space dedicated to shopping and dining; several times more than what was previously available at the Budget Terminal.
Seamless connectivity to other terminals
As T4 will be located approximately 2km away from the other three terminals, free shuttle buses will be provided for passengers both landside and airside. Shuttle buses will operate between T4 and Terminal 2 at similar frequencies as the Skytrain and will just be as convenient and comfortable, with waiting lounges provided.
Construction of T4
In December 2013, Changi awarded a S$985 million contract to Takenaka Corporation for the construction of T4. The award follows a tender which saw five companies submitting proposals. Takenaka Corporation is a reputable and well-established contractor with a strong track record in the construction of several airports in Japan, the Middle East, Africa and Asia, including Changi Airport's Terminal 1. The company was also involved in the upgrading of Changi Airport's Terminal 2 in 2006 and more recently, the upgrading of Terminal 1 in 2012.
Raising airfield capacity
Concurrent with the development of T4, we also started major airfield works during 2013 to support the needs of airlines operating at Changi Airport.
A 38-hectare plot south of Terminal 3 housing the airport nursery as well as a reservoir is being converted into an aircraft parking area with 17 narrow-body and nine wide-body remote aircraft parking stands. At the same time, an overhead vehicular bridge across Airport Boulevard will be constructed to enable buses and other airside vehicles to move from T4. When these new aircraft parking stands are completed in 2016, the total number of aircraft parking stands at Changi Airport would have increased by 24 per cent to more than 180.
Project Jewel/Terminal 1 expansion
Another major infrastructural development that will transform Changi Airport is the redevelopment of the car park fronting Terminal 1 (T1). On this three-hectare site, we envisage an iconic mixed-use complex to enhance Changi's offerings and strengthen its position as an international air hub.
Codenamed 'Project Jewel', the complex is envisaged to be a world-class, signature lifestyle destination that will strongly boost Singapore's tourism appeal. With easy access to the departure gates, the complex will offer aviation and travel-related facilities, a wide range of retail offerings, and unique leisure attractions.
CAG and CapitaMalls Asia will be setting up a private trust, trustee manager and property manager as the joint venture entities, with CAG being the majority 51 per cent shareholder and unit holder, and CapitaMalls Asia owning the remaining 49 per cent.
To be built on the surface car park site fronting Changi Airport T1, which measures approximately 3.5-hectares (377,000sq ft), Project Jewel will offer a range of facilities for airport operations, retail offerings and leisure attractions. With outstanding architecture and an exciting myriad of lifestyle offerings, this signature lifestyle destination will enable Changi Airport to capture greater tourism mindshare and strengthen its appeal as an air hub.
Project Jewel – with its distinctive dome-shaped façade of glass and steel – will be an iconic landmark in Changi Airport's landscape. It is designed by a consortium of design consultants comprising Safdie Architects, Benoy and local architects RSP. World-renowned architect Moshe Safdie, who leads Safdie Architects, was also behind the design of Marina Bay Sands Hotel; one of Singapore's iconic landmarks.
Within Project Jewel, there will be unique leisure attractions and activities for the young and old – including a large-scale, lush indoor garden with a central 40m-high waterfall, and a wide range of retail and dining offerings, including exciting new-to-Singapore concepts, top international brands and home-grown names.
The facilities for airport operations in Project Jewel will further strengthen Changi Airport's existing service offerings to enhance the passenger's travel journey. There will be facilities dedicated to the fly-cruise and fly-coach passenger segment, as well as training facilities and communal event spaces for the 32,000-strong airport community. In addition, Project Jewel will also serve as a node that improves connectivity between Terminals 1, 2, 3 and the Changi Airport MRT station.
Ready for future growth
There will be several significant milestones over the next four years, with the many construction stages and implementation of trials for new concepts. These and many more innovations will yield immediate benefits for our passengers and airlines when T4 opens in three years' time. But they also represent an essential test-bed and seeds for innovation that we will adopt for the eventual design of Terminal 5 in Changi East.
It will be an exciting journey, not only for CAG, but also the airport community, as Changi Airport embarks on its next phase of growth. Together we will ensure that the new projects meet the highest standards that both passengers and airlines have come to expect of the Changi brand. And faced with the challenges of manpower and land constraints, we will have to rethink how we can continue to deliver the renowned Changi Experience and achieve a quantum leap in airport development.
With these key developments, Changi Airport is well-positioned to meet demands of burgeoning passenger traffic, well-equipped to capitalise on exciting growth opportunities of the future.

Fong Kok Wai has over 20 years' experience in airport engineering, planning and development and has led airport engineering consultancy projects in Singapore, China, Manila, India, Moscow, Abu Dhabi, Jordan, Rome and Dammam. Following time in the Singapore Armed Forces and a post as an Inspection/Project Engineer at Esso Singapore, Mr Fong's civil aviation career started in the Civil Aviation Authority of Singapore (CAAS) in 1987. In 1993, Mr Fong was appointed as Director of Development and Engineering at CAAS; responsible for the overall planning, development and maintenance of Singapore Changi Airport, including the capacity expansion of Terminals 1 and 2, the development of Asia's first Low Cost Carrier Terminal, opened in 2006, and the construction of new air cargo facilities. Mr Fong was part of the ACI's New Larger Aircraft Task Force to manage the development guidelines for airports to facilitate the operation of the A380 and subsequently developed the design for passenger loading bridges to have three arms. With the Corpratisation of CAAS in July 2009, Mr Fong joined the Changi Airport Group and is currently the Executive Vice President of the Engineering and Development Group.