Preparation is key: Winter operations at Hamburg Airport
Snow and ice clearing is a round-the-clock job for Hamburg Airport. With an area the size of 125 football pitches needing to be treated, the airport is well prepared throughout the year. Head of Traffic Control and Winter Surface Clearance Compliance Officer, Michael Rumstedt, reveals how the airport draws upon and evaluates its previous experiences to ensure the airport remains operational at all times.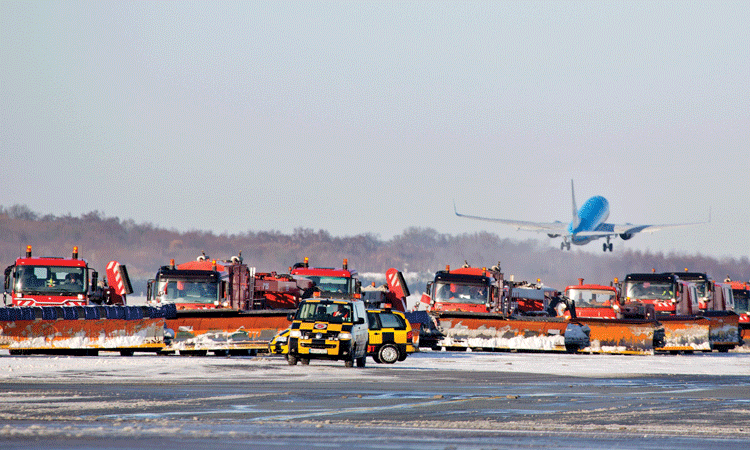 © Michael Penner, Hamburg Airport
In the middle of summer, Hamburg Airport's winter road, runway and apron clearance is a burning issue. The experiences gained in the previous winter season have long since been analysed and evaluated in detail, with conclusions drawn and consequences planned for the coming winter. Every winter is different and poses new challenges for the airport; nevertheless the value of having numerous targets, plans, and established work procedures is clearly seen time and again – in Hamburg just as much as at other commercial airports. A Winter Clearance Manual is particularly important. This is continuously revised on the basis of the latest insights.
Keeping aircraft operational areas safe
The International Civil Aviation Organization (ICAO) prescribes in detail how airport operators are to keep aircraft operational areas safe for traffic in winter. In accordance with these regulations, Hamburg Airport has produced a concept for clearing and gritting, which is adapted to current requirements each year. In addition to the airport, German Air Traffic Services – Deutsche Flugsicherung (DFS), RMH Real Estate Maintenance Hamburg GmbH, GroundStars, STARS, and the German Meteorological Service (DWD) are also involved in winter surface clearance at Hamburg Airport.
The 2015/16 winter season presented a substantial endurance test for Hamburg Airport's winter surface clearance. The most difficult time for winter surface clearance each year is the transitional period, which has many unknowns. Last winter was effectively just one transitional period. A typical example: At 4am there is black ice. Traffic Control personnel decide, in consultation with the Head of Operations for Snow and Ice, that the flight operational areas need to be cleared of ice to ensure the punctuality of the first take-offs and landings at 6am. Just four or five hours later the temperatures are significantly above freezing and it starts to rain heavily. The result is that chemical de-icing agents are washed away again.
Such scenarios were repeated day after day during the season and resulted in very high usage of de-icing agents. Classic winter conditions only existed on seven days. DWD, which operates an aviation advice centre at the airport, regularly issues forecasts. Last winter, however, the forecasts changed continuously. Sometimes, the curious situation occurred where it was snowing lightly on one side of the airport, and raining or even dry on the other side.
As the airport is in a state of operational readiness even at night, primarily for possible ambulance and rescue flight operations, the surfaces have to be kept free of ice at all times. In unfavourable weather conditions, this can mean clearing them eight-10 times per day. The winter surface clearance at Hamburg Airport thus ensures smooth flight operations in all snowy conditions and sub-zero temperatures, around the clock, regardless of the night flying restrictions. The difficulty in predicting conditions in the 2015/16 season meant that advance personnel planning was a challenge right up until spring. Winter surface clearance demands the highest levels of patience and flexibility from staff. The weather does not 'work' according to office hours.
Hamburg Airport has two runways which are 45.80m wide and have lengths of 3,666m and 3,250m. Adjacent to the concrete runway surfaces are 7m-wide asphalt shoulders which have a slotted channel for rain run-off and melted snow and ice. As well as the runways, there are apron areas of 481,000m2, 25km of operational and supply roads, footpaths and parking areas. In total, this area equates to 125 football pitches. Then there are the roads and pathways, other spaces and hangar entry areas. Around 100 airlines fly to the airport with aircraft up to ICAO size category F.
Winter surface clearance begins at the start of November each year and continues until April. As soon as there is just a 0.2cm layer of slush, the runways have to be cleared without delay. A total of 30 internal personnel are deployed for snow and ice clearance by the Hamburg Airport Group in four shifts. For the flight operational areas alone, a minimum of 25 personnel are needed per day or night shift. The additional personnel come from various companies in Hamburg, Schleswig-Holstein and Lower Saxony.
The 2012/13 winter saw ground frost on 104 of 182 winter days. The winter of 2010/11 was also unusually severe. These experiences caused the airport to extend the tank farm for surface de-icing. The new facilities can store some 350,000l of de-icing agents for flight operational areas – more than was ever before possible in Hamburg. A friction tester is used to determine whether or not the specialists need to be deployed. This is a VW Sharan especially modified by Traffic Control. At the push of a button, a fifth wheel can be lowered from the luggage compartment which is used to measure traction on the runways. There are two of these friction testers available. A complete measuring run, conducted by a Traffic Control employee, consists of driving in both directions on a 3,000m measuring route on runway 15-33 and a 2,500m measuring route on runway 05-23. The friction tester determines mean values for each one-third section of each runway. The friction coefficients that are measured are sent to the tower by radio, from where they are passed on to the pilots via ATIS (Automatic Terminal Information Service).
Traffic Control decides on the nature, scope and timing of winter surface clearance measures. Meteorological advice from DWD is consulted, as are forecasts from the METEO Group. Also installed in the vehicles are a mobile device for determining the freezing point, and an infrared thermometer. Traffic Control alarms and coordinates the participating services according to agreed winter surface clearance levels, defined in the Winter Clearance Manual. Level 1 applies to black ice and freezing rain; Level 2 is for snow at depths of up to 3cm; and Level 3 is for snow at depths of more than 3cm and for continuous precipitation.
The snow and ice service's fleet is well equipped
A total of 45 special vehicles are in use for Hamburg Airport's winter surface clearance. This includes nine combination snow clearing vehicles, consisting of a truck with a snow plough and sweeper-blower, two middle-axle sweepers, two tugs with brushes for apron positions, two snow blowers, three sand spreaders, and two de-icing sprayers with 36m-long spray arms.
For the more difficult-to-reach areas of the airport there are two Unimogs with brushes and spreaders. These two vehicles are deployed whenever the bigger vehicles cannot reach the smaller areas. Other trucks and smaller vehicles are also available and may be temporarily equipped with ploughs and snow brushes. Taken together, this equipment fleet is worth more than €6 million.
The combination clearing vehicles and snow blowers mechanically remove between 90-95% of the snow. This environmentally-friendly solution is achieved primarily with the truck snow ploughs, up to 9.30-wide, and the huge steel brushes of the sweeper/blowers which, depending on the model, rotate between 600 and 800 times per minute. It is important that de-icing salt is not used for the remaining 5-10%. First, because the salt would corrode the various materials of which the aircraft are built. Second, because when de-icing salts reach groundwater, they silt the soil and damage plants. The use of a mixture of solid and liquid formates has proven to be effective and environmentally-friendly. The potassium formate component is an aqueous solution consisting of 50-80% potassium formate. The solid sodium formate (granulate) is needed as a substrate for applying the liquid. Per de-icing run, some 11 tonnes of grit are used – around 8.5 tonnes of liquid and 2.5 tonnes of solid.
In the case of heavy snowfall, up to eight clearing vehicles, one snow blower and two sand spreaders are deployed on the runways at the same time to move snow from the runways to the surrounding area, along with two Traffic Control vehicles to coordinate the efforts and inspect the results. The snow and ice service needs around 30 minutes to clear one runway after a heavy snowfall.
The team at airport subsidiary STARS takes care of de-icing aircraft
Around 72 de-icers work in shifts on the apron during the cold winter months, starting at 3.30am. These trained personnel free the outer surface of the aircraft from dangerous build-ups of ice using a glycol compound to prevent the formation of new ice before take-off. Gerd Schmidt, who is in charge of aircraft de-icing, explains: "Layers of ice are dangerous because they can make the control surfaces of the aircraft immobile, having a detrimental impact on aerodynamics. This makes controlled flight impossible. The cold plates are also dangerous because they can amount to several tonnes of extra weight per aircraft." Special vehicles, so-called 'elephants' are also used for aircraft de-icing. Last winter, 10 such elephants were in use at Hamburg Airport, two more than the previous year.
For all of those involved, the review of the previous winter is at the same time a look to the future. Currently, for example, because of the traffic safety responsibility, there are discussions about the use of a geosystem which will facilitate IT-based documentation of measures carried out as part of winter surface clearance. One version has already been tested, recording clearance location, times, grit volumes and many other details in such a way that they can even be used in court if necessary.

Michael Rumstedt has been Head of Traffic Control and Winter Surface Clearance Compliance Officer at Hamburg Airport since 1999. In 2011 he was appointed airside Winter Surface Clearance Compliance Officer, responsible for the coordination of the entire snow and ice clearance service. He also issues the Winter Clearance Manual. His career at Hamburg Airport began in September 1989 in the civil engineering maintenance centre at the airport's workshops. In 1995 he was appointed Head of Civil Engineering Maintenance and Head of Operations for Snow and Ice Services.