Winter Operations Roundtable
Craig Bradbrook, Vice President of Aviation Services of Greater Toronto Airports speaks with Mike Moore, Thor Arve Øveraasen, Jan Pojezny, Dennis Mistreanu, Kelvin Williamson and Frederic Versavel about their products.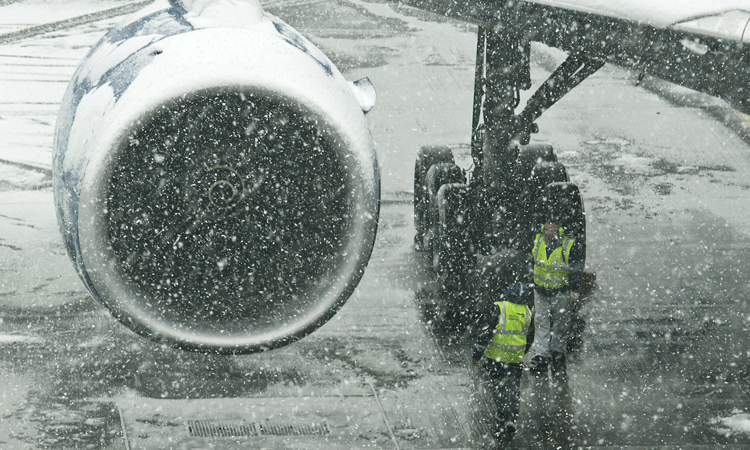 Participants:
Mike Moore, Key Account Manager, Aebi Schmidt
Thor Arve Øveraasen, Managing Director, Øveraasen
Jan Pojezny, Manager – Technical Sales, Vestergaard Company A/S
Dennis Mistreanu, Head of Aviation Business, Clariant
Kelvin Williamson, President, LNT Solutions
Frederic Versavel, Business Manager, Proviron De-icing Solutions
What role does direct input from customers play in your product development?
Moore: Our customer's input plays a major part in all of Aebi Schmidt's Product development programmes. Without the direct input from them our product development couldn't take place in line with the customer's wishes and expectations. We also ensure we integrate the industry's latest innovative technologies and emission standards. By holding regular meetings both pre-, during and post-season we gather valuable information from our customers, and in parallel, similar meetings take place at all the factories within the Aebi Schmidt Group. This enables the technical, design and construction staff to have fully up to date information and implement any changes if required.
Mistreanu: We pride ourselves on giving customers what they ask for. The importance of customer input increases with the market or technological newness. When developing new products we concentrate on the acquisition of customers input with a strong focus on outcomes. We listen to our customers, we organise the data then rate the outcomes and our R&D team steps in. In some cases, product development is a joint initiative where we work closely with specific customers to develop products that meet their specific environmental needs. Clariant has continued to be able to rise to the demands of the market and secure sustained development of both products and production processes.
Williamson: The proven success of our innovative products is a result of customer input in LNT Solutions' development process. Customers typically review de-icing developments by four benchmarks: performance, cost, corrosion and environment. LNT Solutions adopts a holistic approach to customer input, considering observations beyond just these benchmarks of product performance. Understanding customer need is more than direct feedback on product efficacy, it is listening to wider comments about the logistics of de-icing – what are their yearly grumbles, frustrations and thinking? We use this wider commentary to review how our products can relieve such pressures. For example, the development of our unique add-pack products, which enable in-truck blending and Recover, Recycle, Reuse projects, combines the needs of reducing carbon foot-print and lower costs, with logistical considerations about de-icing product storage. Customers receive added value through flexibility in their stock holding and replenishment, countering their wider concerns around planning for unpredictable winter conditions.
Øveraasen: We are working very closely with our customers. Only from them can we get inputs about their wishes and needs for the future.
Versavel: Proviron manufactures high quality chemical products to clear snow or frost from runways, taxiways and aircraft. Proviron highly values an open and no-nonsense communication with its customers. By listening to the input from its customers Proviron is continuously trying to further optimise the performance of its de-icing products and its customer service.
Pojezny: A key role, indeed. As a GSE manufacturer, even with highly experienced engineers on our staff and utilising the most advanced design tools, we depend on customer input in our strive to be at the forefront of developments in our industry. Subjecting GSE to actual daily airport operations is key to constantly improving product designs, e.g. leading to ideas within 'better ergonomy' or 'greater de-icing speed'. In some cases, by request from certain customers, we also develop specific features or options, which might initially only benefit a particular customer. With time, however, some such one-off solutions prove very successful and spark significant wide market interest. To some extent, our main product, the Elephant® BETA can be seen as the result of such a product development process, which Vestergaard had with a certain Scandinavian legacy carrier in the late 1970s and the early 1980s.
Winter climates vary. How do you ensure your products can adapt to different environments?
 Mistreanu: The use of liquid de/anti-icers with glycol as the freeze point depressant looks likely to be the only way to ensure safe and efficient winter operations in the foreseeable future and is set to be with us for many years to come. With over 40 years of de-icing industry experience, Clariant has developed De-/Anti-Icing Fluids which fulfil all international requirements and ensure the safety that people depend on. In attaining these standards, environmental protection is given equal priority. Clariant's range of de-icers are currently produced in Europe, North America and Japan. We carry a broad portfolio of glycol based de-icers, which are widely used in all regions, largely because of the performance, effectiveness and reliability of these products in different environments.
Williamson: Having a global reach and operating across North America, Europe and further afield gives LNT Solutions a diverse customer base, making us well-placed to understand differing winter climates and offer products accordingly. We're therefore adept at creating products to meet varying temperatures and conditions. Take our GEN3 runway de-icing fluid, comprising nine formulation variants all of which have AMS 1435 qualification. Depending on which balance of environmental/ freeze point/ aircraft brake friendly/ cost characteristics best suits the customer we can choose which GEN3 formula is most appropriate. Our close-to-point of use manufacturing enables us not to take a one-size-fits-all approach. Unlike other suppliers, we have a far greater ability to tailor and react to local conditions. This helps more broadly as part of our R&D because we can identify a product's successful characteristics in one climate and influence the development of a new product for another climate, potentially on the other side of the world.  
Øveraasen: Our products are designed to work in all the difficult and extreme conditions that can be found around the globe.
Versavel: Proviron ensures that its de-icing products can adapt to different environments by developing products which can perform in the most severe environments. If de-icing chemicals show high performance in challenging environments like Greenland, Iceland or Scandinavia, then chances are high that these products will be effective in all environments.
Pojezny: Interestingly, even within the same climatic zone, two different ground handlers with seemingly similar customer bases can have different requirements for de-icers. Whether the challenge is flexibility in relation to different customers or to climatic regions, the inherent design of our Elephant® Beta Flex-liner de-icer allows its use at virtually any airport: from small regional, to large airports hosting the A380. Here, the initial dialogue with the customer is extremely important, e.g. to assess which additional 'click-on' options might be useful, such as Forced Air or identify the range of pre-programmed on-board mixes between water and glycol. Some customers may need to transfer units between different stations, in which case the ability to easy switch between two- and three-tank configuration might be selected, while other customers need ability to de-ice a multitude of different-sized aircraft, as can be the case at certain regional airports that double as cargo hubs.
Moore: Prior to any piece of Schmidt equipment going into production, extensive testing is carried out in a number of countries to ensure that the machines are capable of operating within extreme hot conditions (+58°C) and intermediate cold environments (-42°C). This ensures the equipment gains the highest manufacturing directives and standards possible.
One of the challenges of winter is managing travellers' expectations. How can you help?
 Williamson: Winter is an annual event and it's hard for travellers to understand how disruptions to services can seem an annual inevitability. We know it'll be cold so why aren't facilities prepared? Industry's answer is simple – winter is unpredictable, whatever the climate. LNT Solutions helps reduce the impact of unpredictability in three ways: pre-season planning support, local production and add-pack products offering flexible stock-management. Our team utilises pre-season discussions with customers about previous product consumption and weather conditions, combining this with expert winter forecasting, to advise on anticipated volume requirements. Through local manufacturing operations, we ensure airports have sufficient product stored on-site with local production facilities ready to increase manufacturing to respond to unexpected conditions. This means efficient storage levels on-site and preloaded trucks available nearby should additional product be required, reducing the risk of de-icing supply breaks and shortages during inclement periods thereby reducing the potential for traveller delays.
Øveraasen: Airport authorities need to inform travellers in a better way. They need to tell them that security and safe landing conditions are areas where no sacrifices are to be made.
Versavel: As a manufacturer of de-icing chemicals, Proviron has little to no influence on travellers' expectations. Always guaranteeing a high quality product delivered in the agreed lead times is the best we can do to keep runways open and aircraft flying.
Pojezny: Vestergaard's products are mainly aimed at making our 'two-winged' customers happy, which is manifested in various parameters, such as to improve the overall financial result (by reducing glycol consumption) or to ensure on-time departure (by focusing on GSE reliability and having a strong service organisation). This in turn provides for a safe, quick and reliable de-icing operation, with a minimum of winter-induced delays, which obviously benefits the ultimate 'two-legged' customer, meaning the individual passengers.
Moore: As an equipment manufacturer we can assist in managing the traveller's expectations by ensuring that when our equipment is in service it remains at the highest level of availability and that staff both new and existing receive the appropriate training prior to the winter period commencing. Our team of experienced Airport Engineers are on call 24/7 during the crucial periods to ensure we support our airports and their customers to the full.
Mistreanu: Airports and airlines are under constant pressure to remain operational – even in the harshest of winter conditions – without jeopardising the safety of the passengers. Clariant is a major player in aircraft de/anti-icing and runway de-icing chemicals and we recognise the importance of remaining dedicated to assisting customers overcome operational difficulties in adverse weather conditions. A safe and secure supply chain is vital for our customers. Clariant secures the de-icing products supply position through multiple production sites and a wide network of depots, strategically placed all across Europe. We ensure very short lead times and on-time customer deliveries by employing first in class weather tools and logistic services, supported by an effective supply chain management, securing ample stocks level all across Europe and at all times during the winter season. Our aviation team works around the clock helping all our customers whenever they need it.
Can airports be doing more to integrate winter preparedness into their business planning? 
Øveraasen: Absolutely, but generally many airports are trying to save money by not investing in snow removal equipment. If the winter hits they will have huge problems. In many ways you can compare this with fire-fighting vehicles. You have got to have them in your airport, but you hope that they'll only have to be used in emergencies.
Versavel: Over the past years, many airports in Europe have done major investments and improvements to optimise their winter operations. Most airports are hence very well prepared for a worst case winter scenario.
Pojezny: The short answer is likely to be 'yes, most airports probably can'. A main challenge will typically be to do so, within given financial constraints and with a number of operational variables, such as development in traffic and severity of the coming winter, which can only to some degree be assessed beforehand. Increasingly, Vestergaard has been appointed as the de-icing partner in the winter preparations at a number of airports, e.g. by pre-winter service inspection agreements, by frame agreements (for those who can plan several years ahead) or by offering de-icers from stock – new or secondhand – to those airports, that suddenly find they have a sudden, urgent requirement for additional de-icing capacity.
Moore: In recent years we've found that most airports have integrated winter preparation into their business plans. We often hear about vehicle replacement programmes and are aware that practice drills are carried out before and during the winter season in order to ensure the equipment is ready for operating in such harsh conditions. Everyone involved should be at the highest state of readiness.
Mistreanu: As the weather gets colder, all our customers know the first snow will bring a variety of challenges to any airport and that can require a lot of forward planning. This is something that is planned for throughout the year, specifically the winter preparedness programme gets into full swing in the middle of summer. The top priority is the safety and security of the passengers. During the winter season each of our partners are following a carefully organised plan to tackle all types of weather conditions; being organised with personnel, equipment and training is absolutely vital. When winter weather hits, thanks to de-icing chemicals, equipment and good planning, extreme cold isn't an issue either.
Williamson: Long-term snow planning is a must for encapsulating winter preparation in airports' broader business plans. This guards against the prevalence of short-term memory, where too much emphasis can be placed on the experiences of the last couple of years. The risk being that a mild winter one year, when only a quarter of allocated budget is spent, can result in much reduced budgets for following years. There is then no flexibility for weather-variance and a lack of preparation for an extreme winter period. We recommend all our customers to look at the five-year history and prepare for all circumstances in that period within their snow plan. Even at airports which rarely experience severe weather conditions, the cost of the insurance cover represented by expenditure on infrastructure will be dwarfed be the loss of business over a holiday period due to flight cancellations and the resulting poor publicity.
What aspect of winter operations causes the most concern as airports look ahead?
Versavel: The biggest concern is that winters are always unpredictable. Some winters are extremely mild, others are extremely severe. Staying focussed and being prepared for the worst case winter conditions, even after two or more mild winters, is critical for all winter operations.
Pojezny: Airports will of course have their own different replies but obviously, the larger an airport is, the more complex procedures and routines are needed. At small airports, the handling operations staff – at least to some extent – can be 'jacks of all trades', whereby co-ordination is relatively straightforward. But this is rarely possible in larger airports and it is precisely this interaction between the various departments and stake-holders – also outside the airport perimeter – which can cause concern. An example: An airport can be fully prepared and operationally ready for even the worst winter conditions, but if the transport infrastructure outside the airport cannot keep operating at required capacity, passenger traffic might still be impeded.
Moore: Weather forecasting and conditions such as low-lying fog cause a great amount of concern currently. Whilst other countries in Europe are able to switch their entire operation across to winter at known times of the year for a four to five month period, in the UK we are constantly on the verge of waiting for temperatures to lower and the snow to arrive. In recent times low-lying fog has become a topic of conversation as this seriously disrupts air traffic and if this could be predicted it would help the airports enormously. Another issue is the disposal of de-icing media. Whilst the application of de-icing liquids is paramount for safe take-off and landing, its effect on the environment is far from ideal therefore the pick-up and disposal of these substances post treatment will become increasingly important.
Mistreanu: In recent years, each winter was characterised by distinct uncertainty, which makes the snow forecast an emerging challenge. It is fair to say that in the winter months the airports must be prepared for every conceivable scenario where weather is concerned. Airports are also evaluated on their capabilities to maintain all activities in safe and operational conditions during the entire winter season. Proper management of snow and ice at airports is essential, so each airport must tackle snow and ice with ease and implement expert operations in various winter conditions; environmental issues are equally important. As passengers are demanding a higher level of service, making an airport efficient and more competitive, is good business.
Williamson: Without doubt it is the unpredictability of the weather. Extremes at either end of the temperature scale are occurring across the world. They become apparent as a series of long hard winters are followed by a series of record breaking warm winters. Warm winters are less expensive and welcomed in the short-term but consecutive warm winters carry the risk of rustiness in the operation of the snow plan and perhaps sometimes the malfunctioning of the equipment itself, particularly in the rarely used back-up variety. Many of the additional resources put in place after consecutive cold winters can drop away as memory of the difficulties faced fades over time and budgets inevitably come under pressure. Stock holding quantities will be deemed over-generous and airports will then struggle to make the budgetary arguments for full snow-preparedness. The winter then is a far greater cause for concern than in the years following consecutive cold-snaps. Stay prepared, do not be complacent – long hard cold winter will arrive just when it is least expected!
Øveraasen: Increasing traffic leaves little time for snow removal operations. Many airports do not have the personnel to handle the challenges of snow clearing. Especially in countries where they do not have winter conditions every year. Another problem is that today's modern airports are not designed for operations under winter conditions – the planners don't seem to have snow on their minds!

Mike Moore joined Aebi Schmidt in February 2000. He has held various roles within the group over the years, including a two-year spell in Germany within the Holding part of the Abei Schmidt Organisation, working as a Product Manager for Sweepers. Mike project managed several key orders for organisations such as the Ministry of Defence, Highways Agency, larger airports and Balfour Beatty. In January 2011 Mike took on responsibility for all UK civilian airports and major contractors.

Dennis Mistreanu has over 20 years of experience in the specialty chemicals industry for consumer and industrial applications in North America, Asia Pacific, and EMEA regions. Since he joined Clariant in 2001 he has held various senior management positions, including Aviation for Canada, U.S. and Europe, within Clariant's Industrial & Consumer Specialties Business Unit. A customer-focused manager, he has built new business and forged loyalty with clients, vendors and external business partners. Throughout his career he has identified and capitalised on emerging business ventures, offering insights for market differentiation. Dennis is a chemical engineer, Canadian citizen and is currently based in Switzerland.

Kelvin Williamson has 35 years' experience in the aviation industry, a career spanning commercial pilot, check pilot and ground services management. His early flying career led him to become the Chief Pilot for Voyager Airlines, where he remained for four years. He then spent 10 years as a Transport Canada Aviation Inspector/Check Pilot. During this time Kelvin was also responsible for the initial Government approval of the Toronto Central De-icing Facility. Kelvin retired his flying career as Captain B727 International cargo ops for All Canada Express. Subsequently, as General Manager for Toronto's Central De-icing Facility he also managed de-icing services for Servisair throughout Canada. As an active SAE Member he is the Co-Chair of the G12 Deicing Facilities Committee.

With a background in engineering and economics, Frederic Versavel has spent most of his career working in international sales. Appointed as Business Manager at Proviron, Frederic is responsible for the De-icing Solutions Business Unit; manufacturing and supplying high quality aircraft and runway de-icing products for the European aviation market.

Jan Pojezny is Manager/Technical Sales at Vestergaard Company A/S. Holding an M.Sc. in mechanical engineering and after working a number of years on international engineering projects in the oil and gas industry, Jan's life-long fascination with aviation led him to Denmark-based Vestergaard Company. Here, Jan has just passed his 11th anniversary and as part of the Vestergaard sales team, he is primarily tasked with assisting Vestergaard's customers in the Baltic States, Central and East Europe and the Balkans.

Thor Arve Øveraasen is Managing Director of Øveraasen Snowremoval Systems.