Investment in baggage systems is important, but staff are vital too
A year into his post as Gatwick Airport's Chief Operating Officer, Chris Woodroofe shines a light on the airport's recent investment in state-of-the-art baggage systems. Despite the increasing automation, he highlights the equally important role that airport staff play in the eternal quest to improve efficiency and performance.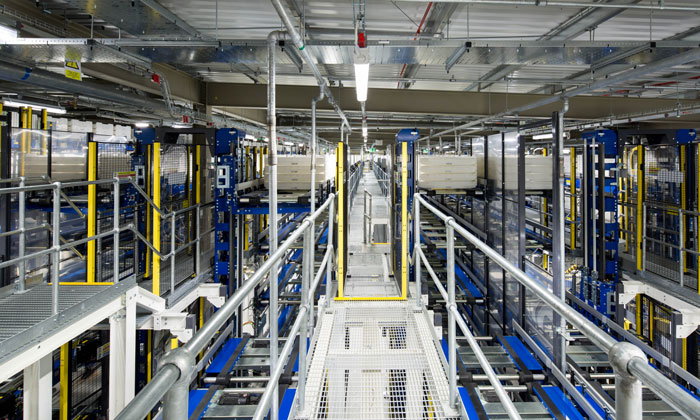 Gatwick Airport's 'Early Bag' store (or 'Bag Hotel') opened in the South Terminal in 2016
As we know , baggage systems are integral to the smooth operation of airports. They must be robust and up-to-date in order to support smooth, safe passenger journeys as well as an airport's growth potential.
Once passengers see their bag disappear into the system they barely give it a second thought, and nor should they. That is an airport's job and right now Gatwick is investing heavily to both future proof the airport's baggage systems and make them as resilient as possible to disruption.
Future proofing for growth
I began my Gatwick career overseeing our North Terminal baggage operation, so this subject is close to my heart. There have been many changes since that time; not least our rapidly growing passenger numbers, which are approaching 46 million – up around 10 million in just five years.
This means we currently process approximately 26 million bags a year and must ensure our network is set up to handle the additional demand further down the line. This is the reason we are investing over £200 million over the course of the next five years.
We have already made good progress, evident by the recently opened state-of-the-art baggage system in our South Terminal. This was one of the largest projects the airport has ever undertaken and provides sufficient capacity to accommodate over 4,250 bags per hour and service the whole South Terminal. Plans are also afoot to upgrade the facilities in our North Terminal to accommodate yet more growth.
Crucially we are also building resilience into the system to provide the airport with the increasing capability to isolate specific areas within the system, and to prevent a single baggage fault from halting an entire terminal.
This will take time to fully implement across both terminals, but better resilience is vitally important as we operate the world's most efficient runway with 55 movements an hour at peak time.
This level of intensity means we have little buffer room to recover if the schedule slips. Our investment to date has helped us deliver the most stable baggage operation we have ever had, but we are investing even more to further improve our resilience.
Slotting this new infrastructure into the existing baggage network, without interrupting a live working environment processing 61,000 departing bags a day, has been – and will continue to be – extremely challenging. It is essentially 24/7 construction in a 24/7 airport and has been compared to performing open-heart surgery on someone while they are running a marathon.
It is only after the most meticulous planning that construction projects like this can take place and – while the end result will be a major engineering achievement – it cannot accomplish wholesale change overnight. Instead we have focused on a little at a time, slow and steady, to ensure it works without ever interrupting the daily operation.
Transfer bags and long-haul
Our investment also aims to future proof our baggage system up to 2033.
To this end we work closely with our Sales and Operations Planning teams to understand future growth and trends at the airport, to be as prepared as possible.
For example, passenger numbers are not the only driver for change. Gatwick's long-haul network has also been transformed since I started and now boasts over 60 routes – by far the most for any single runway airport. This is a priority area for Gatwick and our evolving baggage facilities must reflect this.
A growing long-haul network generally means more bags – and in particular, transfer bags. We recently opened our first 'Bag Hotel' – or 'Early Bag' store – in our South Terminal with the capability to hold almost 3,000 bags for up to 24 hours. This initiative not only helps us manage an increasing transfer product, but also improves convenience for passengers and reduces queues by spreading out check-in times.
Furthermore, while Gatwick remains largely a 'point to point' airport, in addition to passengers who interline, a similar number – around 1. 7 million passengers – self-connect each year by independently booking and transferring themselves on two flights operated by non-interlined airlines.
To cater for this demand we pioneered GatwickConnects – a world first service that lets self-connecting passengers combine a wide range of non-interlined flights at the airport more easily in a single transaction, rather than having to book separate flights.
Gatwick is uniquely placed to offer this type of connections service as it has the largest route network of any UK airport. Not only does GatwickConnects offer passengers a protected connection in the event of cancellations or delays, but it also negates the strain of self-connecting as bags are taken and loaded on the next flight, allowing customers to go straight through security.
A range of other airports are now emulating this model and just a few weeks ago Gatwick partnered with easyJet, Norwegian and WestJet to offer the world's first global airline connections service by low fares airlines.
'Worldwide by easyJet' integrates GatwickConnects into easyjet.com so that the airline's passengers can more easily book a wide range of connecting flights through Gatwick at the touch of a button. Passengers can either connect with another easyJet flight, or one flown by low-cost long-haul airlines Norwegian and WestJet, with more long-haul airlines expected to join the new service soon.
The passenger obviously benefits from the increased convenience these services offer, but the complex systems operating to achieve this are mostly behind the scenes. One interface, however, where the public are directly involved is the self-service bag drop.
Since we opened the world's largest self-service bag drop zone in the North Terminal in 2016, passenger feedback has been very positive. Passengers value
the way automation puts them in charge and speeds up the process – leaving them free to spend their time as they choose, be it working or enjoying facilities in the departure lounge. These systems are becoming the norm across the airport and are central to our ambition to eliminate queues. By speeding passengers through the processing part of their journey, we can handle greater numbers, which assists our growth strategy.
Gatwick staff matter
One of the most important issues for me – and one often forgotten, particularly as automation plays an increasing role – is that staff matter when it comes to improving baggage handling performance.
A key focus in my new role as COO is to bring the Gatwick Family closer together, by which I mean getting Gatwick's 3,000 staff working better and more closely with the 27,000 other employees on campus.
Get this right and it can pay dividends, as demonstrated by the way our new Airport Community App has improved our baggage operation recently.
The Airport Community App is a smartphone-based platform that gives the entire airport workforce easy access to real-time information about airport issues. It has brought the airport community together and we now have 10,000 active users. Gatwick staff make up 25 per cent, with the remaining 75 per cent working for other entities including our baggage handlers.
GATWICK AIRPORT BAGGAGE HANDLING FACT BOX 
26 million items of hold baggage processed annually
On peak days up to 61,000 items of departing hold baggage go through the system
Based on an estimated 15kg average this equates to 400,000 tonnes annually
Approximately 25km of conveyor belts are used in the airport's baggage system
Operational efficiency is crucial to the success of our business and many of our onsite partners. Ensuring flights depart on time is a priority and the app helps us to easily and quickly share real-time data on this key metric to help all staff – not just Gatwick employees – focus on what needs to be done to meet their targets.
Our baggage handlers' performance is shared and displayed on league tables and this increased visibility has instilled a healthy sense of competition between them and helped to improve performance. As one member of Menzies Aviation recently explained, this sense of competition has increased Menzies's motivation "to be number one".
Staff have really embraced new airport-wide technology and the community app has proved so successful it has since been rolled out at 20 other airports across the world.
Working closely together, of course, cuts both ways. In return for better performance from our partners, we are exploring how we can improve conditions for third parties working at the airport.
This not only refers to environmental health and safety – which remains a fundamentally important area and an ongoing priority for Gatwick – but applies to other areas too. Our new sorters, for example, are ergonomically designed to improve our handlers' wellbeing and we are making 'baggage voids' in our processing facilities safer places in which our engineers can work when maintaining the system.
We are also exploring how we might help improve conditions or introduce incentives for our wider Gatwick Airport family. It is still early days, but we are currently looking to survey all on-site third parties about their concerns so we can move forward in an informed way and help improve aspects that actually matter to these staff.
Whatever the results, the Gatwick Family Programme will be a major internal focus for the airport going forward. When fully operational I expect it will enable the airport to function much better and more efficiently, reflecting the way that sharing information and increasing the visibility of our various baggage handlers has improved performance.
Large busy airports require appropriate baggage infrastructure to meet both current and future demand, but they must also be flexible to adapt to change and resilient to cope with disruption. Achieving this requires investment in the latest technology, but when thinking through how these baggage systems will work it is important to remember the role your staff play, as they are vital to ensuring systems perform successfully.
Biography

Chris Woodroofe was appointed Gatwick Airport's Chief Operating Officer in November 2016, following a successful career spanning multiple roles at Gatwick. He joined the airport in 2006 and held several other senior engineering roles before becoming Head of Engineering in 2010. In 2012 Chris became Head of Security, leading a programme of work to create Gatwick's world-leading security operation. In 2015 his role was expanded to include operational accountability for stable operations, terminals and ensuring that the airport's transformational airline moves programme is successfully delivered. Chris is a chartered chemical engineer who left Imperial College, London, with a first-class Master's degree. He also holds an MBA with distinction from the University of Warwick.