Aviation's big data challenge – an interview with Huawei's Frédéric Comtet
Aviation is booming. Pre-recession growth rates have reasserted themselves and airports are bracing for a coming flood. Often, this preparation is focussed on physical infrastructure, how they will create more space to accommodate the numbers. But airports ignore data at their peril. With a deluge of passengers comes a deluge of bytes. We caught up with Frédéric Comtet of Huawei to discuss the growing world big data infrastructure.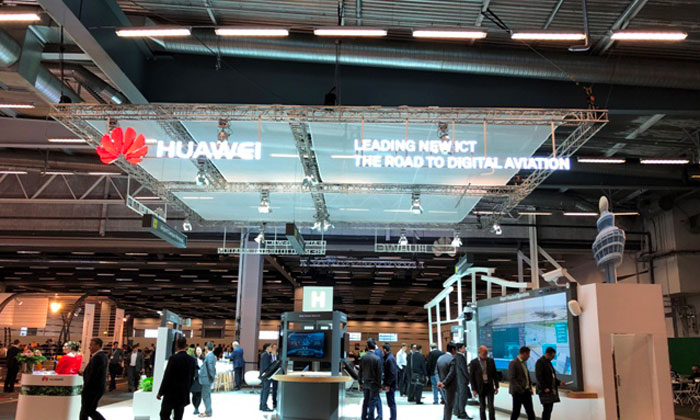 DIGITAL AVIATION: Huawei's stand at Passenger Terminal Expo in Stockholm
We interviewed Frédéric, the Director of the Transportation Solution Unit within the Transport Sector of Huawei's Enterprise Business Group, at Passenger Terminal Expo in Stockholm, where he had hosted the Huawei Global Aviation Summit 2018. He started off by telling us a bit more about Huawei, its structure and the growth it has enjoyed over recent years.
We are truly global. We are in 170 countries with around 180,000 employees. Outside of China, 70 per cent of the employees are local employees. Innovation is in the DNA of Huawei, we have 80,000 research and development employees, so almost half of our employees. We have 16 global R&D centres, in the US, India, and also in Europe like in Munich, in Stockholm, in Moscow, and in the UK. We have made a huge investment in R&D with more than 300 staff working in leading positions in R&D groups.
We are number 83 in the Fortune Global 500, in 2017 [having made the list in 2010 at 397]. Something very new, that was not the case a couple of years ago, is we are number 72 in the World Top Most Valuable Brands. And all these figures are improving year after year.
We have three legs in Huawei: the operator business, where we came from at the beginning, the consumer business and the enterprise business. In the enterprise business we have separate industries, specifically, we focus on five top industries and transportation is one of those.
For the enterprise business, one of the pillars of Huawei, we achieved more than 46 per cent growth in revenue in 2016. The figures for 2017 are not yet audited,but the enterprise business is growing extremely fast. As you can imagine.
Where is that growth taking place?
This growth is taking place everywhere, in all regions.
Within the enterprise business, we have a lot of industries and we have a lot of products. We have industries and a portfolio, and we leverage on the fact that one product can serve a lot of different industries. For example, there are IT solutions that serve both the finance sector, media sector and Transportation sector
For Transportation sector, we cover the railway business, the metro business, airports, airlines, seaports and roads.
Huawei is headquartered in Shenzhen, in the new economic zone created by Deng Xiaoping in the 1980s. Frédéric told us that he makes regular visits to the city from his base in Paris to keep abreast of the goings on within the overall business.
Huawei is moving very fast, we have a portfolio which is expanding quickly. So, you need to regularly be in Shenzhen to grasp the latest updates in terms of product solutions. All regional leaders meet in January so it's a very good time for internal meetings. As I mentioned, the R&D centres are spread over different regions and we also have supply centres throughout the world, so we are truly global.
We started with the carrier business (mobile operators business), and then expanded with consumer business (all the devices and smartphones business) and with the third pillar which is the enterprise business. Here the mission is to be the preferred partner for digital transformation in different industries. I mentioned that transportation is one of the five top industries for Huawei. We have products addressing all of these pillars of business.
Huawei has its origins in the late 80s when it emerged as a telecommunications company. When did this branching out into 'enterprise', then further into transport and the aviation industry begin?
Huawei has its first airport reference around 20 years ago, but the enterprise pillar itself was set up in around 2010. Right from the start, this included transportation and within this aviation. Aviation is a strategic industry for us and today we have references in 50 airports, airlines and air traffic control systems throughout the world. We serve ten of the busiest airports in China and 15 airports with more than 30 million passenger capacity. Those are the key numbers.
Are these all over the world at the moment and are your solutions targeted at bigger airports or are you also interested in regional airports?
The references we have span over most of the regions, from China, South Pacific, South East Asia, Middle East, Europe, Africa, Latin America; in most regions we have airport references.
We address all kinds of airports. All our solutions are fully scalable. We have a very broad range of solutions addressing key requirements of the market – operational efficiency, safety and passenger experience. And we have solutions based on cloud computing, IoT, SDN, big data, wireless. We focus on three areas: cloud, pipe and devices. 
Could you talk us through what solutions Huawei offers to airports?
The first solution is what I would call the smart airport safety solution. Starting from the terminal, it includes data from cameras, including the facial recognition, and connects it to our transmission network and cloud network.
We have an agile transmission network based on PON, connected to our storage systems. We have a very high performing storage system. One example I want to give is Hamad International Airport. At Hamad, we have delivered a 10 PB (1 PB = 1000 TB) CCTV Storage with a scalability of 50 PB for the next five years.   which is key for them to cope with capacity expansions. In 2016, they had 37 million passengers and in 2022, they expect to have 50 million passengers a year.
They are one of the six top airports according to Skytrax – a five-star airport. There are only eight airports that have five stars. It is really one of the most innovative hubs in the world.
So, they are expecting this huge growth in passengers in the next five years. Today, they have 13,000 cameras installed but they plan to have 25,000. In Qatar the law is that you need to store data for 120 days, so you can imagine with all of these things together – 13,000 cameras, 37 million passengers, with more to come, and the requirement to store data 120 days – what amount of storage you need.
Huawei is fully committed to becoming a preferred digital transformation partner in the aviation sector
This is one of the reasons we were selected, because we are capable of providing 10 petabytes of storage to Hamad International Airport with the opportunity of 50 petabytes expansion. Our solution is very compact, so you are saving footprint and you are saving on power. 
We have a strategic cooperation with HIA as part of the MoU we signed. As you know, Middle East airports are facing a fast air passenger growth and a strong positive competition, and HIA wants to provide the best passenger experience with the best safety and efficiency for their operations.
So would you say then that this volume is the biggest challenge of big data at the moment?
On one side it is the volume, on the other it is the capacity – the throughput capacity. Because you need to imagine you have all the CCTV streams that are coming into storage. We support up to 400GB per second capacity throughput which is a key differentiator of our solution.
Am I right in thinking you've had some recent work with Dubai Airports with their three-tier data centre?
We are very proud of our work with Dubai Airports. We had the chance to build  the world's first Tier III certified Modular outdoor Data Centre Complex (MDCC) It was fully prefabricated in China and then shipped to Dubai. We delivered this project in less than one year and this was one of the key reasons we were selected. One of the criteria was to be able to quickly put the infrastructure in place to cope with a high increase in passenger traffic.
This is one of the big challenges in all airports, especially in the Middle East and especially Dubai where they will be faced with very high increases in passengers, so they need suppliers not only providing high capacity but also with the ability to deploy the equipment in a very fast way. So that's what we did. We had a ceremony at the end of last year to which we invited other airports from the Middle East.
One of the things you say a lot on your website regarding your solutions is in recent years there have been several changes. I wonder if you could expand on that. What do you feel has really changed in the last five years that has made a really big difference in what you do?
We have a very broad portfolio and one of the unique feature of Huawei and the value we bring to the industry is that we have a one stop ICT platform. It is a business-driven ICT platform providing solutions from the cloud with data centres with the pipe and with devices. That is something unique.
We have a very win-win approach with partners. Globally, not only in the aviation industry but the entire enterprise business, more than 800 solution partners.
We are setting up a number of open labs in different regions, for example in Dubai, in Munich in Johannesburg, in Singapore to mention a few. In those open labs, together with our partners, we will incubate new solutions to better meet customer requirements.
This is one of the commitments of Huawei to digitalise the airport market, through this win-win cooperation with solution partners wherever those companies come from. We plan to have 20 open labs by the end of 2019 and by the end of that year we will have spent US$200 million in open labs. 
I think one of the issues we hear a lot from airports, and sometimes airlines, is that there is an unwillingness to share data between parties. Do you think Huawei have any role in that maybe gelling the data within the aviation sector.
There is one basic principle in Huawei, we focus on infrastructure. We don't touch anything related to data analytics, applications and so on, it is simply not part of our offering. This will be handled by partners or system integrators. The data will go through a pipe into storage but we will not be responsible for sharing this data to other parties.
I know we've already said that this is a growth area worldwide. The case studies that we've had here have been Middle Eastern, are there any European airports or American airports that you feel you've had success stories with?
We have in fact. We're very proud to announce that we had a breakthrough with SITA in Malta Airport for voice telephony. We signed a GFA with SITA in Shanghai during Huawei HCC event in September 2017 and as part of this cooperation success we broke through into Malta Airport together with SITA. The project will be put in operation very soon.
What are going to be the challenges for the next three years? What's going to be the headache?
To me there are three key issues we need to address and continue to work with our solution partners and integrators to address. One is safety because there are increased concerns and requirements on safety and the example of Hamad International Airport shows how critical this is because its related also to passenger growth.
Then there is the capacity, the operational efficiency and, of course, the passenger experience because every airport is looking at providing better passenger experience. In order to better tackle those three requirements, we are proud to announce that we have come into a strategic partnership with IATA. We had a nice signing ceremony this morning on our booth at PTE in Stockholm.
As part of this partnership, we are contributing to a certain number of their strategic working groups collaborating with airports, airlines and other third parties. We believe with this partnership we can better serve and better contribute to smarter airports.
It's quite an interesting term when we say 'smart airports' because it means different things to different people. What does that mean to you?
Smart airport ultimately is related to digitalisation. It is getting every piece of the airport smarter, meaning they are able to communicate in real-time. If you think about a trolley or you think about baggage, it's getting all those components be able to communicate and to interact. Of course, you need to have collaboration between different stakeholders in the airport to address the different challenges and for this you need to have more connectivity, you need to have more storage, you need to have more processing capability, intelligence, to have better collaboration in the different processes of the airports. Huawei is fully committed to becoming a preferred digital transformation partner in the aviation sector by seeking the best practices and fostering a sound ecosystem, to make airports smarter.