Amsterdam Airport Schiphol is deploying additional security staff
Royal Schiphol Group is increasing the number of additional security staff.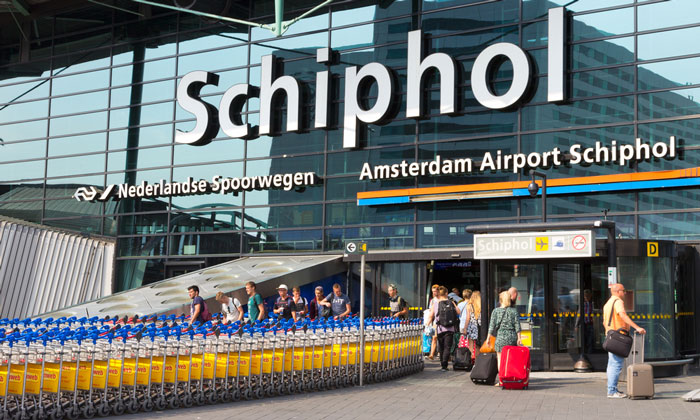 Amsterdam Schiphol is taking this measure following an assessment of the May holiday in order to reduce waiting times at the security checkpoints for passengers, and to more effectively cope with passenger peak periods. This measure is in addition to the existing summer measures and the additional security staff that had already been decided on earlier.
'The employees of the security companies work hard to provide passengers with a safe and relaxed start to their journey, but the assessment shows that even more staff will be required for this than originally accounted for', says Jos Nijhuis, CEO of Royal Schiphol Group.
Additional security staff were deployed during the May holiday, but their numbers were not always sufficient. Together with the security companies, we are now looking into how many additional staff will be necessary on busy days. In addition to the deployment of additional staff, Schiphol is also installing two additional security lanes in Departure Hall 2, which will allow more passengers to go through security simultaneously.
Shorter waiting times at three locations
Passengers departing from Schiphol are confronted with queues at three separate locations: at the airlines' check-in-desks, at Schiphol's security checkpoints and at the Royal Netherlands Marechaussee's Passport Control. The assessment shows that shorter waiting times are possible at each of these locations.
According to Nijhuis, 'The process at the airport is comparable to the inner workings of a mechanical watch. For optimal efficiency, it is crucial that all cogs fit perfectly. If one of the cogs comes to a halt, this has an immediate impact on the overall result.'
Schiphol should take the lead
'In the end, passengers don't care who or what they are queuing for,' Nijhuis continues.
'That is a shared responsibility, in which Schiphol should take the lead. Together with the airlines, the Royal Netherlands Marechaussee and other partners, we want to offer people a pleasant beginning and end to their business trip or holiday.'