Custom on the IT revolution
Gabriele Ruggieri Head of Aviation at software and hardware specialists, Custom, offers his view on the role of IT in the aviation and airport industry…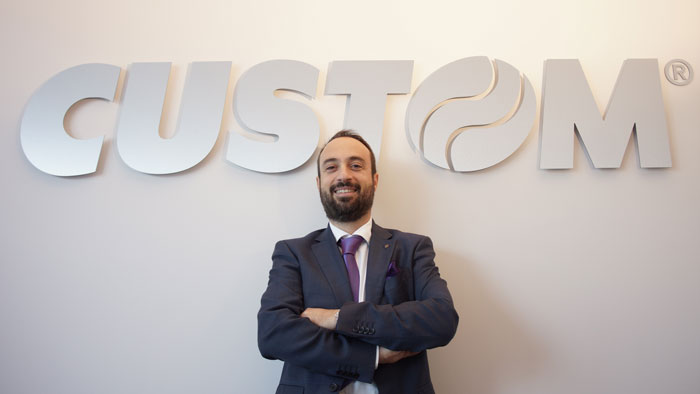 I understand Custom is making waves in the airport world with both software and hardware solutions. Could you describe how this process began and the choice to enter into the airport industry?
GR: It has been a natural / easy choice since Custom was and still is leader in railway transportation ticket vending machines (TVM) and highways tolls payment machine printers; Custom designs and produces 600,000 printers per year and the cross-synergy between other transportation divisions and the retail division has facilitated Custom to enter into the ATI sector; Custom software development is limited to supporting the integrators (CUTE / DCS providers) through supplying them API's, tools, and suite of software for seamlessly integrate / use / remote monitor Custom printers, in such sense they are the "solution providers", not Custom.
Do you feel that airports in general are using antiquated and out-of-date software? Do we need an IT revolution in the sector?
GR: We think that airport environment, as well as the banking one, due to the intrinsic security, is necessarily conservative. Nevertheless we support players that are very innovative and we are confident that Custom can contribute through providing  the ATI industry with cutting edge technologies; just as an example, we replaced older printers that were printing at 140 mm/sec with ARM CPU based ones printing at 220 mm/sec and the new TK862 is studied to reach 300 mm/sec printing speed: it means faster check-in operations and overall better customer experience. Furthermore,  Custom has anticipated the IATA Resolution 753, having ready off-the-shelf RFID enabled printers for those airlines which selected the RFID technology to get IATA compliance.
We think that rather than a revolution we will go through a natural evolution where Custom will play a key role because it can source experience and technologies from 6 different vertical markets where the Company is involved.
On a more general note, what is the single biggest challenge that airport industry is facing at present?
GR: Today we see lot of pressure on the cost reduction of check-in and boarding operations, with virtualisation of hardware from one side, till the replacement of legacy check-in with super sophisticated machines which at the end requires operators to help passengers; on the other hand, the most innovative airports are expanding, investing in new buildings, new shops, new hotels and entertainment, they almost become modern malls where people can spend time with families at the weekend, shop and eventually take a flight.
Can you propose any solutions for this issue?
GR: Custom believes that the introduction of the new technologies has to be done thinking at the people; the introduction needs to be harmonised with the environment. At Changi, the latest technologies relating to security and new check-in and boarding methodologies have been put side by side with new service facilities for customers who are making the travel experience at the airport enjoyable and relaxing. Custom is proud to be a supplier of Changi airport with 1700 printers at the check in and at the gates and 500+ at the new kiosks and self drop off.
How does the future look like for Custom in aviation?
GR: Custom looks forward to be the printers manufacturer leader into the ATI market and the trend-setter for the new technologies applied to  scanning and printing processes.
Could you describe any specific innovations you are working on?
GR: Custom Group is going to introduce its TK862, the only compact airport printer able to combine metallic case and refined design. A great commitment that means functionalities and reliability that are unique in this field, together with a lower TCO (Total Cost of Ownership). In this model, there are several innovations that lead to efficient and innovative functionalities, such as the "blind loading", the auto-calibration that – through CCD auto-calibrating sensors – is able to guarantee the absence of paper waste without any moving components: in fact, the sensors, by using CCD technology, are able to adapt themselves to an infinite number of kind of papers and do not need any movements to align to black-marks or hole-marks. Less moving components mean an even lower TCO and an easier scheduled maintenance: traditional sensors need to be cleaned with compressed air, while – with the innovative CCDs – you will only have to use a common soft cloth. TK862, in its own compactness, maintains the multi feeder option, useful to reduce waiting times increasing printing volumes, and the configuration for RFID option and integrated barcode scanner to have a product that is already fitted for future features that will come. A strategy that fully reflects a new way of designing airport printers that will have to meet the needs of integrators but – at the same time – also oriented to passengers to give value to the passenger experience.
Finally, imagine that we are having this conversation in a year's time: what do you predict will have changed in the airport industry ?
GR: More passengers for sure, more airports opening in Asia: those big changes will require more accurate, smaller, secure technologies and Custom is ready to support this challenge.