J.D. Power ranks MIA best mega airport in Florida
The global gateway places fourth overall in North America for traveller satisfaction.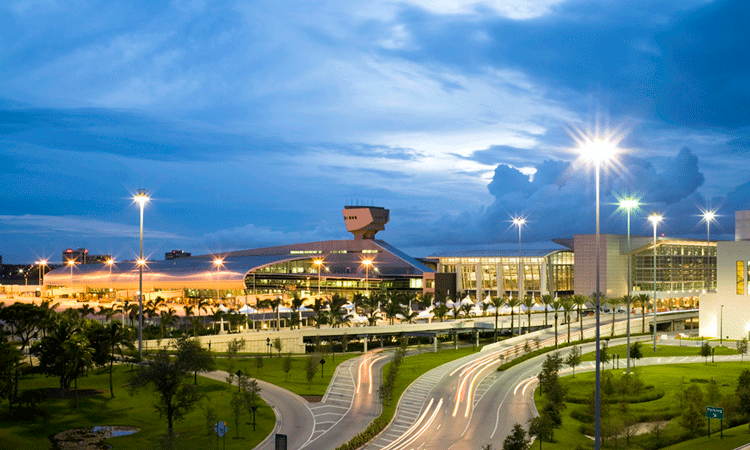 c: MIA
In the J.D. Power 2023 North America Airport Satisfaction StudySM released on September 20, Miami International Airport was ranked the best mega airport in Florida and 4th best among the busiest airports in the U.S. and Canada.
The 2023 study measured overall traveller satisfaction with North American airports by examining six factors (in order of importance): terminal facilities; airport arrival/departure; baggage claim; security check; check-in/baggage check; and food, beverage, and retail. Mega airports are defined as those with 33 million or more passengers per year. In the 2021 study, MIA was ranked the best mega airport overall.
Now in its 18th year, the J.D. Power study is based on 27,147 completed surveys from U.S. or Canadian residents who travelled through at least one U.S. or Canadian airport and covers both departure and arrival experiences (including connecting airports) during the past 30 days. Travelers evaluated either a departing or arriving airport from their round-trip experience. The study was fielded from August 2022 through July 2023.
MIA earned the ranking while also being the fastest-growing U.S. airport serving more than 30 million passengers since 2019, according to Airports Council International-North America (ACI-NA Industry Metrics, Summer 2023, page 24).
Also in September, a study by PlanetWare found that MIA had the shortest average wait time for security of any airport in Florida and the 6th-shortest average wait time in the U.S., at 10.4 minutes.
To further improve the international arrival experience, U.S. Customs and Border Protection launched a new Global Entry mobile application at MIA and six other U.S. airports in September for more than 12 million Global Entry members. The new app allows trusted travellers enrolled in Global Entry to complete their arrival processing instead of waiting in line to use a portal.
With the new app, travellers simply take a photo as a "selfie," which will be compared to a photo gallery to verify their identity through facial biometrics. After the photo has been submitted, the traveller will receive a receipt on the app. Once the traveller arrives at the primary inspection area, they can bypass the Global Entry portals and go directly to the CBP officers to efficiently process their entry into the United States by showing their mobile receipt.
CBP will continue to evaluate and expand the use of the app at airports where Global Entry processing occurs in the future. The app is free and available for download from the Google Play Store or Apple App Store.
Global Entry is one of the Department of Homeland Security's Trusted Traveler Programs, and is used at land, air and sea ports of entry into the United States at all major airports and all Preclearance airports. All applicants undergo rigorous and recurring background checks and an in-person interview before initial enrolment. To maintain Global Entry members as low-risk travellers, any violation of the program's terms and conditions will result in appropriate enforcement action and termination of the traveller's membership privileges. More information on Global Entry and CBP's Trusted Traveler Programs is available here.