Leading the way into an autonomous future
Heather Shelbrack, Deputy Aviation Director for Public Relations for the City of Phoenix Aviation Department, details the new autonomous vehicle services, which offer a sustainable mode of travel between the city and the airport.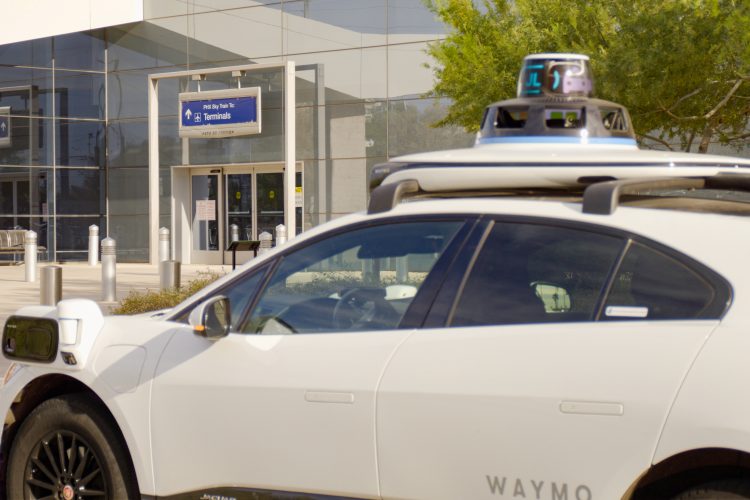 Waymo and City of Phoenix autonomous vehichles
Phoenix Sky Harbor International Airport, America's Friendliest Airport®, has always been focused on safety, security and customer service. As passenger needs evolve, it's critical for airports to ensure a focus on keeping up with the demands of travellers. This is where innovation and sustainability come into play.
Our partnership between the City of Phoenix and Waymo has resulted in incredible opportunities for both travellers and our community. Following years of collaboration, Phoenix Sky Harbor has set a global milestone in becoming the first airport in the world to offer autonomous vehicle services using Waymo. The first public rides began on 16 December 2022.
"Phoenix is leading the future of mobility and modernising how the world will experience travel," said Phoenix Mayor Kate Gallego. "The exciting technology offers our customers an additional option for travelling to the airport in a clean, sustainable, and technologically advanced mode of transportation."
Customers can use the Waymo One ride-hailing service 24 hours a day, seven days a week. Pickups and drop-offs occur at the Airport's 44th Street and 24th Street PHX Sky Train® Stations – only a short ride away from the terminals aboard the free PHX Sky Train®. Waymo is looking to expand pickup and drop-off locations at Phoenix Sky Harbor in the future.
Identifying a need and creating a partnership
Waymo proactively worked with the City of Phoenix (which owns and operates Phoenix Sky Harbor International Airport) and Phoenix Mayor Kate Gallego, to bring their plan and goals to fruition. Regular collaboration meetings were crucial to enable Waymo to understand key city and airport processes, and to educate city and airport staff on how the company's product works. This included offering tours of Waymo's facilities to airport staff and orientation training to Airport Operations, Police and Fire teams. The continued, two-way communication between all parties was paramount in proactively addressing potential challenges that can arise.
In discussions, three central themes kept popping up – safety, innovation and sustainability. In fact, safety is at the core of Waymo's mission.
"Our commitment to safety is reflected in everything we do, from how we design, test, and deploy our automated driving system, which we call the Waymo Driver, to our operational practices and company culture," states Nicole Gavel, Waymo Head of Business Development and Strategic Partnerships.
For instance, Waymo's service vehicles are not operated by humans, which eliminates the risks of unstable driving (a driver is never distracted, drowsy, or inebriated). The Waymo Driver works to ensure the safety of its passengers both inside the vehicle as well as those outside the vehicle – whether that be pedestrians, cyclists or vehicles.
In order to prepare for launch, Waymo conducted extensive testing in areas of Phoenix and surrounding communities for a significant period of time before expanding its footprint to Pheonix Sky Harbor. The introduction to the airport came two years after it opened its fully autonomous commercial ride-hailing service in the Phoenix East Valley.
In early November 2022, Waymo began offering its Trusted Tester participants autonomous rides to and from downtown Phoenix and the airport, with an autonomous specialist in the vehicle. This meant that while the vehicle would be in autonomous mode, there was a specialist in the vehicle to take over controls, if necessary. In December, the autonomous specialist was removed, and anyone could take a Waymo from the airport to downtown Phoenix. All that is required is the Waymo One app, which request a ride and then picks-up users at the 44th Street/24th Street PHX Sky Train® Station. Upon arrival, cars doors are unlocked using Waymo One, and users can create a unique and personalised experience by having the opportunity to connect their phone's music into the car's speakers.
Waymo introduced fully autonomous rides to the airport on the same day an announcement was made that Waymo would be doubling coverage area in Downtown Phoenix, and providing locals and visitors more opportunities to test the new service.
The service has been well received. Its launch coincided with busy holiday travel season, in which Phoenix sees a significant uptick of passenger travel because of the December holidays and major sporting events in state. Travel after the holidays has not slowed, with Phoenix experiencing higher passenger volumes from January to March, due to internationally recognised events like the Barrett Jackson Car Auction and the Phoenix Open Golf Tournament.
February 2023 also saw a record number of visitors for Super Bowl LVII. In addition to the actual game, there were numerous fan opportunities and activities for visitors to enjoy in downtown Phoenix. The Monday after the Super Bowl was a record-breaking day for Phoenix Sky Harbor, because the airport saw more than 200,000 passengers travel out that day – compared to an average of 120,000. During that time, Waymo also broke records for the number of trips taken in a single day and across the week of Super Bowl festivities. Since then, they have seen consistent growth week on week among Phoenicians and travellers alike.
Reliable and sustainable
Phoenix Sky Harbor is focused on being future-friendly. The airport has a number of sustainability initiatives underway, receiving the Airports Council International Carbon Accreditation Level 4 Rating in 2022 for its commitment toward reducing its environmental impact. Sustainability is a key focus for Waymo, because their fleet is made up of fully electric Jaguar I-PACEs equipped with the fifth-generation Waymo Driver.
"Phoenix is the fifth-largest city in the U.S., and we are among the busiest airports in the world," commented Director of Aviation Services Chad Makovsky. "Providing excellent customer service is paramount, and we're always looking for new ways we can bring innovation to our airport. The addition of Waymo service gives travellers another option to get between the airport and downtown Phoenix. I'm excited that it is a zero-emission service, and it's also unique and fun."

Heather Shelbrack is the Deputy Aviation Director for Public Relations at the City of Phoenix Aviation Department, which operates Phoenix Sky Harbor International Airport, Phoenix Deer Valley Airport and Phoenix Goodyear Airport. Heather oversees communications, customer service, community outreach, and the Phoenix Airport Museum. With more than 19 years of experience in the public relations industry, Heather has worked for the City of Phoenix Aviation Department since 2007 in various roles of increasing responsibility within the Public Relations division. Prior to joining the City of Phoenix Aviation Department, she worked in corporate communications for a financial services company and an airline. She holds bachelors' degrees in telecommunications and history from Indiana University and a master's degree in communications from the Johns Hopkins University. Heather is the Vice Chair of the Airport's Council International – North America's (ACI-NA) Marketing, Communications, and Customer Experience Steering Group. She is also recently successfully earned her Certified Member designation from the American Association of Airport Executives.