Tackling the challenges of ATCO recruitment at Isle of Man Airport
Gary Cobb, Airport Director for Isle of Man Airport (IOM) explores the heightened challenges of recruitment post COVID-19 and tells International Airport Review how the airport is working to attract air traffic service staff to its beautiful island.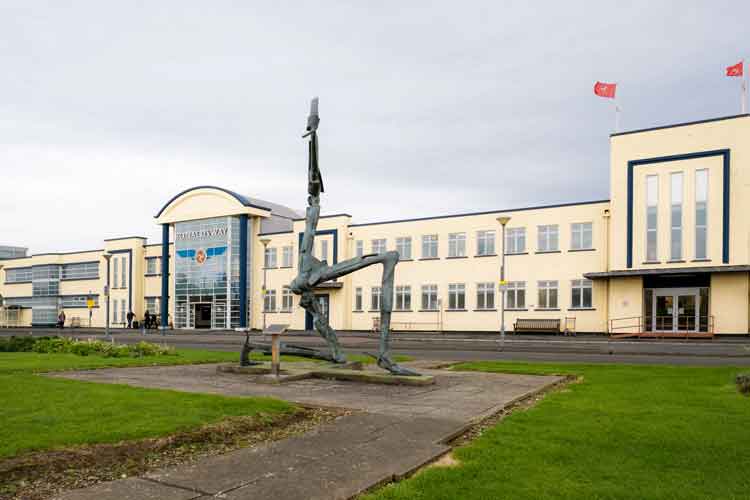 c: Isle of Man Airport
The Isle of Man, a self-governing British Crown dependency located in the Irish Sea between Great Britain and Ireland, has its own government and laws, and operates its own airport, the Isle of Man Airport (IOM).
It can be difficult to understand why the Isle of Man Airport, a regional, friendly airport which is expected to see around 750,000 passengers this year, struggles with recruitment.
The Isle of Man boasts of plenty of reasons to live here:
Beautiful scenery: the Isle of Man is the only entire jurisdiction in the world to be a named a UNESCO Biosphere. Boasting 95 miles of coastline, 169 miles of public footpaths and 26 'Dark Sky Sites', there is stunning scenery across the island. There are also plenty of natural activities to indulge in such as hiking, cycling or water sports – aperfect antidote to a hard day's work!
Low crime rate: the island has a low crime rate compared to other places in the UK and is often ranked the best place for British Isles' expats to live. This makes it a safe place to live in or raise a family.
Good quality of life: the Isle of Man has a good quality of life, with good schools, healthcare and a strong sense of community. It also has a thriving arts and culture scene, with festivals and events popping up throughout the year.
Tax benefits: the dependency has a unique tax system benefitting residents i.e., maximum rate of personal income tax is 20% and there are no capital gains tax or inheritance tax.
Business opportunities: the isle has a strong economy, being home to several international businesses, the e-gaming industry and a flourishing fintech sector. Additionally, with an average commute time of 20 minutes, low levels of unemployment and jobs available in an array of industries, the Isle of Man has many business opportunities for jobseekers.
Challenges in recruitment intensified post COVID-19
Recruitment for airports has always been difficult, but the effects of the pandemic exacerbated this issue, and has continued to pose challenges post COVID-19. For the Isle of Man Airport, recruitment has proven particularly difficult with vacancies across Air Traffic Control (ATC), catering and ground handling being particularly evident. This can be problematic when the airport not only provides typical business and leisure flights, but these flights are a lifeline to the socio-economic wellbeing of the Isle of Man itself.
This impact on recruitment becomes even more evident when the vacancies lie within Air Traffic Service staff. The Isle of Man Airport has been trying to recruit Air Traffic Controllers since November 2022, but with the pandemic closing airports and restricting borders, air traffic services have been disrupted. This had the knock-on effect of reducing traffic levels to such a low level, that most newly appointed or student ATCs couldn't continue to be trained. This put further pressure on our existing validated air traffic control officers (ATCOs), as well as adding frustration to student ATCOs who couldn't carry out the duties. It also meant that when existing ATCOs retired, left or lost their medical licences, there was no-one to fill their place. Hence, the number of vacancies just increased whilst the solution of training lagged considerably behind – a situation also faced by most other Air Navigation Service Providers (ANSP).
This reduction in ATC staff operational and available to be rostered, has manifested in the need to close the Isle of Man Airport for certain times of the day, to allow ATCOs to take their mandated breaks. It's a common misconception in the industry that ATCOs taking 'tea breaks' is to be awkward. Whereas in fact, the regulatory requirement of taking breaks is there to prevent fatigue and the degradation of safety. This can be difficult to explain to members of the public who have never worked in safety critical environments. 
Unique elements of recruiting roles to an island airport
Recruitment for ATCOs is currently a busy and competitive market saturated with lots of other airline qualifiers, like Air Navigation Service Providers. This makes recruiting to an island doubly difficult as many ATCOS chose the safe option and apply for roles closer to their homes, preferring that in favour of uprooting their life and moving to a whole new country. Even though it is a short journey from major UK cities, (20 minutes from Liverpool and 40 minutes from Manchester), many still don't understand how great a place the Isle of Man is to live on. 
Airline employers looking to recruit foreign applicants also must consider the complexities of advertising said roles. They are not only saddled with the task of selling the job, but also selling the island's lifestyle opportunities, since people are expected to move. They must also consider that they are interviewing the individual's family too. 
Air Traffic Controllers play a crucial role in the aviation industry, ensuring the safe and efficient flow of air traffic. They are responsible for managing the movement of aircraft, directing aircraft at take-off and landing, and assisting and guiding pilots. The recruitment of ATCs to the Isle of Man is an important process to guarantee the safety of regional air traffic. 
The requirements for being an Air Traffic Controller can be extensive. To apply for an ATC position at Isle of Man Airport, candidates must submit a CV, complete an application form and submit any relevant licenses and certifications. They must also possess strong communication and analytical skills and they exhibit these skills by participating in a series of interviews, assessments, and training programmes. Candidates who are successful are assured a career as an Air Traffic Controller, one that is highly rewarding and where they ensure the safety and efficiency of air traffic in the region.
The aviation industry is a growing field and there is a strong demand for qualified Air Traffic Controllers around the world – not least at the Isle of Man Airport. Overall, the island offers a unique combination of natural beauty, quality of life and business opportunities that appeal to adventurous types seeking a change of pace. 

Gary Cobb is the Airport Director for the Isle of Man Airport and oversees the safe running of the airport, from its operations down to route connectivity. Prior to this, Gary was Chief Operating Officer for Highlands and Islands Airport (HIAL) where he oversaw the airport's operations and regulatory compliance. He was also responsible for key corporate projects including HIAL's Air Traffic Management Strategy and other large scale capital projects. Before joining HIAL, Gary was Head of Airfield Planning at Gatwick Airport. There, he was responsible for the airport's innovative northern runway project, and Gatwick's single runway – which has become the busiest single runway in the world. He has also been a Non-Executive Director (Trustee) for the Port of Inverness and currently sits on the board of Visit Isle of Man.