Cleaner, Greener Airports: Making Aviation More Sustainable
For International Airport Review's sustainability series, Scott Morrissey, Senior Vice President of Sustainability at Denver International Airport, outlines how the airport is looking to grow sustainably in the future.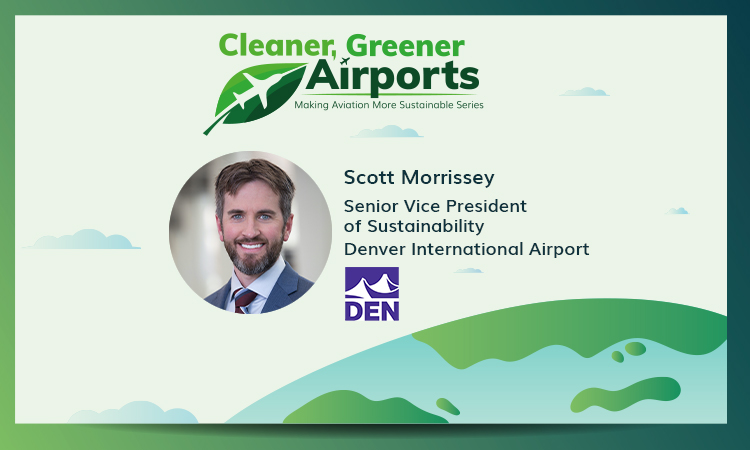 Denver International Airport (DEN) is undergoing a period of exceptional growth, guided by the "Vision 100" Strategic Plan to expand DEN facilities to accommodate 100 million passengers within the next 10 years. Since late 2020, we have added 39 new gates to what was already the third-busiest airport in the world, with over 58 million passengers in 2021. This type of growth is typically associated with a corresponding increase in environmental impacts, but under the leadership of DEN's Chief Executive Officer Phillip A. Washington, we have made a commitment to our community that we will grow in a responsible way, and work to become one of the most sustainable airports in the world on our way to reaching Vision 100.
Like so many large airports, the scale and breadth of DEN's activities present sustainability opportunities. By defining "Sustainability and Resiliency" as one of four guiding principles within our Strategic Plan, we have a framework to consider the impact of all business decisions in a sustainability context, and to demonstrate these values to the communities we serve. As a facility owned and operated by the City and County of Denver, DEN is actively working to achieve the ambitious goals established by Mayor Michael B. Hancock and supported by DEN's progressive leadership team:
Reduce Denver's greenhouse gas (GHG) emissions 65% by 2030 (science-based target) on the path to eliminating all GHG emissions by 2040
DEN has already reduced emissions 29% between 2013 and the pre-COVID year of 2019, despite a 31% increase in passengers
Achieve 100% renewable electricity community-wide by 2030.
DEN will evaluate all aspects of our operation through a new "Net Zero Emissions Plan" to develop a roadmap for future growth, retrofit our existing facility, promote renewable energy development, and work with our local utilities to achieve our shared goals.
Environmental management
The foundation of DEN's sustainability work is our ISO 14001-certified Environmental Management System (EMS). Almost 20 years ago, DEN became the first commercial service airport in the United States with an EMS covering all operations certified to this international standard. The primary benefit of the EMS is preparedness – with 53 square miles of airport land, 18 million square feet of facilities and more than 200,000 passengers coming through DEN every day, we cannot always know what challenges a day may bring. The EMS is a collection of over 100 documents that provides a framework to proactively consider the environmental risks we face, create plans to reduce the likelihood of environmental impacts, develop response plans for when things do happen and continually improve so we can do better moving forward.
Managing de-icing risks
DEN's EMS strategically evaluates environmental risks so we can develop programmes and projects to prevent pollution. One example is the use of propylene glycol in aircraft de-icing, which is projected to grow due to increased operations and traditionally ranks among DEN's most significant environmental risks. DEN maintains an industry-leading stormwater management system that collects an average of 70% of the de-icing fluid applied to aircraft during each winter season. Although we have operated an on-site glycol reclamation plant since the airport opened in 1995, we are building a new system that will recycle spent glycol to a level that allows it to be remanufactured into de-icing fluid and reapplied to aircraft in a closed loop. What otherwise would have been managed as a waste product will help offset the demand for new glycol – significantly reducing the environmental impacts associated with transporting the fluid, localising the supply chain, and reducing costs for DEN's business partners.
Concourse expansion
There is no more obvious sign of DEN's growth than our Concourse Expansion Programme, and these projects are critical to achieving our long-term goals. For the past 15 years, we have had an internal policy that all new construction projects are designed and constructed to the Leadership in Energy and Environmental Design (LEED) Gold standard. DEN currently has five LEED-certified projects, including the only LEED Platinum on-airport hotel in the country, which sits directly above an electrified commuter rail that transports passengers to and from downtown Denver. The expansion projects showcase DEN's LEED strategy – we are not simply constructing LEED buildings but treating LEED certification as a tool that supports our ultimate goal – to build the most sustainable facilities possible that provide long-term value to the airport community. All the expansion projects are projected to be certified at high LEED Gold, with energy and water reductions that go 30-40% beyond the City and County of Denver's already stringent building code requirements as we plan to transition to net-zero designs in the future.
Existing facilities
While DEN was excited to open new facilities, we still have millions of existing square feet in need of deep energy and water retrofits to support our sustainability goals. To that end, last year DEN finalised an $83 million Energy Performance Contract (EPC) to upgrade our Energy Management Controls System and replace remaining non-LED lights and restroom water valves. The implementation follows a comprehensive multi-year technical audit of efficiency opportunities across eight million square feet of airport facilities. The EPC programme comes with a performance guarantee that ensures we will realise millions of dollars each year in utilities and maintenance savings, so rather than paying for unnecessary energy and water use, we will pay to improve our facilities. The EPC project is the largest efficiency project in Colorado history and will reduce DEN's energy use by 20%, water use by 28%, and greenhouse gas emissions by 30,000 metric tonnes annually.
Solar energy
One of the most important opportunities provided by DEN's land area is the ability to put that land to active use to support sustainability. DEN has one of the largest and most diverse solar photovoltaic (PV) programmes of any airport in the world, with over 150 acres of on-site solar across multiple arrays. Almost 30 megawatts were procured through Power Purchase Agreements (PPA), which produce over 50 million kilowatt-hours of clean electricity each year. The arrays already produce sufficient electricity to cover the airport's peak electrical demand, and DEN has another 13-megawatt array under contract that will be constructed later this year. These large-scale PPAs are in addition to 1.5 megawatts of solar PV across the new concourse expansions, on- and off-site 'community solar gardens' from which DEN subscribes to the power generated along with other community organisations, subscriptions to large utility-owned solar arrays, and a utility-owned solar canopy on a DEN-owned parking lot. That solar canopy powers a large battery energy storage system as part of a microgrid project for an adjacent Transit-Oriented Development and serves as a model for a 2-megawatt/3-megawatt-hour battery that will connect to DEN's newest solar array and provide backup power to our inter-concourse train system.
Community Focus
DEN's 2017 Sustainability Policy focuses on our role as a community asset and our responsibility to ensure that the airport's success strengthens all parts of our community. We take that responsibility seriously, and are excited to develop our first Environmental, Social, and Governance (ESG) report in 2023 to transparently communicate progress to our stakeholders and partners. We are proud to be part of the Denver community and the network of like-minded airports who are working to improve the sustainability of their facilities and operations to move our industry forward.   
Scott Morrissey is the Senior Vice President of Sustainability at Denver International Airport, which is currently the third busiest airport in the world. In 2021, DEN served 58.8 million annual passengers and is expected to exceed pre-pandemic traffic of 69 million passengers in 2022.  Scott is responsible for developing systems that support DEN's goal to be one of the most sustainable airports in the world through strategic leadership of the environmental, energy, and noise teams.
He previously served as the Operations and Programs Director for the State of Colorado's Energy Office, as Deputy Director of Greenprint Denver, a comprehensive environmental sustainability initiative housed in the Mayor's Office, and as a financial management analyst in Denver's Finance Department.  Scott earned bachelor's and master's degrees from the University of North Carolina at Chapel Hill.
Related airports
Related regions