Solidarity in winter operations at Paris-Charles-de-Gaulle Airport
Marc Houalla, Former Deputy Executive Director of Groupe ADP and Managing Director of Paris‑Charles‑de‑Gaulle Airport, tells International Airport Review about their innovative approach to their winter operations.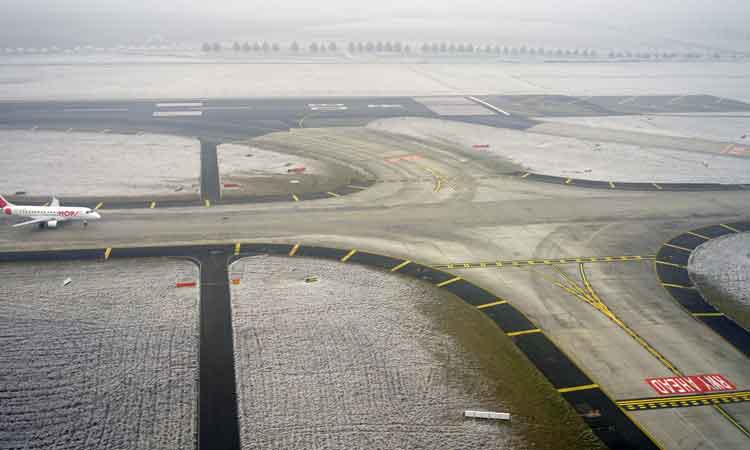 One of Paris-Charles-de-Gaulle Airport (CDG)'s strength lies in its safe and efficient winter operation. It allows the airport to remain open and operational 24/7, regardless of the severity and duration of adverse weather conditions. Paris-CDG's objective is clear: no flight cancellations without prior notice.
In order to assess the commitment of this objective, let's reiterate the traffic and the size of Paris-CDG: approximately 640 departures per day (average traffic in winter 2019), four runways (which represents a surface of 850,000 square metres of concrete), 70km of taxiways and taxi lanes (3.7 million square metres), 2.2 million square metres of aprons, and 80km of service roads. The combined surfaces totalled around 6.7 million square metres. To illustrate the magnitude of snow impact on Paris-CDG movement areas, one has to bear in mind that 1cm of snow falling on these surfaces corresponds to 67,000 cubic meters, which is equivalent to the volume of 27 Olympic swimming pools.
In order to achieve this 24/7 winter operation objective, the management of Paris-CDG has two main responsibilities:
1. Removing snow and deicing all areas of the airport, including runways, taxiways and aprons 2. Operating centralised infrastructure to deice aircraft. The successful execution of these responsibilities was underpinned by an innovative and sophisticated approach to winter operation staff training, and an efficient decision-making process.
An innovative approach to recruiting and training staff for Paris-CDG's winter operation
Human resource management is definitely key for the performance of Paris-CDG's winter operations. Approximately 1,100 people are involved over the winter season, of which 40 per cent are volunteers from Groupe ADP staff members, while others are professional subcontractor staff.
Whenever there is a risk of icing, Groupe ADP's network of volunteers will be contacted via SMS for action. When applying for this volunteering job, each staff member must commit to working three winters in a row. This volunteer registration system is open to all Groupe ADP staff in Paris. It is an important asset, not just because it provides robust staff organisation to ensure 24-hour full coverage in the heart of winter, but also allows staff to have a flavour of other roles in airport operations. For example, one volunteer can work during the day on Groupe ADP's strategy and finance and be involved in removing snow from the parking stands at 3AM!
Promoting solidarity amongst Groupe ADP staff is a side benefit of its winter service volunteer system. When summoned to fight against adverse weather conditions, staff take pride in being a part of an essential task contributing to the performance, safety and the service quality of the airport.
Winter operation subcontractor staff are highly skilled professionals of adverse winter events. They are asked to work at Paris-CDG for up to six consecutive weeks to assist the airport in dealing with extreme weather conditions during the winter months. In addition, the airport has implemented an innovative system with its subcontractors by issuing a tender combining winter-related tasks with others infrastructure and green field maintenance tasks. For instance, through this tender arrangement, subcontractor truck drivers could switch to snow machines during winter when infrastructure work is less busy. This allows Paris-CDG's subcontractors to maintain a stable pool of human resources working at the airport, which is conducive to smoother and safer winter operations.
Given the large number of staff involved and its seasonal nature, winter operations require efficient initial and refresher training management. This is one of the top priorities of airside airport management. To this end, a catalogue of 32 training courses has been created, divided into theoretical and practical sessions. All participants in winter operations take part in one to three simulations at the start of each winter season in real-life conditions with airport aircraft traffic. This corresponds to 15 to 20 full-scale exercises per season, representing approximately 15,000 hours of training per winter season.
A dedicated full-year winter team of 16 people oversees and orchestrates the whole winter operation system. In terms of hardware, some 230 machines (snow removers and deicers) can work simultaneously on all areas of the airport, including runways, taxiways, taxi lanes, aprons and aircraft deicing pads. Snow removal on one runway takes approximately 30 minutes. This 30 minutes includes the time it takes to inform the air traffic control of when the areas are out of use and back in use, covering quality and security checks, as well as the work involved on the ground. 12 aircraft can be deiced simultaneously on the deicing pads (whatever the QFU in service). 65 per cent of these deicing pads are located at the runway thresholds for maximum efficiency, and to limit issues related to holdover times. Paris-CDG's record is 49 aircraft deiced in one hour, and 502 over 24 hours in the winter of 2012!

Between February 2018 and September 2022 Marc Houalla was Deputy Executive Director of Groupe ADP and Managing Director of Paris-Charles De Gaulle. He has 35 years of aviation experience and has served in various technical, operational and leadership positions, such as Aircraft Maintenance Director; Finance Director; Aviation Economic Consultant; ATM Service Director; President of the largest European aviation university; and Airport Director of Marseilles and Paris Orly Airports. Houalla is now Director General of Civil Aviation of French Polynesia.