Airport City Stockholm: A living city connected to the world
Posted: 17 June 2014 | Kristina Alvendal, CEO of Airport City Stockholm | No comments yet
In the third instalment of International Airport Review's Airport Cities series, Kristina Alvendal, CEO of Airport City Stockholm, provides an overview of the Swedish development.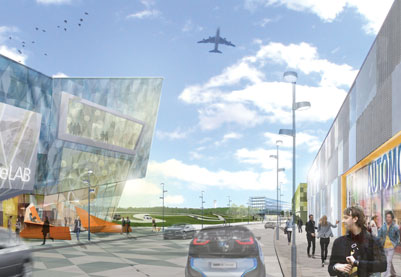 Airport City Stockholm: A living city connected to the world
Today's major international airports have been developed into magnetic hubs and expanding centres for companies and organisations. With its exceptional location and urban city qualities, Airport City Stockholm offers businesses, visitors and travellers something unique.
To achieve this, a public-private partnership was formed some years ago. Airport City Stockholm is jointly operated by the owner of Stockholm Arlanda Airport, Swedavia, the Municipality of Sigtuna and the private property owner Arlandastad Holding AB. The company coordinates the development of the fast growing area of more than 800 hectares surrounding the airport.
Today more than 20,000 people work within the airport city and the goal is to provide the opportunity for 50,000 working places.
How we build matters
The challenge in an airport city is usually the bleak and dull environment that is the result of parking lots, traffic hubs, logistics and distribution. Airport City Stockholm has presented an Urban Design Strategy that puts the human aspects in the centre. We will create an urban environment that is both attractive to people but also helps creativity on its way.
The Stockholm region is growing rapidly and the business life is very much focused on knowledge-based companies; companies that depend on their employees. Employees of today are smart, metropolitan, educated and rational. They will only want to work in environments that meet their demands for public places to meet other people and provide convenient services that can be used during a lunch break or after work. Good public transport is also on the agenda, and all these factors make it more attractive for companies to locate their business in such a hub.
Old fashioned business parks with huge car parks and a green field are not attractive to the brains of today and tomorrow. Far too many airports and airport cities have been planned with only aircraft, distribution, logistics and other traffic in mind (and on occasion the passenger!). But very seldom are the people who actually work and spend almost every day there taken into consideration. It is the urban environment that needs to be added to airports and airport cities to make them more interesting – especially if we want to attract businesses that don't have anything to do with the aviation sector specifically, but want to be close to the world because it's convenient. And this is what has been achieved at Airport City Stockholm.
Six unique urban districts
Airport City Stockholm consists of six urban districts; making it easier to attract and place all kinds of companies in their correct hub and environment.
Sky City
Sky City serves as the airport city's 'down town'. This is the dense city centre within walking distance of the airport terminals, commuter trains and long-distance trains. Pedestrian-friendly streets, plazas and parks are lined with ground floor shops, restaurants, cafés and bars. There are offices and conference centres together with services for both workers and travellers, such as cultural centres, spas, gyms, car rentals and convenient stores. Hotels will provide accommodation that contributes to a vibrant city in the evenings.
Park City
Park City is the area where parking will be in focus. Long-term parking, car rental firms and automotive services dominate the district. As Airport City Stockholm grows, there will be offices, high-tech industry, retail and other operations linked to the airport established in the area. The greenery creates an unexpected feeling and an ecological landscape.
DriveLAB Stockholm
Located just by the main motorway, this district provides a hub for training and development in road safety and green transport. It is a cluster where companies, researchers and government agencies have an opportunity to learn from each other. The area includes educational and training facilities, research laboratories and offices.
Märsta Business Area
This is an established and well-functioning business area with a range of companies – everything from logistics and cargo to retail, light industries and construction. The district offers a wide range of services for those who work there and is well integrated with the residential area Märsta. It is served by public transport and the strength of the district is its classic office and business area that has room for all types of operations.
Cargo City and Rosersberg
These two districts form a logistics centre with great possibilities for rail, air and road connections. Cargo City being mainly airside provides unique opportunities for companies in need of direct access to the aircraft. Rosersberg has been developed into a logistics node for both large and small companies. The district is characterised by warehouses and large parking and access areas. The goal is to make Rosersberg into one of the world's most environmentally-smart logistic centres.
Public transport
One of the challenges for the future is to improve the public transport to and from the airport city, but also within. There are already good connections to the area closest to the terminals, including express, commuter and national trains, and buses but what needs to be added in a growing city is a public transport within the city.
To make this happen, Airport City Stockholm has a Public Transport Strategy. Since the city is growing dynamically, a flexible system that is realistic when it comes to costs needs to be implemented. The plan is therefore to start out with a bus link that will be mixed with other traffic. In pace with the growth of the area it can be converted to a Bus Rapid Transit system. The third step is to transform it to a tramway system. Today's planning focuses on realism and flexibility for the future. It is very difficult to add an efficient public transport network afterwards when building a new city – this is also the case for an airport city.
Since we now know the likely locations of the future stations we can be more accurate in our discussions with new businesses and locations about where in the airport city it is wisest to establish their companies.
Sustainable urban design
Sweden and Stockholm are known around the world for their sustainable city policies. National environmental goals, plan indicators and the municipal plans for the area also express aspirations for sustainability within Airport City Stockholm. The vision for Airport City Stockholm also emphasises sustainable growth. To ensure that the airport city is built in a sustainable way, it will be built according to guidelines based on both national standards and the international certification systems LEED Neighborhood Development and BREEAM Communities. The goal is for the entire airport city to be able to be certified for sustainability. If that is doable, it will be the world's first sustainability certified airport city.           
Looking ahead
The new investments and businesses in the area have already reached SEK 4 billion, and 1,000 more working places were created in 2013. In 2014 we will see investments of around SEK 4.7 billion and 1,600 working places. Within the airport city new hotels, offices, warehouses, research centres and headquarters have already been established – but we are in a phase for speeding up.
Biography
Kristina Alvendal has been CEO of Airport City Stockholm since 2011. She is also a Member of the Board at Arlandastad Holding and Vice Chairman of the Board at Sundbybergs Stadshus Infrastruktur AB. Kristina was Vice-Mayor of Stockholm between 2006-2010, where she was responsible for city planning, real estate and housing. In 2013 Kristina was listed as the 10th most powerful women within Swedish Real Estate businesses, by Swedish real estate magazine, Fastighetssverige.