Chicago O'Hare Airport's revolutionary Passpoint-enabled network
With travellers increasingly seeking connectivity on the go, Next Generation Hotspot technology can help airports deliver a better passenger experience. International Airport Review looks at Chicago O'Hare International Airport's revolutionary Passpoint-enabled network.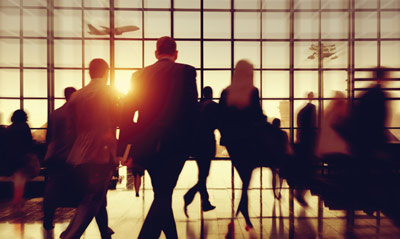 The Chicago Department of Aviation has always been a place of innovation, and has never shied away from the new and even the unorthodox to ensure the best possible experience and facilities for its passengers. Last year, the airport even introduced goats, sheep, burros and llamas to the field surrounding O'Hare to create a cleaner, greener airfield! The O'Hare team and its airport partners believe in pushing boundaries when it comes to technology, too. As the gateway to the booming 'Silicon Prairie' tech community, the airport is committed to offering the latest tech-enabled amenities for its travellers, and to providing tailored services that make the travelling experience more enjoyable and efficient. For example, O'Hare has recently introduced the 'B4 YOU BOARD' app, which allows travellers to order food for delivery to their departure gate, the airport offers a new virtual concierge and was the first airport in the United States to offer automated passport control; helping travellers to move through customs more quickly through the use of a self-service kiosk.
In the spirit of pushing boundaries, a significant airport technology 'first' happened at O'Hare in September 2013. The airport became the first in the world to launch a Passpoint-enabled network which enabled testing of a new Next Generation Hotspot wireless standard that allows devices to connect to a Wi-Fi network as seamless and secure as cellular. 'Passpoint' certification indicates that wireless access points and devices have the minimum technology requirements to allow automatic, secure connections. 'Next Generation Hotspot' standards allow for seamless roaming between cellular and Wi-Fi networks, simplifying wireless connections for passengers in transit.
Why is this significant? Consider the current Wi-Fi experience. Connecting to unmanaged public Wi-Fi hotspots can be risky given increasingly crafty cyber criminals, and is at best cumbersome. A user has to locate an appropriate hotspot, engage with the user interface and then connect.
Wi-Fi certified Passpoint networks and Next Generation Hotspot integration standards have the power to change this experience. Developed jointly by wireless industry standards bodies, including the Wireless Broadband Alliance, Wi-Fi Alliance, IEEE and the GSMA, as well as carriers including Chicago O'Hare's Wi-Fi provider, Boingo Wireless, Next Generation Hotspot protocols are designed to make the consumer connectivity experience as easy and secure as possible.
In addition, these standards provide automatic relief for carrier and venue cellular networks by seamlessly offloading traffic to Wi-Fi. The offloading of excessive network traffic is projected to become increasingly important as users consume more video, and engage in other high-bandwidth consumption behaviors, that may tax a mobile network's ability to keep pace with demand.
When using a Passpoint connection, mobile users can immediately be securely connected to a Wi-Fi network, saving time and frustration. Once the user installs a Passpoint profile configured for a network like O'Hare's, they will automatically be connected and logged into the network, without the need to interact with their mobile device.
Planning for the connected traveller of the future
Since the introduction of the iPhone in 2007, all airports have faced the same sea change: travellers now come to the airport equipped with at least one (and usually several) mobile devices. A recent study from hotel and resort chain Starwood1 found that more than half of all business travellers carry three to four devices when they travel, while another study from MMGY Global2 found that 'digital elite' travellers, or those that carry both a smartphone and a tablet or laptop, have grown by 600 per cent in recent years. Wearable devices, including everything from smart watches to innovative wearable technology such as Google Glass, will also hit airport networks nationwide in the very near future.
In 2012, the consumption of video via mobile devices exceeded 50 per cent of total global mobile data, and it is anticipated that this trend will continue, with more than two thirds of all data projected to be video by 2018. The sheer number of devices and the expected demand for data will overwhelm a physical network, if it isn't upgraded to the latest technology.
To ensure that O'Hare's network was keeping up with the ever-increasing device demands and data growth, in 2013 Chicago's Wi-Fi partner Boingo updated the wireless network throughout the airport with Passpoint-certified equipment. This not only enhanced the travellers' network coverage and capacity but also enabled the airport to launch the first Passpoint Wi-Fi network at a commercial venue. The network supports the Next Generation Hotspot experience and offers a host of benefits to airports and travellers.
Seamless and secure connections
As the airport experience becomes increasingly more mobile-oriented and passengers come to expect instant connectivity, a hassle-free wireless experience is essential. Next Generation Hotspot provides the potential to connect seamlessly in two ways.
Firstly, when customers are in range of a Passpoint-enabled network, consumers can use a Passpoint profile furnished by their carrier or third party provider to enable an applicable mobile device to connect and authenticate on its own, creating a secure WPA2 connection without the user's involvement. WPA2 connections offer advanced, enterprise level security that's on par with cellular network security, helping to mitigate user risk when connecting at heavily populated venues like airports.
And secondly, other users can be transferred to a Passpoint-enabled network by telecommunications carriers who wish to improve the performance and capacity of their cellular networks. Consumers aren't required to interact with their device to be connected to a fast, high quality Wi-Fi connection – their carrier will simply hand-off their connection and they can continue their wireless session with no interruption.
The upgraded networks and industry wireless standards enable airports to provide the very latest in connectivity to passengers, which will improve their overall airport experience. Instead of hassling with their network connections, travellers will automatically be connected to the network, get their work or leisure activities done, and have time to enjoy the amenities that a leading airport like O'Hare offers.
Increased capacity
The need and appetite for Next Generation Hotspot technology is clear. Radio spectrum is a limited resource that has been increasingly strained by our demand for more mobile data. Passpoint delivers a way for carriers to access Wi-Fi spectrum to supplement their existing network capacity. In addition, overseas carriers have a new option for managing international roaming charges, which in the end will help their subscribers with better connectivity and lower rates. This is of particular importance in a large international airport with a diverse travelling population attempting to stay connected while in transit.
In addition to providing a 'pressure relief valve' for overloaded cellular networks and a better experience to device users, O'Hare also noticed that passengers gravitated toward the security of the network. During the industry-only Next Generation Hotspot trial at O'Hare, which was not promoted to travellers, there were thousands of connections to the secure network from Passpoint-certified devices including late model iPhones and the Samsung Galaxy S4. New phones such as the Samsung Galaxy S5 will be able to maintain simultaneous connections on Wi-Fi and cellular services for even better access.
Enhanced networks for the future
Today, O'Hare serves more than 67 million passengers each year with flights from more than 180 gates. The airport plans to continue its tradition of innovation – from the commercial deployment of the Next Generation Hotspot to more advanced customer services via mobile devices. In addition to enabling the seamless, secure connectivity experience, many networks upgraded for Next Generation Hotspot will have the added capacity and density needed to deploy more advanced location based services.
The groundwork laid by O'Hare in the deployment of the first commercial Passpoint-enabled network has now led to the commercial deployment of Next Generation Hotspot in 20 additional airports across the United States. Continuing to push the boundaries of technology – especially where it directly benefits travellers and improves the passenger experience – will not only keep Chicago O'Hare on the forefront of the demand curve, but will help the blaze new trails in mobile-first services for their travellers.
References
http://development.starwoodhotels.com/news/7/456-four_points_by_sheraton_survey_reveals_mobile_device_habits_of_business_travellers_worldwide