Winter service at Belgrade Nikola Tesla Airport
Dragan Dimitrijevic, Technical Maintenance Director at Belgrade Nikola Tesla Airport, tells International Airport Review about how the airport keeps a cool head when winter weather descends.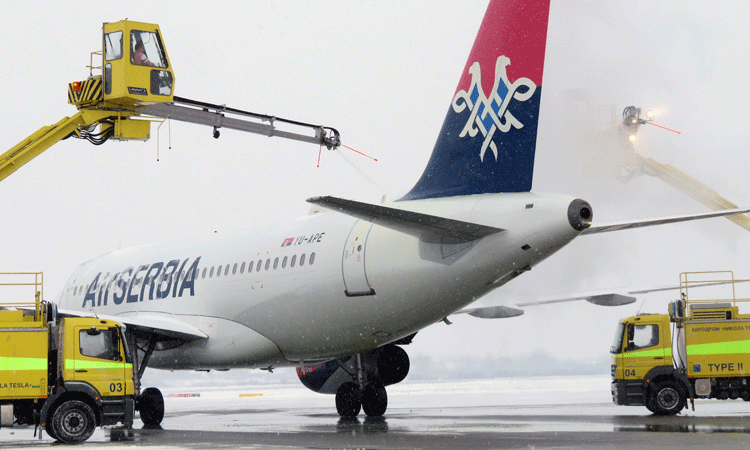 Credit: Belgrade Nikola Tesla Airport
We are proud of the fact that Belgrade Nikola Tesla Airport (BEG) has not been closed in the last 12 years due to snowfall, which speaks of the readiness and effectiveness of its winter services. Despite the years with heavy snowfall and extreme temperatures, the winter service operations enabled the smooth flow of traffic. The service consists of services for aircraft de-icing and for pavement snow removal and de-icing, and is active from 1 November to 1 April each year. It is, of course, active at any time in case of bad weather conditions. The team for aircraft de-icing is managed by Belgrade Airport Ground Handling, and the team for pavement de-icing is managed by Belgrade Airport's Maintenance Department.
Staff on standby
Winter services at Belgrade Airport function on the basis of an on-call standby team. When the weather forecast predicts bad conditions (snow falling, ice rain, wet weather and temperatures around zero etc.), winter services will be alerted and will go into operational readiness. About 70 employees and 30 vehicles are ready at any time to clear away snow and de-ice aircraft. All of the trained and certified staff are from Belgrade Airport's Technical and Operations Departments. 
The winter service clears more than 520,000m2 of runway, taxiways and aprons, but that area will increase significantly due to development projects (for example, the building of a new inserted runway with taxiways is ongoing).
Standard formation for complete runway snow removal consists of nine vehicles (runway sweepers, multi-spearers and winter chief vehicles), and cleaning from beginning to end takes approximately 20 minutes, including cleaning the parallel taxiway A. Snow clearing is led and coordinated by the Chief of Winter Services. The Chief of Winter Services, during snowfalls, must monitor the situation; co-ordinate actions between winter service vehicle drivers and the Air Traffic Control (ATC) Tower; and must provide accurate information, which is the 'secret' of success.
For the de-icing of runways, winter services use combining agents, both solid and liquid. The storage capacity for liquid runway de-/anti-icing agents is approximately 75,000 litres, while storage capacity for the solid agent is around 150,000kg.
In case of severe winter weather conditions, such as snowstorms and ice rain, the new batch of solid and liquid runway de-/anti-icing agents can be delivered to the airport within three to five days. For each winter season, the airport operator signs the contract with one supplier for liquid and one for solid agent.
Weather data and weather forecasts necessary for optimal engagement of the winter service are obtained from the Republic Hydrometeorological Service of Serbia and Air Traffic Control Meteo Service, at least twice per day in electronic form. There is also the option of using different kinds of internet weather forecasts, Air Traffic Control Meteo Channel, etc.
Environmentally friendly winter services
In addition to clearing the snow from the runway and taxiways, a crucial thing during the winter season is aircraft de-icing. At Belgrade Airport, we use eight de-icing vehicles and efficient, environmentally compatible aircraft de-icing agents. For now, we use ADF Type II, but we can also use two fluids (Type I and Type IV), as we have the facilities and, thanks to that, vehicles are also equipped for two types of fluid use. Belgrade Airport has one de-icing pad for the simultaneous spraying of two code C aircraft or one wide-body aircraft. The second de-icing pad will be built very soon, and that is a part of the contracted airport expansion.
The de-icing agents used by Belgrade Airport are completely biodegradable and are subsequently channelled via underground drainage systems to collecting tanks for disposal.
Our main goal in addition to safety is environmental care!"
We hope to see you soon at Belgrade Airport. You will be safe during take-off and landing in winter conditions – the Belgrade Airport winter service takes care of that!
Biography

Dragan Dimitrijevic began his career in aviation at JAT Airways Belgrade, where he was an Aerospace Engineer in the Troubleshooting Department. In July 2005, Dimitrijevic joined Belgrade Airport as a Mechanical Engineer in the Investments and Development Department, before progressing to Head of Thermomechanical and Technological Equipment in 2009. In August 2014, he assumed the role of Maintenance Director of the airport. Dimitrijevic holds a Master of Science in Mechanical Engineering from the University of Belgrade.